Trump's Ex-Lawyer Michael Cohen Will Be Released from Prison to Home Confinement Days After Manafort Freed
Michael Cohen, the former personal lawyer of President Donald Trump who was imprisoned for violating campaign finance laws to aid Trump's 2016 election, will be released from prison over COVID-19 concerns and serve the remainder of his 31-month sentence from his home.
Cohen's release comes a week after the release of Trump's ex-campaign chairman Paul Manafort into home-confinement over similar concerns.
Numerous convicts have been released after a national effort by legislators and prison rights activists to prevent COVID-19 outbreaks in crowded prisons where social distancing is near impossible.
In March and April, U.S. Attorney General William Barr ordered the Bureau of Prisons to expedite the release of high-risk inmates into home confinement. Though Barr identified the expedited release of prisoners at three prisons he deemed as coronavirus hot spots, Cohen's prison wasn't among them.
The Bureau of Prisons says it has released over 2,400 inmates into home confinement since the issuance of Barr's order. An additional 1,200 have also been approved for release later this month.
A Federal Bureau of Prisons spokesperson wrote to Newsweek that it has begun immediately reviewing all inmates held at Oakdale, Danbury, Elkton, and "other similarly situated facilities" to see which inmates have COVID-19 risk factors and are suitable for home confinement.
"Inmates do not need to apply to be considered for home confinement," a Federal Bureau of Prisons spokesperson wrote to Newsweek. "Case management staff are urgently reviewing all inmates to determine which ones meet the criteria established by the Attorney General."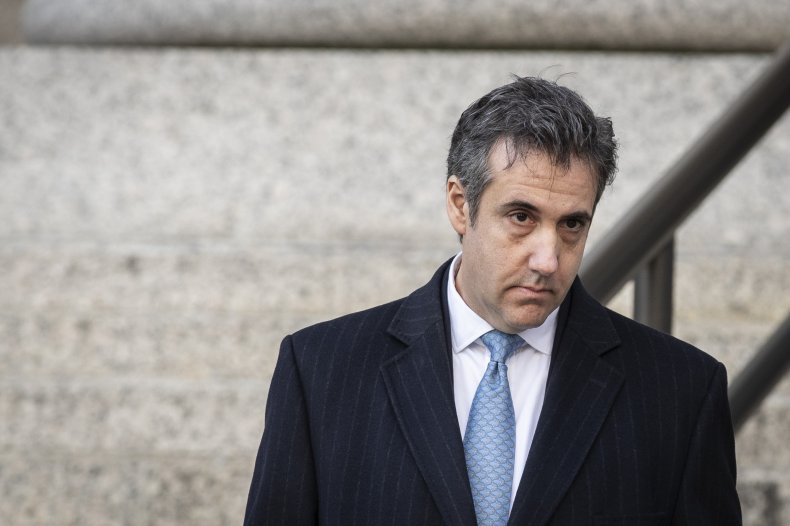 Cohen began serving his sentence at the medium-security Federal Correctional Institution in Otisville, a town in southern New York state on May 6, 2019. He was found guilty of campaign finance violations, tax fraud, and bank fraud "for the principal purpose of influencing" the 2016 presidential election in Trump's favor.
On February 26, 2019, a panel of state Supreme Court judges formally disbarred Cohen.
Manafort had served less than two years of his seven-and-a-half-year sentence before being released. The 71-year-old was considered a high-risk inmate for potentially contracting coronavirus even though the Bureau of Prisons said there had been no known cases of coronavirus at the Loretto prison in Pennsylvania where he was serving his sentence.
On March 13, 2019, Manafort was sentenced after being found guilty of five counts of filing false tax returns, two counts of bank fraud and one count of failing to disclose a foreign bank account. He had also allegedly broken a plea deal he'd made with the U.S. government by repeatedly lying to FBI investigators who were looking into possible ties between Russia and the Trump campaign.
Judicial reform activists Scott Hechinger and Maya Ragsdale wrote in a Newsweek article that millions of other high-risk inmates are still awaiting release amid the ongoing epidemic, partly due to efforts by government officials to keep prisoners in crowded confinement despite health risks.
Update (5/22/2020, 10:51 p.m.): This article has been updated to include a statement from the Federal Bureau of Prisons.
Correction: An earlier version of this article mistakenly stated that Cohen had been disbarred by The New York State Bar Association.