Trump's Election Lawsuits Are 'Without Merit,' Democratic Lawyers, State Officials Say
As states continued counting votes on Wednesday with no clear winner yet in the presidential election, President Donald Trump's campaign launched a slew of lawsuits related to the ballot-counting process.
In addition to election-related lawsuits filed in Georgia and Nevada, the campaign filed two suits charging a lack of transparency at the polls in Michigan and Pennsylvania, two battleground states in which Trump campaign officials called for ballot counting to halt until alleged problems could be resolved.
But state leaders and election law experts have said that the campaign's allegations are baseless.
"The claims made by the Trump campaign are without merit, and we will respond accordingly in court," Michigan Attorney General Dana Nessel's press secretary, Ryan Jarvi, told Newsweek.
Pennsylvania Governor Tom Wolf also criticized the Trump campaign's lawsuit during a news conference on Wednesday afternoon. "This afternoon, the Trump campaign filed a lawsuit to stop the counting of ballots in Pennsylvania. That is simply wrong," Wolf said. "It goes against the most basic principles for our democracy. It takes away the right of every American citizen to cast their vote to choose our leaders."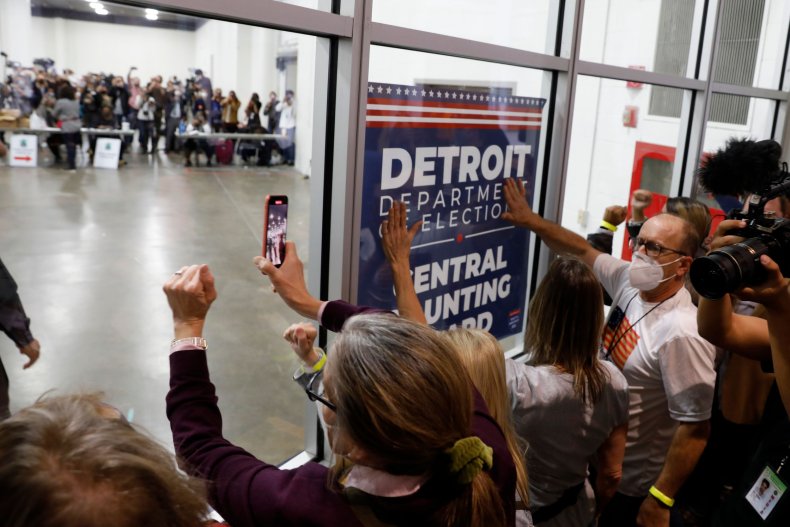 Wolf said that election officials will continue the ballot counting and that his administration will fight attempts to disenfranchise those who cast their ballots either before or on Election Day.
"Let me be clear: In Pennsylvania, every vote is going to count," the governor said.
In a statement shared with Newsweek, a spokesperson for the Pennsylvania chapter of the American Civil Liberties Union (ACLU) said it was in the process of reviewing the Trump campaign's legal challenges.
"We are analyzing this latest filing and determining if we can get involved," ACLU Pennsylvania spokesperson Andy Hoover said. "We want every eligible voter who cast a ballot in Pennsylvania to have their vote counted."
Clifford Levine, an attorney with the Dentons law firm who has a background in election law, told Newsweek that major pieces of legislation debated in the courts earlier this year already cleared up most questions regarding election procedures in Pennsylvania.
Speaking about the Trump campaign's lawsuit alleging that Democratic election officials are "hiding the ballot counting" from Republican poll observers, Levine noted that the Pennsylvania Supreme Court has already made clear that the state's election law governing poll watchers does not grant them permission to conduct a signature-by-signature review of returned ballots.
The Pennsylvania lawsuit and other legal efforts the Trump campaign launched in the state this week "frankly reflect a candidate who is behind and trying to throw anything at the wall and hope something sticks," Levine said.
As in other states that have yet to be called, the ballots outstanding in Pennsylvania were filed by mail and could not be tallied by election officials until Election Day. "It would be grossly unfair to voters to say, Because your ballots were at the bottom of the pile, your votes don't count," Levine said.
By Wednesday evening, about 88 percent of the votes in Pennsylvania were tallied, with Trump leading Biden by about 3 points. Nationally, Biden held a 264-214 advantage over Trump in electoral votes Wednesday night; 270 are required to win the presidency.
While the outcome of Pennsylvania's 20 electoral votes was still unknown on Wednesday, the Associated Press and several major media outlets called Michigan for Biden earlier in the day, giving him 16 electoral votes. Shortly after Trump's campaign announced its lawsuit attempting to halt ballot counting in Michigan, Trump supporters began protesting ballot-counting efforts at TCF Center, a convention center in downtown Detroit, calling for election officials to "stop the count."
"President Trump's campaign has not been provided with meaningful access to numerous counting locations to observe the opening of ballots and the counting process, as guaranteed by Michigan law," Trump campaign manager Bill Stepien said in a statement. "We have filed suit today in the Michigan Court of Claims to halt counting until meaningful access has been granted. We also demand to review those ballots which were opened and counted while we did not have meaningful access.
"President Trump is committed to ensuring that all legal votes are counted in Michigan and everywhere else," Stepien's statement concluded.
"This is utterly and completely false, as they know," attorney Jordan Acker, a former deputy communications director for the Michigan Democratic Party, tweeted about the lawsuit's allegations. "I've been in that room in the TCF Center all morning with hundreds of Republican challengers. Meritless."
Mark Brewer, a lawyer and former Michigan Democratic Party chairman, told The Detroit News that he too was at the TCF Center on Wednesday and believed the Trump campaign's lawsuit was "frivolous."
"I am at TCF, and there have been hundreds of GOP challengers here these past few days," Brewer told the paper. "Nobody is being denied access."