Trump's Executive Order Could See Eviction Epidemic as 40 Million Renters at Risk
Fears are rising that a looming eviction epidemic will devastate millions as the COVID-19 pandemic continues to ravage the nation, while President Donald Trump's recent executive orders will do little to protect those at risk of losing their homes.
Up to 40 million people in the United States could be at risk of eviction in the next few months, a new study by The Aspen Institute called The COVID-19 Eviction Crisis has warned. The risk is highest in California, where more than 4 million people face losing their homes, followed by New York, Texas, Florida, Ohio and Illinois.
The study, published on Friday and authored by a number of academics, researchers and advocates, said the country may be facing the "most severe housing crisis in its history" as federal, state and local protections and resources expire and people continue to struggle to make rent, mortgage and other property payments.
On Saturday, Trump announced he was providing economic relief to millions of Americans through four executive orders, including one that he claimed was "protecting people from eviction."
Speaking during a news conference at his golf club in Bedminster, New Jersey, the president said: "I'm signing an executive order directing the Department of Housing and Urban Development, HHS, and CDC to make sure renters and homeowners can stay in their homes. So I'm protecting people from eviction."
But the executive action taken on housing isn't as helpful as Trump made it seem.
The text of the executive order does not actually ban evictions, but calls for Health and Human Services Secretary Alex Azar and Robert Redfield, the director of the Centers for Disease Control and Prevention to "consider" if temporarily halting evictions is "reasonably necessary to prevent the further spread of COVID-19."
And no funds have been set aside to provide relief for renters or homeowners yet either.
The order only directs the Housing and Urban Development and Treasury secretaries to identify "any and all Federal funds to provide temporary financial assistance to renters and homeowners who... are struggling to meet their monthly rent or mortgage obligations."
Katherine McKay, a senior program manager at The Aspen Institute's Financial Security Program and a co-author of the study, told Newsweek that Trump's executive order doesn't provide relief to renters "in any concrete way."
She noted that it directs officials to "move money around" to help provide financial assistance to renters and homeowners, but that won't easily be possible in practice.
McKay noted that under federal law, the government is required to spend money only on things authorized by Congress and the president has only limited ability to "move money around"—a process called rescission.
"There may be some rescission options using funds that are leftover from grants that were funded," she said. "For example, when local organizations receive grant funds, if they do not fully spend it by a certain date, they must return the excess. Or, if a grant program had been budgeted for more than it ultimately needed. Those funds will be limited."
The money could also be raised from uncommitted federal funds, but McKay said "this will also produce limited additional dollars."
She added: "There are likely some additional options that they can pursue, but without Congressional funding, it is simply not possible to address the problem at scale. It would be another band-aid."
The housing crisis the country is facing is on a scale that has never been seen before, McKay said.
And renters are the ones that have fared the worst, McKay added. "They went into this crisis with a decade in which their housing costs grew faster than their income every year," she said.
Sam Gilman, co-founder of The COVID-19 Eviction Defense Project who also co-authored the study, told Newsweek that the president's executive orders "create confusion" and "neither ban evictions nor provide rent relief."
"Over the weekend, our team of lawyers has had numerous conversations, explaining to renters that the president's executive orders do not provide additional protections," Gilman said.
Gilman warned without help, the country is facing "Great Depression level suffering."
"We need Congress to create a sustainable rent relief program that gets cash in people's hands, so they can pay their rents, and we need eviction moratoriums at the federal and state levels to keep people in their homes while this program gets up and running," he said.
"Without sustained rent relief or cash assistance and an accompanying eviction moratorium, we will likely see a tremendous amount of preventable suffering."
The National Low Income Housing Coalition (NLIHC), which also contributed to the study, said Trump's executive order an "empty shell of a promise to renters."
The executive order "does nothing to prevent evictions and homelessness and acts only to mislead renters into believing that they are protected when they are not," the nonprofit organization said in a statement.
"This executive order is reckless and harmful, offering false hope and risking increased confusion and chaos at a time when renters need assurance that they will not be kicked out of their homes during a pandemic."
The NLIHC added: "Every day of inaction puts more seniors, people with disabilities, families and others at imminent risk of losing their homes in the middle of a pandemic.
"Evicting families during a pandemic is not only cruel and immoral—it is shortsighted and senseless. Evictions risk lives, drive families deeper into poverty, further burden overstretched hospital systems, and make it much more difficult for the country to contain the virus. Ensuring that everyone is stably housed during and after the COVID-19 pandemic is not only a moral imperative—it is a public health necessity."
Don Moynihan, a professor at Georgetown University's McCourt School of Public Policy, took to Twitter to call out the "deeply misleading" nature of Trump's assertion.
"The "eviction moratorium" is anything but," Moynihan wrote. "Asks federal agencies to look at the issue. Deeply misleading to raise the hopes of people that this provides any actual protection. But wholly unsurprising from President Landlord."
Meanwhile, Sherrilyn Ifill, the president and director-counsel of the NAACP Legal Defense and Educational Fund, has called on governors and mayors to act immediately to halt all evictions and foreclosures as well as suspend utility shut-offs.
in a statement, Ifill said Trump's executive order "substitutes show for substance" and leaves those facing "the catastrophic upheaval of eviction this week with no immediate relief and without protection from imminent homelessness."
Ifill added: "It provides no new funding to assist those in need and provides no details on the timing or substance of direct assistance to renters and homeowners."
The temporary eviction moratoriums put in place earlier in the pandemic are expiring rapidly—federal protections expired on July 24 and as of July 31, 30 states have no state-level protections against evictions, according to the study.
But campaigners and those affected have long said those measures didn't do enough to help people in financial turmoil amid the pandemic and have called for rent payments to be waived completely.
Since April, rent strikes and protests have taken place across the country calling on lawmakers to help those thrown out of work and forced to choose between paying their rent and feeding their families.
But now, with those moratoriums lifted, the risk of evictions could escalate very quickly across the country.
According to U.S. Census figures cited in the study, 18.3 per cent of renters nationally reported being unable to pay their July rent on time, while 43 percent of households with children said they had little or no confidence of being able to make rent in August on time.
"Current projections indicate that America is facing an urgent and unprecedented eviction crisis," the authors wrote in the study.
The crisis could devastate renters, small property owners as well as entire communities, it added.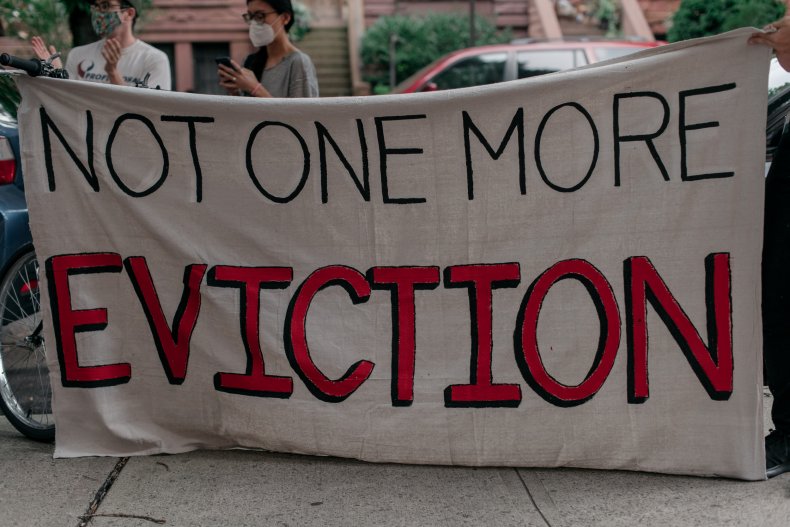 "Significant loss of rental income during the COVID-19 pandemic creates financial peril and hardship for renters, small property owners, and communities," the study said. "Without rental income, many landlords may struggle to pay mortgages and risk foreclosure and bankruptcy."
But the impact on individuals and families will be even greater—with the study noting that after an eviction, a person's likelihood of experiencing homelessness increases, while their mental and physical health are diminished, and the chances of gaining employment drops.
"Eviction is linked to numerous poor health outcomes, including depression, suicide and anxiety, among others," it said.
"In addition, eviction is linked with respiratory disease, which could increase the risk of complications if COVID-19 is contracted, as well as mortality risk during COVID-19.
"Eviction makes it more expensive and more difficult for tenants who have been evicted to rent safe and decent housing, apply for credit, borrow money, or purchase a home. Instability, like eviction, is particularly damaging to children, who suffer in ways that impact their educational development and well- being for years."
Furthermore, the study notes that it is communities of color that will be the hardest hit by an eviction crisis.
"Communities of color are disproportionately rent-burdened and at risk of eviction," the study notes, citing studies from cities across the U.S. that show people of color, particularly Black and Latinx people, make up around 80 per cent of the people facing eviction.
"Similarly, people of color are most at risk of being evicted during the COVID-19 pandemic," it added, noting that a June report showed that in the first month of Massachusetts state of emergency, 78 per cent of all eviction filings in Boston were in communities of color.
The study concludes that renters who are struggling financially amid the pandemic have exhausted their resources just as eviction moratoriums and emergency relief expires.
"Without intervention, the housing crisis will result in significant harm to renters and property owners," it says.
"Meaningful, swift, and robust government intervention is critical to preventing the immediate and long-term negative effects of the COVID-19 housing crisis on adults, children and communities across America."
This article has been updated with comments from Sam Gilman.