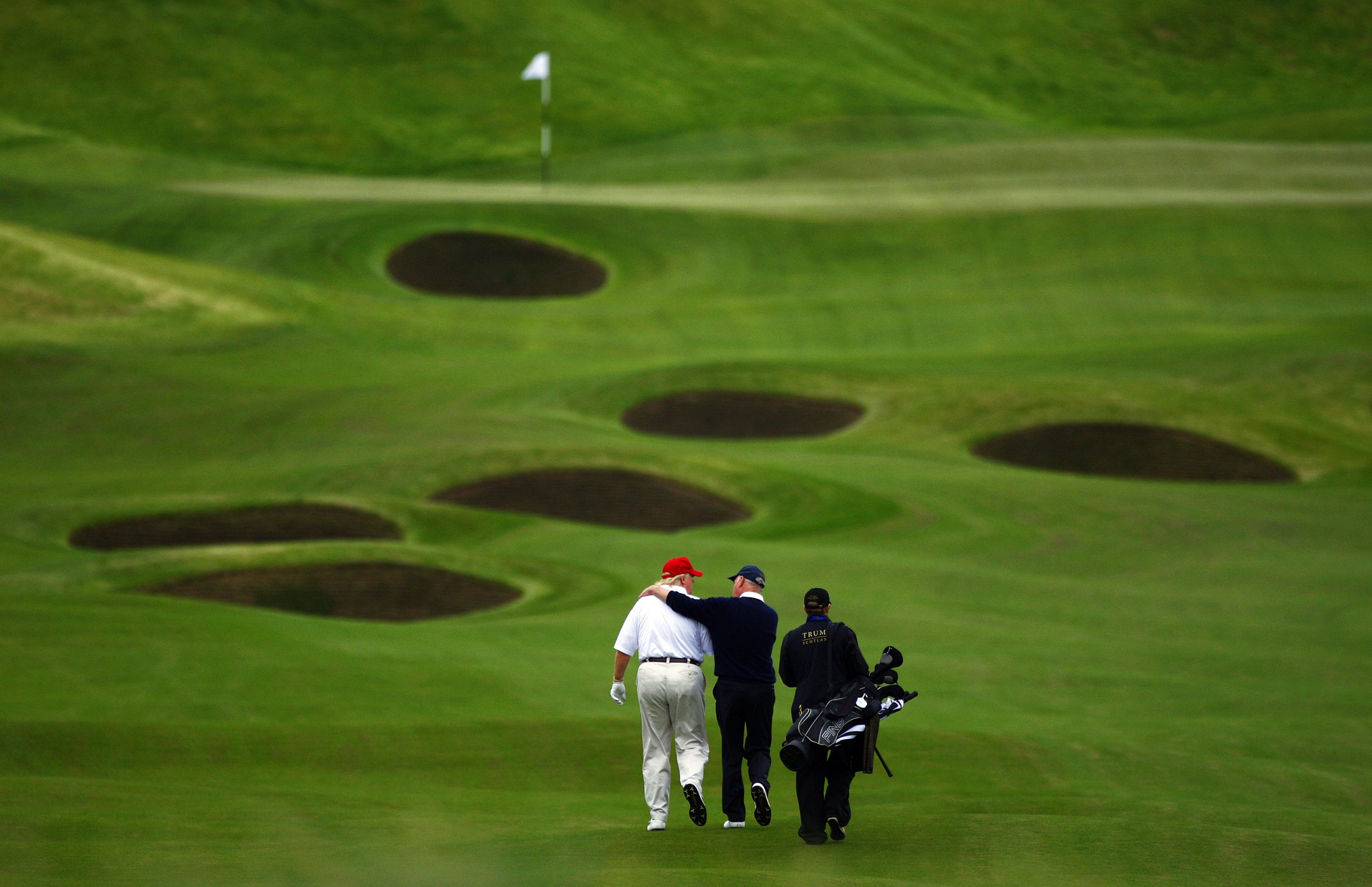 During a health exam this week President Donald Trump was told he's overweight, eats too much fatty food, and needs to exercise more. But Trump says his exercise regime would surprise many Americans.
"I get more exercise than people think," Trump told Reuters during an interview in the Oval Office Wednesday, revealing his regimen for staying fit.
"I get exercise. I mean I walk, I this, I that," said Trump, now 71. "I run over to a building next door."
The president pointed out that he's exercising when he plays golf as well. An NBC News tracker shows that Trump has spent 94 of his 363 days in office so far at his Trump-branded golf properties. Most exercise in golf comes from the stroll around the course, yet Trump has said that he prefers to take a golf cart between holes because "I don't want to spend the time" walking.
Giving up sports after college, the commander-in-chief developed a theory about exercise.
"Trump believed the human body was like a battery, with a finite amount of energy, which exercise only depleted. So he didn't work out," wrote The Washington Post 's Mike Kranisch and Marc Fisher in their book Trump Revealed. "When he learned that John O'Donnell, one of his top casino executives, was training for an Ironman triathlon, he told him, 'You are going to die young because of this.'"
Read more: Read the full summary of Trump's physical exam report
Trump has also said on multiple occasions that the bodies of people around him who do exercise are always breaking down.
"A lot of people go to the gym and they'll work out for two hours and all. I've seen people...then they get their new knees when they're 55 years old and they get their new hips and they do all those things. I don't have those problems," Trump said during the interview Wednesday.
Trump, however, should take the importance of exercise to his health more seriously, said the president's physician Dr. Ronny Jackson in his report published Tuesday. "We discussed diet, exercise and weight loss," Dr. Jackson wrote. "He would benefit from a diet that is lower in fat and carbohydrates and from a routine exercise regimen."
At 6 feet 3 inches tall and 239 pounds, by medical measurements, the president is considered overweight and nearly obese. Dr. Jackson gave Trump a clean bill of health, but some experts raised concerns about his high cholesterol levels, indicating they put him at risk of a heart attack.
Trump said Wednesday that he is strong and amazed the medical staff who conducted his physical exam last week by walking on a treadmill. "I was on a treadmill for the first time actually in quite a while, and it was at a very steep angle, and I was there for a very long time," he said. "They were surprised. And they said, 'Well you can stop now, that's amazing.' And I said, 'I can go much longer than this if you want me to.'"
While more exercise may be a tall order for the president, he said he's open to changing his diet to include smaller portions.
"The people that do the food at the White House are extraordinary, but I think they can maybe make the portions a little bit smaller and maybe we'll cut out some of the more fattening ingredients," the president said, adding he's "OK with that."
"I've always been more of a believer in diet 'cause I'm strong, you know?" he said. "I hit the ball far. I mean, I'm strong, physically."