Trump's Final Weeks Bring Risk of Regional Iran War With Tinderbox of Sanctions, Assassination and Soleimani Anniversary
President-elect Joe Biden's electoral victory has brought much talk of a revival in ties with Iran, perhaps even an end to the tension and military posturing that has punctuated the last four years under President Donald Trump.
But even on his way out of the White House, Trump appears intent on breaking the regime in Tehran. Combined with recent and upcoming events, experts warn that there is a heightened risk of war breaking out.
The administration is imposing ever-more stringent sanctions on Iran and its officials, seeking to punish the regime for its repeated refusal to negotiate a new nuclear deal with Trump and for its continued regional activities.
On November 27, Iran's top nuclear scientist Dr. Mohsen Fakhrizadehwas killed by an unidentified hit squad on a country road outside Tehran, which the regime said bore the hallmarks of an Israeli operation. All the attackers escaped. Iran blamed Israel and vowed revenge.
It appears unlikely that such a sophisticated operation could take place without American knowledge or even approval, but the Trump Administration has so far refused to comment.
The White House, State Department, and National Security Council all declined to comment on the record when asked for information on the assassination by Newsweek.
Israel has not confirmed or denied responsibility per longstanding policy, but multiple media reports have cited unnamed U.S. intelligence officials crediting the Israelis.
The coming weeks will be fraught, and more violence is possible. The situation could turn "terribly dangerous for the region and beyond," Agnes Callamard, the United Nations Human Rights Council special rapporteur on extrajudicial, summary or arbitrary executions, told Newsweek.
Fakhrizadeh's killing is the most significant since Major General Qassem Soleimani was killed by an American drone strike in Baghdad. Soleimani was one of the most powerful members of the regime and its foreign operations mastermind, and his killing brought the U.S. and Iran to the brink of war.
"We are back to a January 3 scenario," Callamard said referring to the Soleimani strike, "where everyone—most governments and people like me—were extremely worried about the possibility of escalation."
Iran retaliated for the Soleimaini strike with ballistic missile attacks on two Iraqi bases housing U.S. troops, injuring more than 100. But Iranian officials have continued to vow further action to avenge the slain commander, and the first anniversary is coming up.
Iran's Gen. Hossein Salami, who replaced Soleimani, said in September: "Mr. Trump! Our revenge for martyrdom of our great general is obvious, serious and real."
Israel on Thursday warned that Iran may strike back at Israeli interests or civilians in a range of regional nations, while the U.S. is reportedly temporarily drawing down staff numbers at its oft-targeted embassy in Baghdad.
An Iranian-linked attack on either nation or its interests could provoke a broader crisis.
Sina Toossi, a senior research analyst at the nonprofit National Iranian American Council, said any Iranian response would likely be calibrated to avoid war, something Tehran has been wary of throughout Trump's time in office.
"Iran will retaliate for the assassination of scientist Mohsen Fakhrizadeh in a way that will be aimed at demonstrating a cost for such actions against it but avoiding war," Toossi predicted. "Iran will likely bide its time and react in an indirect way and may target Israeli interests and civilians abroad."
Toossi cited the examples of the 1992 bombing of the Israeli consulate in Buenos Aires that killed 29—a response to the Israeli assassination of Hezbollah leader Abbas Musawi—and the bombing of a tourist bus in Bulgaria in 2012 that killed five Israelis—a presumed response to the assassination of multiple Iranian nuclear scientists in Iran.
However, Toossi is more concerned about the other side. "Trump and Netanyahu will continue to up the ante with Iran in the next 50 or so days," he told Newsweek.
"They will be risking a total regional war at the tail end of a president who ran on ending 'endless wars.' If such a conflict erupts, Trump will be bereft of domestic or international support, and will lock the U.S. into yet another needless strategic quagmire in the Middle East."
Upping the ante could mean more sanctions, assassinations, cyber strikes like the 2010 Stuxnet attack, or more overt military measures against Iranian targets or allies in Iraq and Syria, or other parts of the region.
To the hypothetical of more assassinations of Iranian scientists, for example, Callamard responded: "If you are correct, I will be extremely concerned."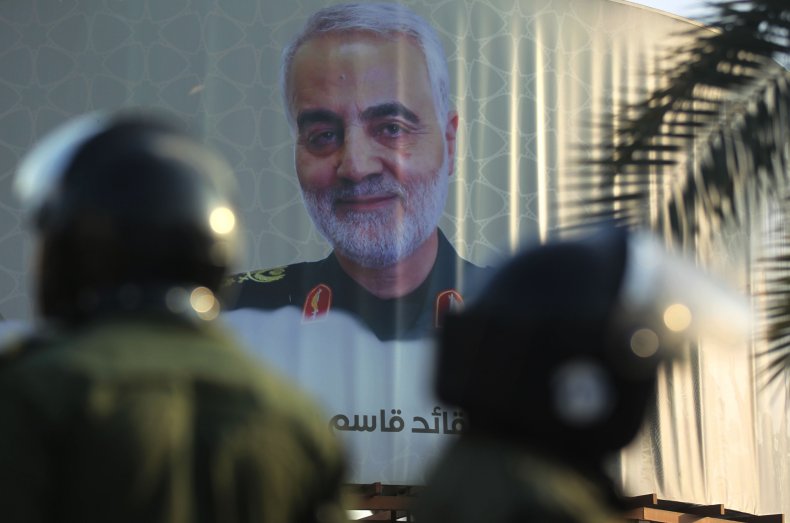 She explained: "Because it will violate international law on a repeated basis; because it will weaken the international system and the United Nations and the Security Council; because it preempts any kind of non-violent attempt to solve those very serious issues related to Iran's nuclear weapons program."
Iran is holding out for Biden, who wants to rejoin the Joint Comprehensive Plan of Action nuclear deal that Trump abandoned in 2018 with Israeli backing. Sanctions relief might be on the cards if the regime can make it to January 20 without a war, a distasteful result for Trump's Iran hawks and Netanyahu.
Indeed, Fakhrizadeh's assassination and fresh sanctions appear to be designed to hamstring any Biden effort to revive dialogue, empowering the hardliners in Iran and pushing Tehran to lash out.
"We can expect Trump and company to continue to search for ways to decisively kill any potential for the deal being resuscitated," Toossi predicted.
"But short of direct military strikes on Iran's nuclear facilities, which would spark all-out war, there is little they can do.
"Sabotage and assassinations have little tangible impact on Iran's nuclear capabilities, with the real goal being to bait Iran into over-reaction, empower Iranian hardliners, and increase the political cost in Tehran for pursuing negotiations with the United States."
The Iranian parliament has already passed a new measure ordering the country's nuclear energy agency to enrich and stockpile more uranium, used in nuclear power but if highly enriched suitable for a nuclear bomb.
And June's election looks set to replace moderate President Hassan Rouhani with a conservative, perhaps one from the Islamic Revolutionary Guard Corps.
"The parliamentary bill has satiated Iranian hardliners on the nuclear front for now, and still leaves the door open to Iran returning to the nuclear deal if the U.S. returns," Toossi said of last week's developments.
"President-elect Biden will now be faced with a nuclear crisis with Iran at the beginning of his administration.
"The easiest and most feasible path for him to alleviate this crisis is to take immediate steps to return to the nuclear deal, predicated on Iran returning to full compliance as well. This is still a possibility."
Rouhani and Zarif have repeatedly said that Iran remains open to resurrecting the JCPOA. But each new assassination or round of sanctions chips away at its foundations, and at the domestic strength of the moderates who favor engaging with Washington.
The remaining weeks of Trump's term could yet bring more such challenges, as conservative forces in Iran use grief and outrage as a springboard to amass more power.