Trump's Former AG Matthew Whitaker Blames Partisan 'Obama Judges' for Ruling Don McGahn Must Testify
Matthew Whitaker, President Donald Trump's former acting attorney general, suggested a court ruling that former White House counsel Don McGahn must comply with a congressional subpoena to testify was the result of "partisan" judges appointed by Trump's predecessor.
U.S. District Court Judge Ketanji Brown Jackson ruled Monday in Washington, D.C., that McGahn was required to answer lawmakers' questions regarding the Mueller report and that the White House's argument of "absolute immunity" did not stand.
"I think the American people need to understand that especially Obama judges are very partisan and their opinions are oftentimes, especially here in the district of D.C., are against the Trump administration for really partisan purposes, and this is one that's going to play out," Whitaker told Fox & Friends Wednesday morning.
Jackson was appointed by former President Barack Obama in 2012.
"There's been so many headline-grabbing District Court opinions that ultimately are overturned or modified by the appeals courts, and I don't think this case is going to be any different," Whitaker continued. "It's very important actual principle for future presidents, and if I was anybody in this Democrat primary, anybody that ultimately hopes that they will be president in the next decade or two, I would not want this opinion to stand."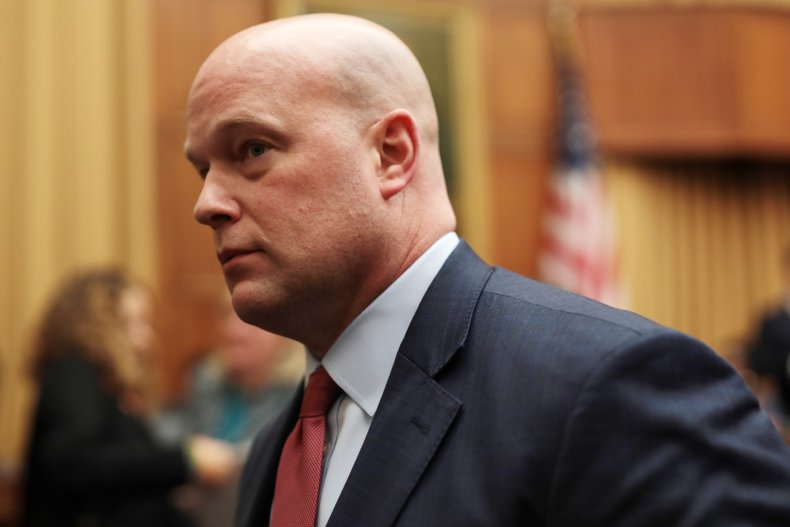 The Justice Department is appealing the decision.
In her ruling, Jackson strongly rebutted the claims made by the Justice Department that McGahn was immune from testifying. She characterized the administration's argument as "startling" and one that could have "untenable implications of DOJ's absolute testimonial immunity argument, and also amply demonstrates its incompatibility with our constitutional scheme."
"Stated simply, the primary takeaway from the past 250 years of recorded American history is that Presidents are not kings," she added. "[I]t goes without saying that the law applies to former White House Counsel Don McGahn, just as it does to other current and former senior-level White House officials."
Whitaker's brief stint as the nation's top law enforcement official was a precursor to the current attorney general, William Barr. His tenure notably featured combative Capitol Hill testimony in February about former special counsel Robert Mueller's Russia probe and the separation of migrant families.
Following the Mueller report, Democrats subpoenaed McGahn in April as part of their investigation into whether Trump may have committed obstruction of justice by, among other things, directing McGahn to fire Mueller. McGahn refused and later resigned. At the direction of the White House, he's refused to cooperate with a subpoena to testify.
Whitaker bemoaned Democrats' continued pursuit to hear from McGahn.
"We're still doing that. I mean, the American people need to understand that Congress has so much other important work they could be doing," he said. "But instead, they're spending their time, not only on the Mueller report, but on this trumped-up other case."
As the impeachment inquiry transitions to the control of the House Judiciary Committee next week with public hearings, lawmakers will need to determine whether allegations of obstruction of justice from the Mueller report will be included as an article of impeachment.