Don McGahn Must Comply with a Subpoena to Testify Before Congress. Here's What that Means for Impeachment
Former White House counsel Don McGahn must comply with a congressional subpoena to testify before lawmakers about matters involving former special counsel Robert Mueller's report on 2016 U.S. election interference, a federal judge in Washington, D.C., ruled Monday.
The decision by U.S. District Court Judge Ketanji Brown Jackson, which the Justice Department told Newsweek it will appeal, is one that bolsters House Democrats' oversight capabilities. But the outcome does not mean it will alter the House impeachment inquiry or offer lawmakers the chance to hear from McGahn and other current and former officials who've failed to comply with subpoenas.
"Stated simply, the primary takeaway from the past 250 years of recorded American history is that Presidents are not kings," Jackson said in her ruling.
"[I]t goes without saying that the law applies to former White House Counsel Don McGahn, just as it does to other current and former senior-level White House officials," the federal judge continued. "This means that such aides cannot defy a congressional subpoena on the basis of absolute testimonial immunity, even if the President for whom they work (or worked) demands that response."
The ruling stems from the White House in May ordering McGahn to defy a subpoena from the House Judiciary Committee to recount events from Mueller's report that Democrats say amounts to obstruction of justice. The move prompted a wave of Democrats to back an impeachment inquiry. McGahn was a central figure in Mueller's report, which showed how President Donald Trump directed him to fire Mueller; McGahn refused. The report stated McGahn would "resign rather than trigger what he regarded as a potential Saturday Night Massacre."
Despite Jackson's ruling, the case is likely far from over due to the appeals process. As a result, Democrats continue to reiterate that they plan to move on with impeachment—with or without the cooperation of additional witnesses who have the ability to provide explosive testimony or documents, such as Secretary of State Mike Pompeo and acting Chief of Staff and Office of Budget and Management Director Mick Mulvaney. Former National Security Adviser John Bolton was not subpoenaed after his attorney threatened to go to court.
Will McGahn now testify, and what does it mean for the impeachment inquiry?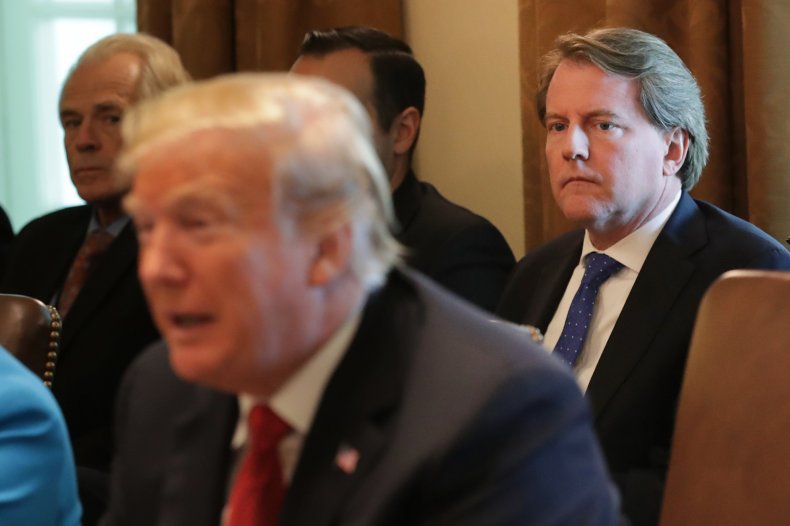 William Burck, an attorney for McGahn, told Newsweek in a statement that his client "will comply with Judge Jackson's decision unless it is stayed pending appeal. The DOJ is handling this case, so you will need to ask them whether they intend to seek a stay."
A spokesperson for the Justice Department, which is defending the White House's choice to block McGahn's testimony, told Newsweek it "will appeal the decision." The White House has argued that he has "absolute immunity" and, thus, does not need to comply with the congressional subpoena.
Jackson characterized that argument has containing "startling and untenable implications of DOJ's absolute testimonial immunity argument, and also amply demonstrates its incompatibility with our constitutional scheme."
Legal experts told Newsweek that the appeals process will likely delay a final verdict for months, exceeding House Democrats' unofficial timeline of having articles of impeachment passed before Christmas.
The House Judiciary Committee told Jackson earlier this month that in the wake of the Intelligence Committee concluding its public hearings centered on the Ukraine scandal, the panel "anticipates holding hearings... and would aim to obtain Mr. McGahn's testimony at that time."
After Monday's ruling, Judiciary Chairman Jerrold Nadler (D-N.Y.) stated his expectation for McGahn's future appearance. "Now that the court has ruled, I expect him to follow his legal obligations and promptly appear before the committee," he said in a statement.
Democrats must still determine whether they want to include articles stemming from the Mueller probe, such as obstruction of justice. But a more serious charge from the special counsel's Russia investigation, aside from obstruction and McGahn,would be witness tampering based on former Trump Campaign Chairman Paul Manafort, former Watergate prosecutor Nick Akerman told Newsweek.
A judge ruled earlier this year that Manafort intentionally lied to Mueller's team, and the recent criminal trial of Roger Stone, a longtime political adviser to Trump, revealed Trump was likely aware of his campaign's dealings with WikiLeaks over Democratic emails stolen by Russia.
"Manafort was absolutely a critical witness and Trump essentially engaged in witness tampering with him: held out possible pardons, made statements publicly commending him for being so brave and hanging tough," Akerman said. "To me, that's the most serious of the obstruction counts because it would have revealed what Trump's role and others' role were with the conspiracy of the Russian government."
This comes despite Akerman saying Trump's order for McGahn to oust Mueller was "clearly in violation of federal criminal law."
Chairman of the Intelligence Committee, Rep. Adam Schiff (D-Calif.), said Democrats were not holding their breath for the cooperation of Pompeo and Mulvaney, whom were subpoenaed for documents and/or testimony on the Ukraine scandal. Because of this, he said his panel will draft a report this week that summarizes the evidence they've gathered over the course of the impeachment inquiry and hand it over to the Judiciary "soon" after Congress returns from Thanksgiving recess next week.
"[W]e will not allow the President or others to drag this out for months on end in the courts," Schiff wrote in a Dear Colleague letter Monday. "[W]e will be forced to infer from this obstruction that the testimony of these witnesses would tend to incriminate the President further since he would have encouraged—rather than blocked—the testimony of senior officials like" Mulvaney, Pompeo and Bolton, "if he believed it would somehow be helpful to him."
What does this ruling mean for those who've been subpoenaed and blocked by the White House?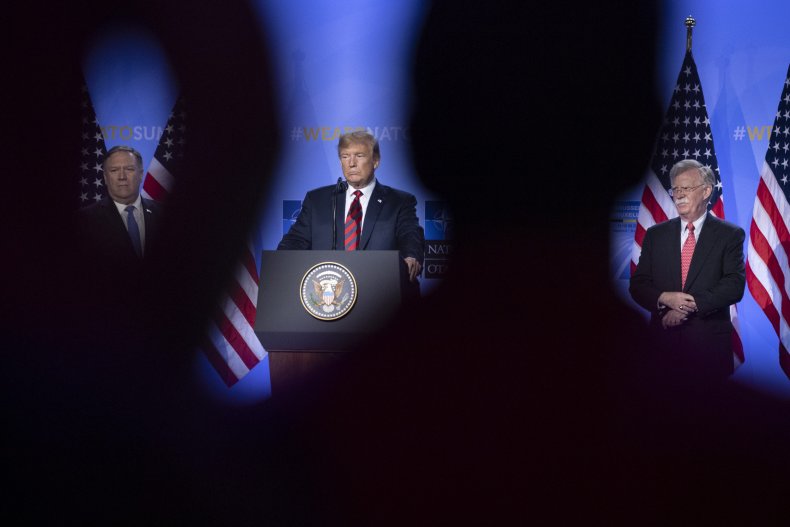 The short answer, legal experts told Newsweek, is most likely nothing.
"Although a favorable ruling would help give House Dems some authority for their subpoenas, other witnesses are not bound by the decision of the district court in his case, and would likely go the same appeals route," Barbara McQuade, a former prosecutor for the Eastern District of Michigan, told Newsweek in an email.
Akerman signaled it's unlikely that subpoenaed witnesses would take McGahn's court ruling "at face value" and agree to comply.
"If someone...doesn't take it at its face value and joins in this appeal and waits for the Supreme Court to either grant cert or deny cert—which they'll probably deny cause it's such a simple thing—it's still going to take a couple months and will go beyond the time period that the House will vote impeachment," he said.