Trump's Former Lawyer Says He 'Won't Succeed' as GOP Sees Him as 'Burden'
Former Harvard Law School professor Alan Dershowitz has said that former President Donald Trump will not succeed in his new presidential bid because the Republican Party sees him as a "burden."
Dershowitz spoke to Newsweek before Trump announced he was seeking another term in the White House on Tuesday. He said he did not support the former president.
Dershowitz was part of the former president's legal team during his first impeachment trial in the Senate in 2020 and has frequently commented on Trump's ongoing legal battles.
"We'll know tonight but I think he'll try to come back but I think he won't succeed," Dershowitz told Newsweek ahead of Trump's announcement at his Mar-a-Lago estate in Florida.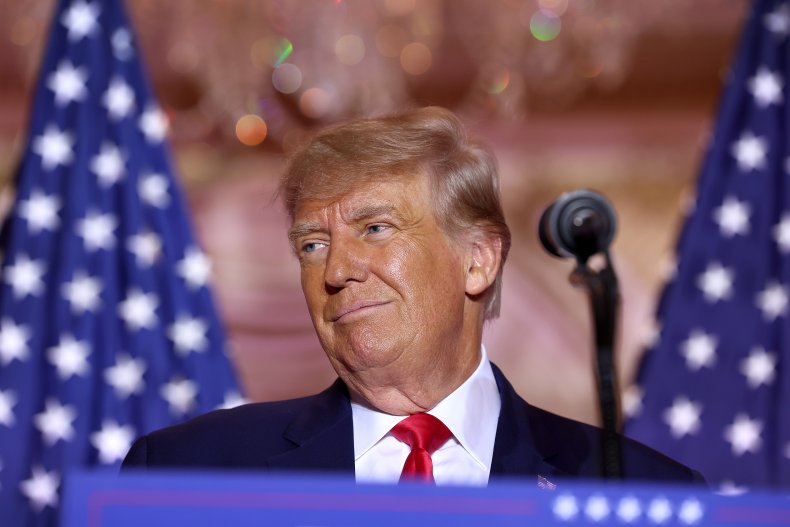 "The Republican Party understand that he's become a burden rather than a benefit. He's a benefit to some candidates which is what makes it more complicated. His record of who he is supporting and how they did in the midterms is mixed," the former law professor said.
The Republican Party underperformed in the recent midterm elections, failing to take control of the Senate, while several candidates endorsed by Trump lost their races.
Dershowitz was speaking to Newsweek about his latest book, The Price of Principle: Why Integrity Is Worth the Consequences.
"My book is about what happens to somebody like me who fights back and does the right thing," Dershowitz said.
"I represented Donald Trump, I don't support him," he said. "I'm anxious to hear whether he is going to run tonight because I have the right to vote against him."
"I don't want him to be president but I thought his impeachment was unconstitutional. [...] So I did the principled thing in defending him," Dershowitz said.
Those remarks came before Trump formally announced his intention to launch a third presidential campaign on Tuesday. His aides reportedly filed paperwork for a campaign before Trump took the podium to confirm his new White House bid.
"In order to make America great and glorious again, I am tonight announcing my candidacy for president of the United States," Trump told a crowd at his Mar-a-Lago residence in Florida.
It had been widely expected that Trump would announce his candidacy on Tuesday, though some allies had urged him to delay any presidential announcement until after the December 6 U.S. Senate runoff election in Georgia.
The former president has been the subject of significant criticism since the Republicans' disappointing results in the midterm elections and with the first GOP primaries more than a year away, it remains to be seen how his long campaign will play out.