Trump's Grip on Party Threatened By 'Real-World Problems': GOP PAC Head
The PAC head who was opposed to the Donald Trump-endorsed gubernatorial candidate in Idaho said the former president's power over the GOP isn't strong enough to overcome the "real-world problems" that Republican voters face every day.
"I think there are so many bigger concerns than who Trump wants," Jennifer Ellis, who is on Take Back Idaho's board of directors, told Politico's Playbook Deep Dive podcast.
"In a state like ours, we've got a lot of challenges. We've got drought. We've got wildfire season coming. We have got infrastructure that needs to be rebuilt. I mean, we have real-world problems, not political problems," she said. "And we need grownups to fix them. And that's the folks that we tried to get elected. So I think it's a waning influence over time."
Ellis' main target in the state's primary this week was far-right Lieutenant Governor Janice McGeachin, whom Trump backed in her gubernatorial challenge to incumbent Brad Little. She lost by more than 20 points—the biggest defeat a Trump-endorsed candidate has faced this midterm year.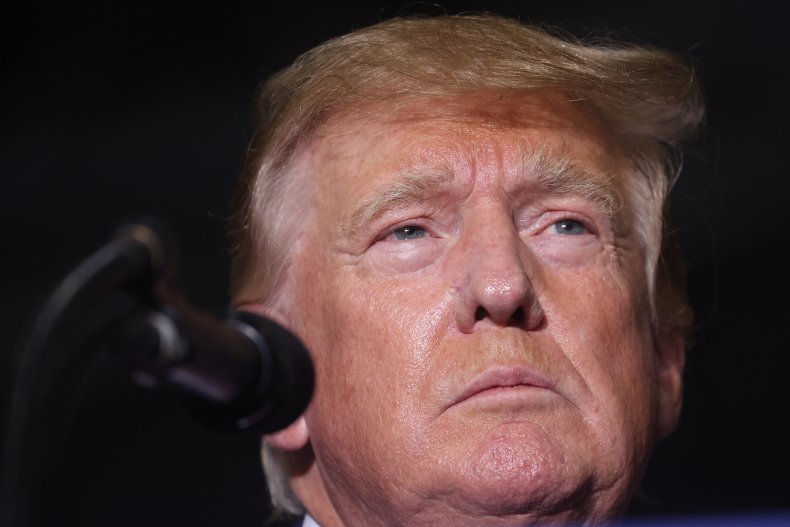 McGeachin, who is arguably one of the most extreme candidates Trump has backed, received 32.2 percent of the GOP vote, while Little earned 52.8 percent.
"People don't know how that [web of national and state politics] works because they really don't want anything to do with politics, by and large," Ellis said on Wednesday. "As was witnessed yesterday when 30 percent of people voted in Idaho, so we get the government we deserve."
Using her power as acting governor, McGeachin has attempted to issue executive orders on more than one occasion when Little was out of state on business.
McGeachin also has several ties to alt-right groups and figures such as anti-government militia the Three Percenters and white nationalist Nick Fuentes. She is among Trump's earliest supporters and has fiercely backed his claims that the 2020 election was stolen.
Ellis, whose PAC targets extremist candidates in Idaho, said she was not surprised that Trump endorsed McGeachin.
"She'd gone all in on his 2020 race. She had bundled a lot of money for people, you know, she delivered it to [Donald Trump] Jr., she was front and center, full MAGA all the time," she said.
"Far right is one thing, alt-right is a whole other thing," Ellis said, adding that [McGeachin] was a legislator from Idaho Falls for a long time and she was conservative, but she was not that."
While Ellis expressed her disappointment with the fact that McGeachin was still supported by some voters—and that other far-right candidates in Wyoming and Montana are gaining traction—she said it would be up to Idaho to decide its political future.
"The more we all stand up and the more we all get educated and help row this boat, it wouldn't be a heavy lift," she said. "I mean, look at what we were able to accomplish in a pretty short amount of time.
"We brought some accountability to groups and legislators who had always operated with impunity, no matter what they did, and so they had some pushback that wasn't just a one-off. It was sustained."