Former President Donald Trump has called on his "MAGA nation" to "rise up" against President Joe Biden over vaccine mandates on the eve of the Capitol insurrection's one-year anniversary.
Trump claimed in a statement on Wednesday that there was "talk by" the Biden administration of forcing schools to close and imposing a vaccine mandate for school children amid the recent surge of COVID-19—although there is no indication that any such plans have been considered.
"There's talk by the Biden administration again about closing schools and even vaccine mandates for school children," Trump said. "This is an outrage, and MAGA nation should rise up and oppose this egregious federal government overreach."
The former president, who has recently come under fire from his anti-vaccine supporters for repeatedly pushing and praising his role in the creation of the vaccines, blasted "mandate happy" Democrats while insisting that he would "never" issue mandates despite being pro-vaccine.
"Our administration did what they said could not be done—vaccines in record time," said Trump. "But we never issued mandates, and I never would! People should be able to choose how they want to govern their own health. The federal government must be reined in and give people back the freedom to decide whether they want to be vaccinated or not."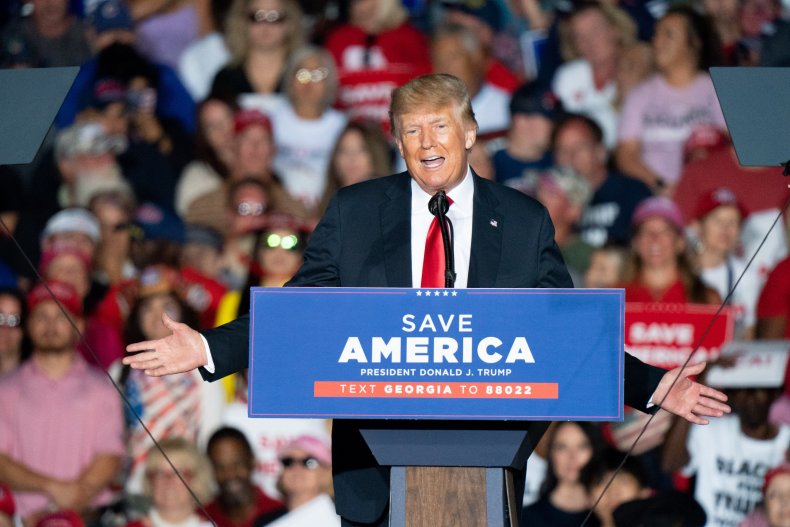 Trump also blasted Biden for having "federalized the distribution of antibodies," arguing that "red states are getting the short end of the stick" as a result. He praised his own administration in comparison, saying that it "respected the role of Governors" so they "could request antibodies or therapeutics depending on what they needed."
The former president's potentially incendiary comments that urged followers to "rise up" came only one day before the country was poised the mark the one-year anniversary of the Capitol insurrection.
Trump was impeached by the House for an unprecedented second time one week after a mob of his supporters, fueled by evidence-free claims that the 2020 presidential election had been "stolen," stormed the Capitol in an attempt to stop Congress from certifying Biden's win on January 6, 2021.
Shortly before the violent riot took place, Trump delivered a speech urging supporters to "walk down to the Capitol" and "fight like hell," warning them that they would not "have a country anymore" if they didn't take his advice. Trump has recently insisted that the rioters were merely protesters and that "the real insurrection" was his election loss.
Biden has not spoken in favor of a COVID-19 vaccine mandate for school children. The president has instead advocated in favor of a "test to stay" policy for schools, insisting on Tuesday that "schools should remain open" for in-person learning despite some of them making independent decisions to temporarily shut down amid the current surge.
Newsweek reached out to the White House and Trump's office for comment.