Trump's Influence in Georgia Tested as His GOP Picks Differ in Polls
Donald Trump is trying to influence elections in Georgia ahead of the 2022 midterms, and recent polling shows it's having various degrees of success.
Herschel Walker, who Trump has endorsed in the Peach State's Republican primary for Senate, has a huge lead among his competitors in a new survey from the Trafalgar Group. Meanwhile, Trump-backed David Perdue is shown trailing incumbent Brian Kemp in the primary for governor.
Despite being out of office, Trump is asserting his influence over the Republican Party through dozens of endorsements. He's backed more than 50 candidates for federal office, as well as in 13 gubernatorial races across the country. The former president is touting his picks as the "strongest" in U.S. political history.
But in some cases, Republican figures like Mitch McConnell are reportedly working quietly to thwart Trump's efforts as the party aims to regain control of Congress in the November elections.
According to Trafalgar's poll, Walker has 70 percent support among likely voters; the candidate in second place Gary Black saw 6 percent support. Twenty percent of likely primary voters said they were undecided.
Walker, 59, declared his candidacy in August 2021 for the seat occupied by Democrat Raphael Warnock. He already had Trump's support before he entered the race, with Trump stating in March of that year that Walker would be "unstoppable, just like he was when he played for the Georgia Bulldogs, and in the NFL."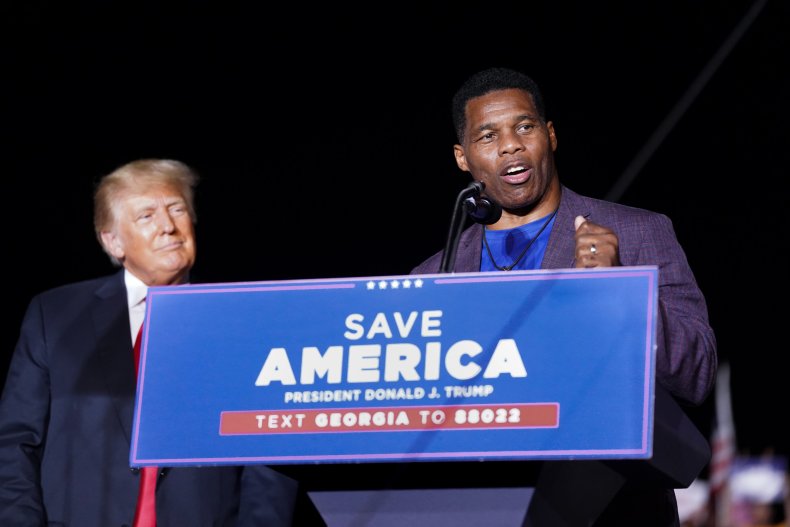 In the governor's race, Kemp led the Republican primary poll with 49 percent support from likely voters. Perdue, a former U.S. senator who was defeated by Democrat Jon Ossoff in 2020, had 40 percent of likely voters back him.
Trump encouraged Perdue to challenge Kemp, who earned Trump's ire during the 2020 election. Kemp has pushed back on Trump's baseless claims that his loss in the Peach State to Joe Biden was due to widespread voter fraud. Several audits and recounts of the race only reaffirmed Biden's win.
Jay Williams, a Republican strategist in Georgia, told Newsweek he believes Walker would be ahead in the Senate race regardless of Trump's endorsement.
But the endorsement could be carrying more weight in the governor's race, he said.
"The [former] president's made no bones about it that Brian Kemp is his number one target in Republican primaries, that definitely helps Perdue," Williams said. "If Trump wasn't behind Perdue, Perdue would have a difficult time unseating Brian Kemp. That's just a fact."
Perdue also lags Kemp in fundraising so far. The current governor raised more than $7.4 million between July 1 and the end of January, while Perdue raised just over $1 million between launching his campaign in early December 2021 and the end of January.
Walker, on the other hand, raised $5.35 million in the final three months of last year, according to the latest filings with the Federal Election Commission. Walker also had approximately $5.4 million cash on hand at the start of 2022.
The Trafalgar Group polled 1,072 likely Republican primary voters between February 12 and February 13, 2022. The survey's margin of error is plus or minus 2.99 percentage points.
Newsweek reached out to Trump's Save America PAC for comment on the polling but didn't receive a response before publication.