Trump's Jan. 6 Speech, Texts, Calls: What the Former President Said During Capitol Riot
Former President Donald Trump denies he bears any responsibility for the U.S. Capitol riot, but his comments on January 6, 2021, remain central to the House select committee's investigation.
Shortly after Trump finished speaking on January 6, a mob of his supporters assaulted the Capitol in a riot that resulted in five deaths. Members of the former president's own party criticized him for failing to squelch the violence, and legislators used the riot as the basis for Trump's historic second impeachment.
Along with his speech at the Ellipse before the attack, Trump tweeted 15 times on January 6, posted a video on social media and made at least two relevant phone calls that legislators have confirmed.
Trump's Tweets
Trump started off the day with a tweet calling for Republicans to "get smart" and "fight." About 15 minutes later, he called for Vice President Mike Pence to "send it back" to the states, referring to the presidential election. The former president reiterated his call for Pence to insert himself into the certification of the election results multiple times on January 6.
"States want to correct their votes, which they now know were based on irregularities and fraud, plus corrupt process never received legislative approval. All Mike Pence has to do is send them back to the States, AND WE WIN. Do it Mike, this is a time for extreme courage!" Trump tweeted shortly after 8 a.m.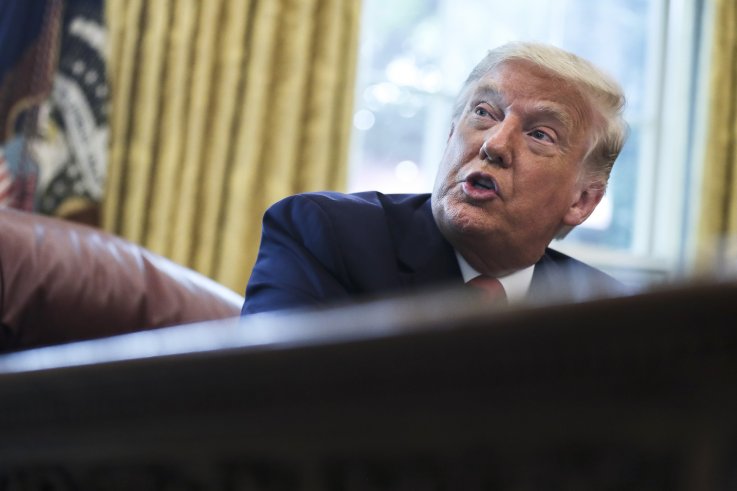 Former President Donald Trump started the morning of January 6, 2021, with a tweet about Republicans having to "fight" to overcome the presidential election results. Above, Trump speaks in the Oval Office on September 17, 2020.
Oliver Contreras-Pool/Getty Images
Throughout the morning, Trump tweeted about election fraud and called for Republicans to block Congress from certifying Joe Biden's election victory. He also pushed for a Georgia Senate race to be called in favor of Republican David Perdue, who had lost a January 5 runoff race to Democrat Jon Ossoff.
Shortly before 1 p.m., when Congress convened to certify the presidential election, Pence wrote a letter explaining that he felt his responsibility was to oversee the process and not insert himself, beyond allowing valid objections to be heard. Pence said he came to the decision after consulting legal and constitutional experts.
About an hour and a half after Congress gathered, Trump tweeted that Pence "didn't have the courage to do what should have been done." At the time, rioters had already started to breach the Capitol, and some were attempting to get into House Speaker Nancy Pelosi's office.
At 2:38 p.m., Trump called for people to "support our Capitol police and law enforcement." He added that people should "stay peaceful" and that officers are "truly on the side of our country."
"I am asking for everyone at the U.S. Capitol to remain peaceful. No violence! Remember, WE are the Party of Law & Order – respect the Law and our great men and women in Blue. Thank you!" Trump tweeted at 3:13 p.m.
At 6 p.m. Trump tweeted that the riot was something that happens "when a sacred landslide election victory" is "viciously stripped away" from people.
Trump's Rally Speech
Trump began speaking at the "Save America" rally around noon on January 6. He first said that the media "will not show the magnitude of this crowd." He then used the bulk of his speech to reiterate claims about the election being "stolen" and rife with fraud.
"We will never give up. We will never concede. It doesn't happen. You don't concede when there's theft involved," Trump said.
Pence was also at the center of Trump's speech. The president called for him to have "courage" and send the election back to the states.
"We want to go back and we want to get this right because we're going to have somebody in there that should not be in there and our country will be destroyed, and we're not going to stand for that," Trump said.
The president also called for people to "walk down" to the Capitol to "cheer on our brave senators." Just before concluding his remarks, Trump told attendees to "fight like hell" because if they didn't they wouldn't "have a country anymore."
Trump's Phone Calls
As the Capitol riot unfolded, Trump attempted to call Senator Tommy Tuberville but first dialed Senator Mike Lee's phone number instead. It's unclear what Trump said to Tuberville, but the Alabama Republican said he told Trump that they've "taken the vice president out," in reference to the evacuation of Pence, and that "they want me to get off the phone."
Several media outlets reported that Trump also told House Minority Leader Kevin McCarthy that the rioters were "more upset about the election" than McCarthy was. Neither McCarthy nor Trump has confirmed the comment, although McCarthy confirmed that the two spoke.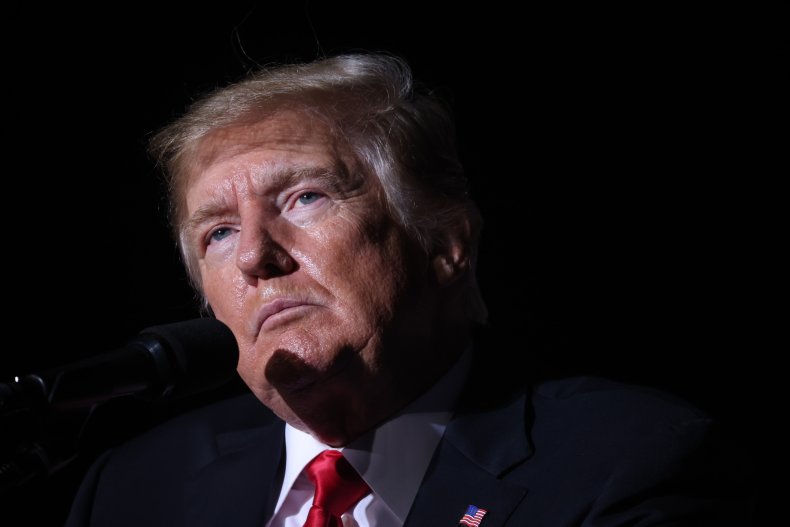 The Republican House leader told Fox News Sunday that Trump told him he would "put something out to make sure to stop this." McCarthy added that he "engaged in the idea" of ensuring that the riot would stop and that Trump "said he would help." McCarthy also didn't outright deny that Trump told him the rioters were more upset about the election than he was.
Trump's communication on January 6 is a focal point of the January 6 committee's probe. The panel has subpoenaed several people close to the president in the hopes of obtaining a clearer picture of what Trump said privately during the riot. It has also sought records from Trump, who argues they are protected under presidential privilege.
Trump's Video
At 4 p.m., hours after the mob started clashing with police, Trump released a video on Twitter telling the crowd that he understood their "pain" and "hurt."
"We had an election that was stolen from us. It was a landslide election, and everyone knows it, especially the other side. But you have to go home now," he said. "We have to have peace. We have to have law and order.... So go home. We love you, you're very special.... I know how you feel. But go home and go home in peace."