Trump's Jerusalem Decision Immediately Prompts Protests After He Claimed It Would "Advance the Peace Process"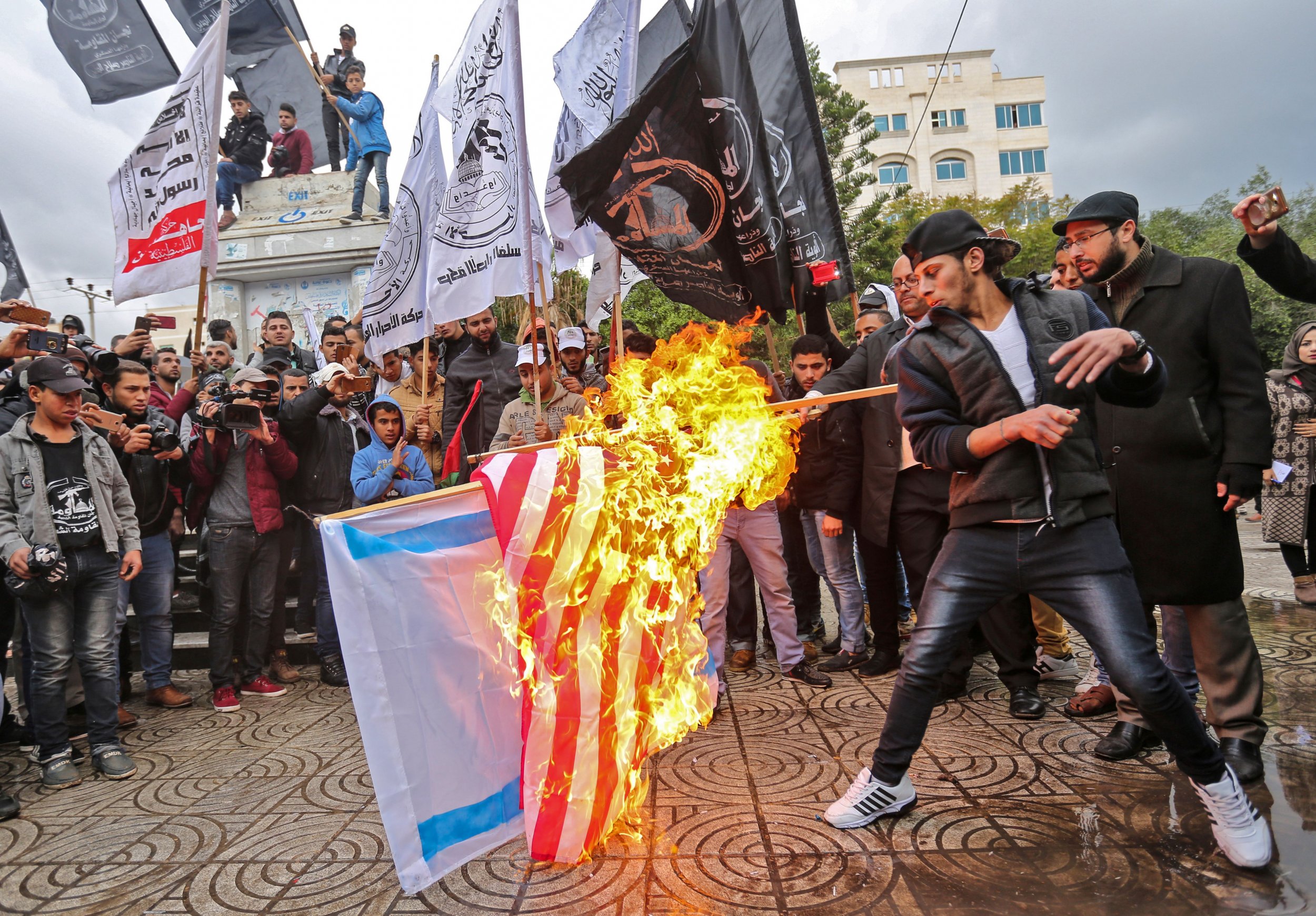 President Donald Trump's announcement Wednesday the U.S. will move its embassy in Israel from Tel Aviv to Jerusalem––officially recognizing it as the Israeli capital––led to protests across the Muslim world, contradicting Trump's claim the move would "advance the peace process" in the region.
The Palestinian president, Mahmoud Abbas, swiftly decried Trump's decision, describing it as America's "declaration of withdrawal" from any efforts to bring peace between Israel and Palestine. Palestinian leaders have called for three "days of rage" against the decision.
In Jerusalem, a wide array of people––including Christians––protested Trump's announcement throughout the day on Wednesday. Some of the protesters burned American flags.
There were also massive protests outside of the U.S. diplomatic mission in Istanbul after Trump's Jerusalem announcement.
Many other Muslim nations and some European nations, including top U.S. allies, have pushed against Trump's decision to move the U.S. Embassy to Jerusalem.
French President Emmanuel Macron described the move as a "regrettable decision that France does not approve."
United Nations Secretary-General António Guterres also spoke out against the decision, stating he would do everything in his power "to support the Israeli and Palestinian leaders to return to meaningful negotiations and to realize this vision of a lasting peace for both people."
Meanwhile, U.S. embassies in the Middle East and Europe issued warnings to Americans traveling or living there for the potential for violent backlash over Trump's announcement.
Amid the global outcry, the Israeli government celebrated the decision, though it is quite alone in this regard. "This is a historic day," Israeli Prime Minister Benjamin Netanyahu said as he thanked Trump for the decision in a public address posted on Twitter.
In his announcement, Trump focused partly on domestic concerns: "I've judged this course of action to be in the best interests of the United States of America and the pursuit of peace between Israel and the Palestinians."
He also called the move, which was mandated by Congress in 1995, "a long-overdue step to advance the peace process and to work towards a lasting agreement."
"The United States remains deeply committed to helping facilitate a peace agreement that is acceptable to both sides," he added.