Trump's Justification for Killing Soleimani Doesn't Matter Because He Was 'Evil,' Says Ex-Bush Senior Adviser
Karl Rove, the senior adviser for former President George W. Bush, suggested Thursday that any evidence used as a basis for the strike that killed Iranian General Qassem Soleimani was irrelevant, because Soleimani was "evil."
Speaking with Fox News host Trace Gallagher, Rove responded to a question about whether the strike should have taken place regardless of evidence by saying that he supported President Donald Trump's decision because Soleimani was "an evil actor." The administration's handling of the affair has come under a great deal of criticism, with GOP Senator Mike Lee calling the intelligence briefing presenting evidence for the attack "the worst briefing I've seen."
"Look, he's not a bad actor, he's an evil actor," said Rove. "This is a man who has the blood of literally thousands of Americans, and tens of thousands of... his fellow Muslims and people in the neighborhood, Iraqis, Syrians, Yemenites, Saudis, you name it."
The Bush administration famously came under heavy criticism for justifying the 2003 invasion of Iraq by claiming that Saddam Hussein possessed weapons of mass destruction, despite disagreement from the United Nations Security Council. Although Rove insisted that the Iraq evidence existed, on Thursday he did not indicate that he feels President Donald Trump needs evidence to use force against Iran.
Rove added that he would not be "mourning" Soleimani's death because he was a threat to Americans and dedicated to the "weird ideology" of Iran.
"This guy's a stone cold killer who, for two decades, has had one goal and one goal only, which is the destruction of the west, the humiliation of the United States of America, the expulsion of the infidels from the region, and the dominance of the weird ideology, extremist ideology of the Ayatollahs of Iran," said Rove. "And so, I don't mourn his passing."
Rove also said that Soleimani's "hubris" resulted in him being killed, suggesting that a U.S. strike was inevitable.
"He's been designated as a terrorist for nearly 20 years, he's been under a travel ban by unanimous vote of the U.N. security council since 2007," Rove said. "It shows the hubris of this man that he thought that he could fly in and out of Iraq on his plane from Tehran and conspire with his proxies to take assaults on Americans, and not face retribution."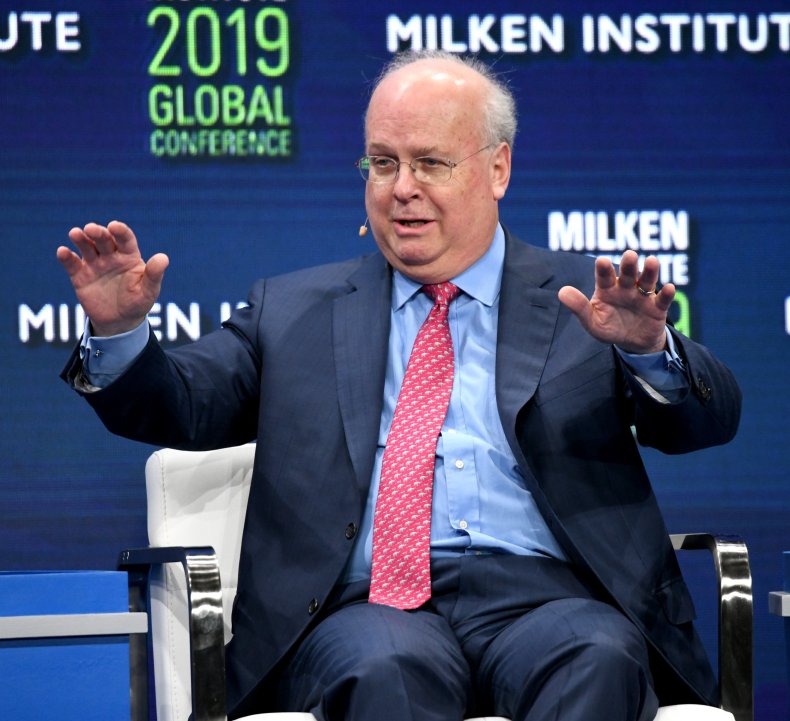 The segment began with Gallagher quoting a Wednesday opinion piece in The Wall Street Journal where Rove wrote that Trump killing Soleimani would not increase his chances in the presidential election because Americans have already decided who they support "as their tribes require." The article went on to praise the attack while claiming that Democrats want to "blame America first."
"Mr. Trump's approval rating won't jump as it did for Ronald Reagan after Grenada, George H.W. Bush after the first Gulf War, George W. Bush after 9/11 or Barack Obama after the death of Osama bin Laden," Rove wrote. "America is too divided and Democrats too close to voting for their presidential nominee."
When Gallagher later asked Rove if the Democratic response to the Soleimani killing should be "a concern for Americans," he responded that he believed "it should be a concern for Democrats, too." Rove said that Democrats asking for evidence justifying the killing was "weak" and they should have "heaped abuse on Soleimani" instead of seeking military intelligence that would justify an attack. He hinted that it could lead to them losing the presidential election.
"The one thing they cannot afford to do going into the fall election is looking like, when it comes to defending America's interests, they're gonna be weak and feckless," Rove said.