Trump's Pick for Arizona Governor Claims 1/6 Rioters Were 'Invited in by Capitol Police'
Kari Lake, a media-bashing Republican running for governor of Arizona in 2022 who was endorsed by former President Donald Trump, on Saturday downplayed the January 6 riot and pushed a widespread unproven narrative that insurrectionists were "invited in by Capitol Police."
"They haven't been charged with a crime and they were invited in by Capitol Police," Lake told reporters at Trump's rally in Des Moines, Iowa.
Lake, a former local television anchor, has embraced Trump's agenda since entering politics earlier this year. She frequently calls the media "fake news," has condemned mask mandates, pledged to complete the southern border wall, and said she wouldn't have certified President Joe Biden's election win.
Lake is running in a crowded field alongside prominent Republican candidates including Arizona Board of Regents member Karrin Taylor Robson, Arizona Treasurer Kimberly Yee, and former U.S. Representative Matt Salmon.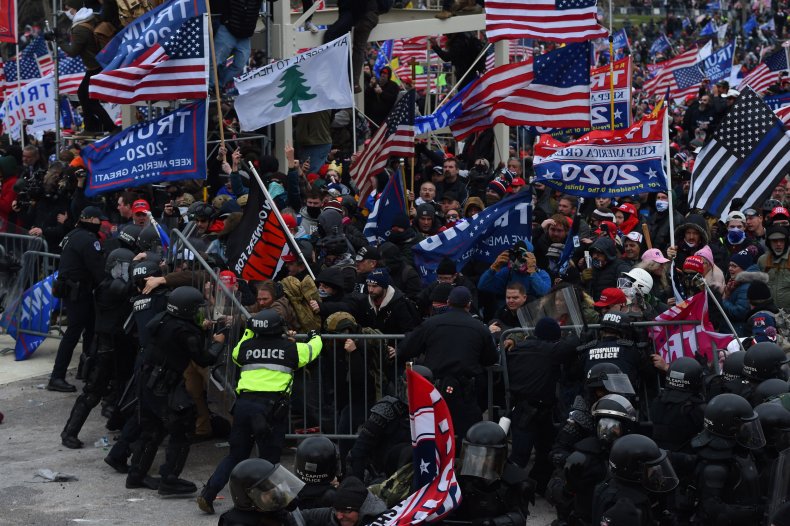 The leading Democratic candidate, Arizona Secretary of State Katie Hobbs, who has seen her profile rise for her fierce opposition to the state's GOP-led "sham" election audit, dismissed Lake as a "conspiracy theorist."
Nine months later, more than 670 individuals have been charged in connection with the January 6 Capitol riot, which forced Congress to lockdown during a session to certify President Joe Biden's 2020 election win.
Dozens of individuals arrested in connection with the Capitol riot claimed in affidavits or court filings that police had granted them access to restricted areas. In the days after the riot, Trump allies shared footage to social media that appeared to show some officers allowing rioters past barricades.
There's no real evidence that Capitol Police granted rioters entry. Authorities did not plan for the riot and police were greatly outnumbered by the mob that instigated the attack, a failure that's under investigation. Officer Brian Sicknick died of natural causes after defending the Capitol, and four other police officers have since died by suicide.
One journalist who shot a 14-second video, which was weaponized by Trump supporters, said officers left the barricade because rioters had "completely outnumbered" them.
A separate 44-second clip that showed an officer engaging with rioters went viral on social media, further fueling the questionable theory that police granted rioters entry.
"There is no evidence of misconduct in the short video clip," Capitol Police said in a statement. "The officers are blocking the hallway and attempting to de-escalate the situation, as they are trained to, by telling the crowd to not attack or assault and to remain calm."
Newsweek reached out to Capitol Police for further comment.