Trump's Likely Pick For Global Women's Issues Ambassador Slams 'Frozen' For 'Villainizing' Men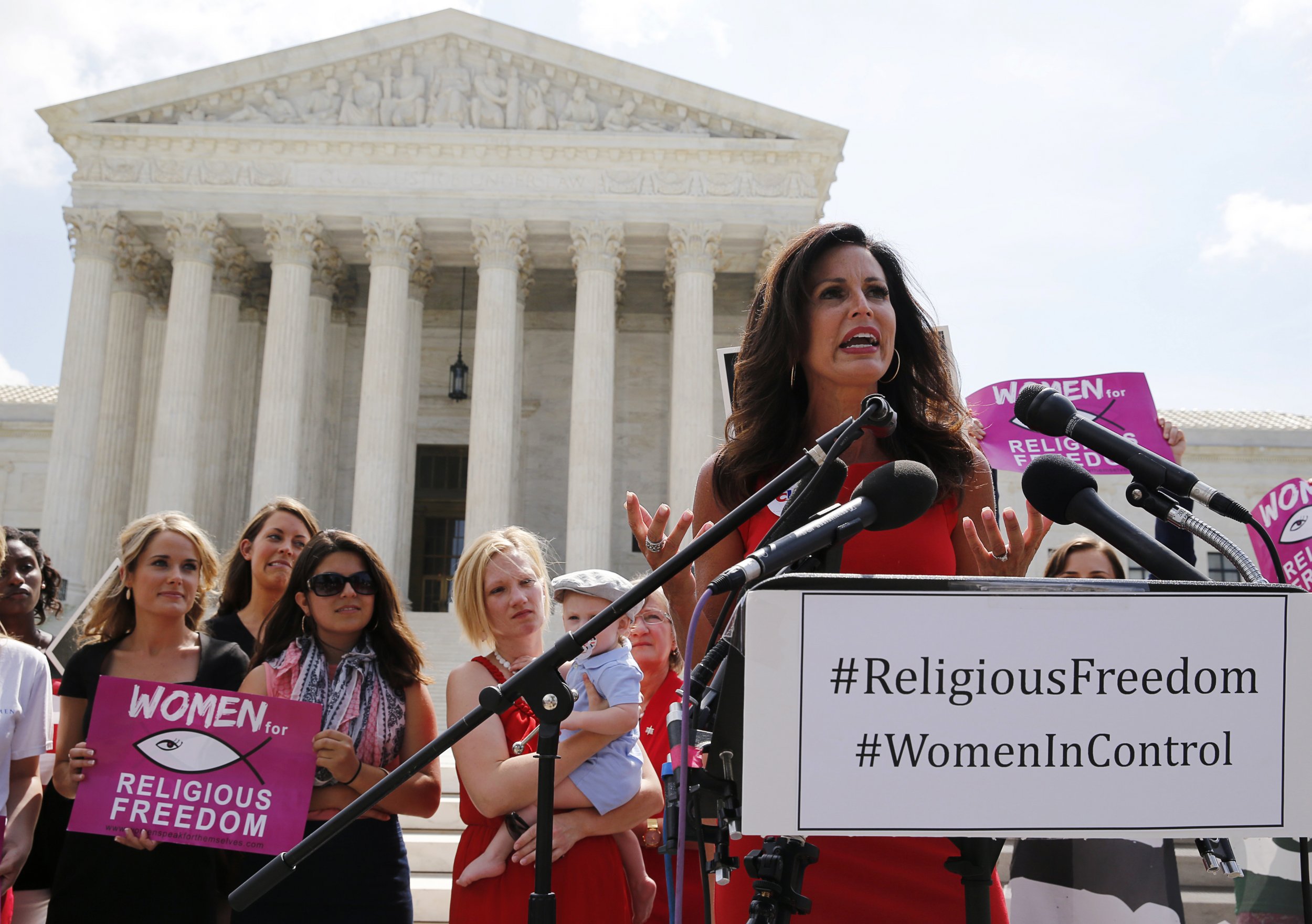 President Donald Trump's likely pick for the Global Women's Issues ambassador has a bone to pick with Frozen, the beloved Disney movie she says is decidedly anti-men.
Penny Nance, president and CEO of the conservative Christian nonprofit Concerned Women for America, reposted her "Fox & Friends" critique of the popular film on Wednesday as groups opposed to her nomination rallied against her.
"For the record, I liked Frozen but ... the point is we want to raise sons to be heroes willing to protect women," Nance posted on Twitter, along with the clip of the 2015 segment when she said movies like Frozen "villainize" masculinity and depict men as "superfluous."
"We don't have to empower women at the cost of tearing down men," Nance said. "Men are essential in our society."
On Wednesday, Nance slammed "the left" for obsessing over her views on the film, but her opinion on the movie offers a glimpse at her broader anti-feminist ideas.
With Nance as its leader, CWA has opposed legislation that protects women and LGBTQ people from workplace harassment, opposed the Violence Against Women Act for encouraging a "war against men," and has called out supposed but unspecified attempts "to eliminate the natural distinctions between men and women."
As the organization's foremost spokeswoman, Nance has made her own incendiary statements, arguing rape victims should have to carry pregnancies to term and speaking out against emergency contraception.
In September 2016, when Alicia Machado came forward with harassment allegations against then-candidate Trump, Nance penned a Fox News op-ed arguing the former Miss Universe contestant was asking for it.
"Let's be honest, a woman who voluntarily puts on a bikini and literally asks people to judge her based almost solely on her body can't be mad when they do," Nance wrote at the time.
And most recently, Nance has weighed in on the controversy surrounding the Trump administration's attempt to block a 17-year-old immigrant woman from getting an abortion.
"Abortion is not healthcare and should not be treated as such, no matter how loudly Planned Parenthood screams that it should be," Nance wrote in the Washington Examiner.
For pro-choice advocates, these beliefs are troubling enough on their own—that someone who holds them may soon be in charge of advocating for women in the federal government is setting off alarm bells.
"For Trump to even consider putting Penny Nance in charge of U.S. programs designed to protect and empower some of the most vulnerable women in the world shows a fundamental disdain for women's health and their lives," Dawn Laguens, executive vice president for the Planned Parenthood Action Fund, said in a statement. "This would be putting an arsonist in charge of the fire department."
It's unclear if Trump is considering Nance for the position, but she has been cozy with the president since the inauguration, attending a large meeting of social conservative leaders and, more recently, sitting next to the president at a more intimate event for conservative leaders at the White House.
If Trump indeed appoints her, Nance would be in good company as an abortion opponent keen on limiting women's reproductive freedoms.
Teresa Manning, who oversees the country's Title X family-planning program, has also come out with anti-abortion statements and has even plainly said "contraception doesn't work." U.S. Ambassador to the United Nations Nikki Haley, meanwhile, has helped the Trump administration withdraw U.S. contributions to the United Nations Population Fund, which gives financial support to family planning, maternal care and reproductive health in developing countries.
And her would-be boss will likely enjoy her cultural commentary. After all, on Saturday, the president tweeted his "review" of Michael Moore's anti-Trump show, "The Terms of My Surrender."
"While not at all presidential I must point out that the Sloppy Michael Moore Show on Broadway was a TOTAL BOMB and was forced to close. Sad!"
As a factual matter, Trump's tweet was fake news. The play was not a bomb, box office records show.