Trump's Re-Election Odds Remain Higher After Biden Debate Than They Were Following First 2016 Debate
Although Donald Trump's odds of winning November's election have fallen after Tuesday's first presidential debate, bookmakers suggest his chances of resuming office for another term remain higher than they were at this time in 2016.
Betting aggregator US-Bookies.com reported on Thursday that Trump's odds of being re-elected stood at 37.7 percent, a drop of roughly 6 points since the beginning of this week. Estimates showed a more favorable trajectory for Democratic nominee Joe Biden, whose odds rose 5.4 points over the same period. Betting aggregators said Biden's chances of winning the election were 55.8 percent as of Thursday morning.
The latest election odds are based on figures originally determined by Bet365, an online gambling company based in the United Kingdom, where political betting is legal, unlike in the U.S. A representative from Better Collective, which represents Bet365, told Newsweek bookmakers take into account a range of variables when setting election odds, including numbers reflected in political polls and bets placed in the market.
Besides US-Bookies.com, another aggregator saw a decrease in Trump's chances of winning the presidency, and an increase in Biden's odds, following the debate. On Wednesday, betting experts at Oddschecker described the probability shift, which they estimated was slightly more than 5.6 percent in the Democratic nominee's favor, as the "biggest swing in the market in six months."
Oddschecker reported that Biden's implied probability rose from 55.6 percent to 58.3 percent after Tuesday's event, while Trump's fell from 45.5 percent to 42.1 percent. US-Bookies' probability model accounts for other candidates receiving bets, in addition to Biden and Trump, which is why its percentages for the two nominees do not add up to 100.
Still, Alex Donahue, a political betting analyst at US-Bookies, pointed out that Trump's current re-election odds are still higher than they were after the first presidential debate in 2016. Four years ago, bookmakers anticipated Trump's chances of becoming elected were closer to 30 percent, while former Democratic nominee Hillary Clinton's stood at roughly 70 percent.
Although election probabilities during the 2016 presidential race differed among analysts and betting experts, the consensus—much like national polling data released throughout Trump's and Clinton's campaigns—pointed to an expected win by the Democratic nominee.
"Election odds from 2016 show that this race is far from over," Donahue said in a Thursday statement, adding that "Hillary's [odds after the first 2016 debate] were better than Biden's currently are."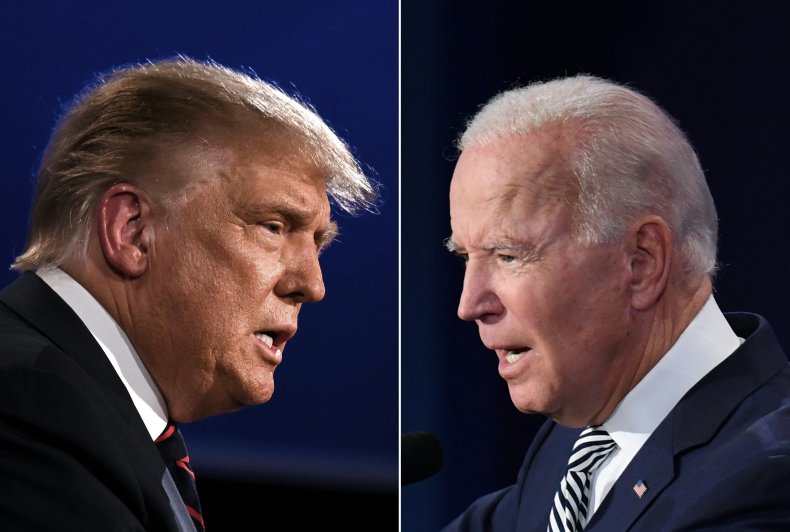 Trump's remarks during Tuesday's debate in Cleveland drew a backlash from politicians as well as members of the public. Among other comments, he was criticized for failing to explicitly condemn white supremacists and militia groups, continued false claims about mail-in ballots resulting in voter fraud, and his refusal to discourage his supporters from engaging in civil unrest if the election outcome is delayed or he feels it has been "manipulated."