Trump's Sebastian Gorka Blames 'Fake News Industrial Complex' For His Words Against Rex Tillerson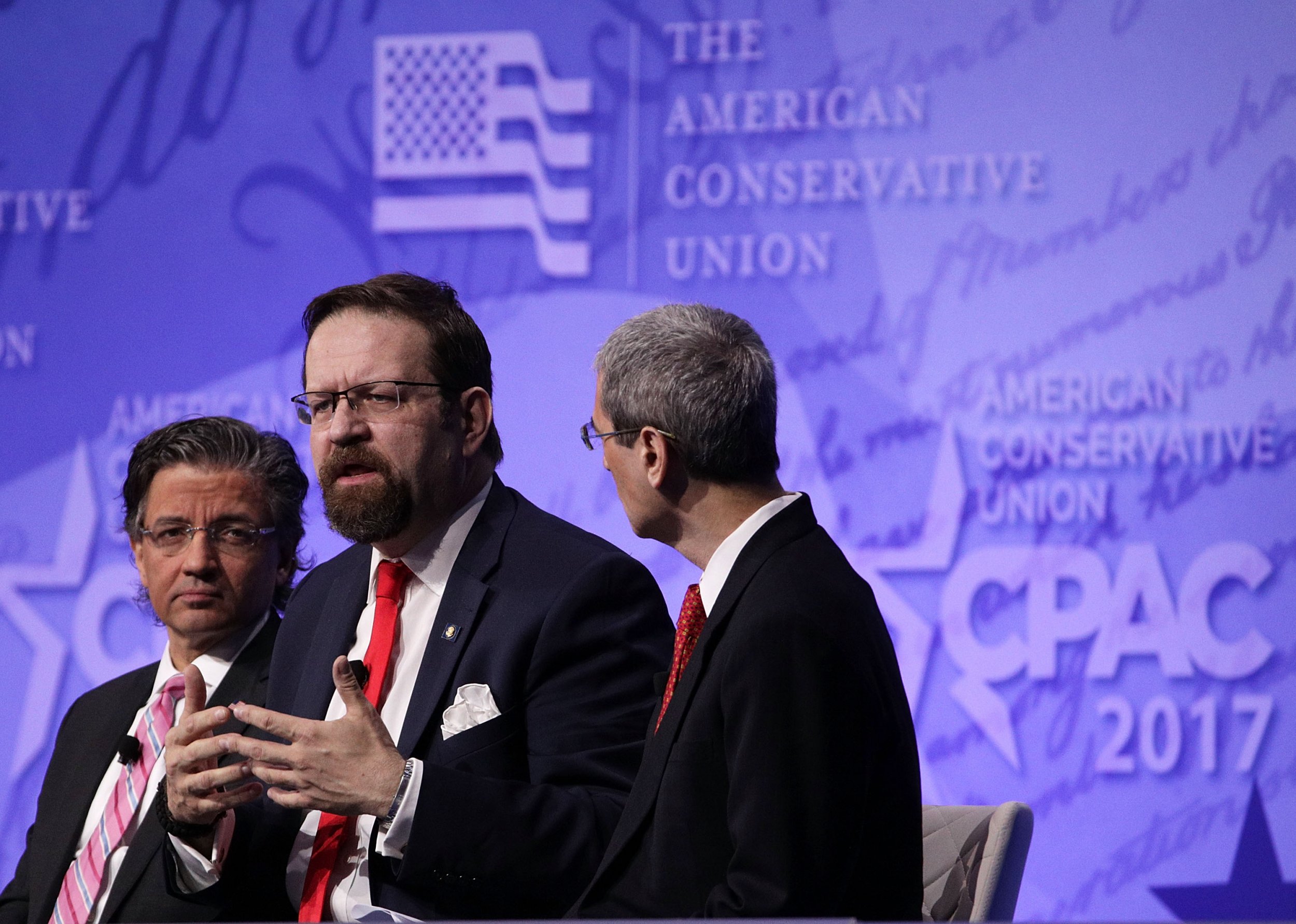 President Trump's deputy assistant Sebastian Gorka blamed the media after he said it was "nonsensical" for Secretary of State Rex Tillerson to weigh in on military matters when it comes to North Korea.
"The idea that Secretary Tillerson is going to discuss military matters is simply nonsensical," said Gorka, a counterterrorism specialist, during an interview with BBC radio early Thursday.
"It is the job of Secretary Mattis, the secretary of defense, to talk about the military options, and he has done so unequivocally," Gorka said.
His own words are "fake news 101," Gorka told Fox News Thursday. "I never said that," he said.
In his BBC interview, Gorka responded to questions about the contradictory messages coming from the president, the State Department and the Pentagon about how the U.S. would respond to a series of nuclear threats made by North Korea this week.
En route to the U.S. island territory of Guam early Thursday, Tillerson said that the threat of military force from President Donald Trump the day before didn't carry any weight.
Trump told reporters Wednesday that "North Korea best not make any more threats to the United States" following a series of intercontinental ballistic missile tests for its nuclear arsenal, or they would be met with "fire and fury like the world has never seen."
Read more: On North Korea, Oliver North Has 10 interesting ideas
Tillerson said Trump was speaking in threatening language that North Korean dictator Kim Jong-un "would understand" because diplomacy hasn't worked so far, and that "Americans should sleep well at night" without worry of a military confrontation.
Asked by the BBC whether people should listen to Tillerson or to Trump, Gorka said, "You should listen to the president."
Secretary of Defense James Mattis said in a statement Thursday that North Korea must "cease any consideration of actions that would lead to the end of its regime and destruction of its people," and that it "will continue to be grossly overmatched by ours and would lose any arms race or conflict it initiates."
Mattis's statement leaves conflict with the dictatorial regime led by Kim Jong-un on the table. According to American intelligence revealed by The Washington Post this week, the North Korean regime has miniaturized its nuclear weapons to fit on one of its intercontinental missiles.
Their arsenal of 20 to 50 nuclear weapons could easily reach Alaska or the West Coast of the United States, experts say. If America initiated a first strike, North Korea could still retaliate by destroying a U.S. city.
After Trump's warning to North Korea, the nation's dictator, Kim Jong-un, threatened through state media that Trump is "failing to grasp the ongoing grave situation," and "sound dialogue is not possible with such a guy bereft of reason, and only absolute force can work on him." North Korea said it is drawing up plans to fire missiles at Guam.
"I was admonishing the journalists of the fake news industrial complex...who are demanding...our chief diplomat...makes the military case for action when that is not the mandate of the secretary of state," Gorka said Thursday.
State Department official Heather Nauert said during a press briefing that Tillerson's advice on North Korea should be listened to. "Secretary Tillerson has not spoken about U.S. military capabilities," she said.
"For reporters to force our chief diplomat, the amazing Rex Tillerson, to give details of military options is nonsensical," Gorka said, accusing reporters of twisting his words.
"Tillerson is the chief diplomat of the United States, and it is his portfolio to handle those issues," he said, underscoring that military decisions should be left to Trump's defense secretary and the president.
Some Congress members said messages have been streaming in from their constituents over the past week during the president's war of words with North Korea about whether they should fear a nuclear strike.
"Everyone should rest easy," Gorka said, "that this administration will protect you."