Trump's Secret Service Agent Dies After Suffering Severe Stroke While Protecting President in Scotland
One of the Secret Service agents protecting U.S. President Donald Trump during his trip to Scotland died yesterday from a severe stroke.
In a statement released Tuesday, the Secret Service confirmed the death "with great sadness and regret" and revealed the agent died surrounded by his family and "extended Secret Service family." His identity was not released to protect the privacy of his grieving loved ones and to allow time to notify other relatives.
"[He was a] dedicated professional of the highest order," the agency said. "The secret service thanks the medical personnel in Scotland, in addition to the members of the White House Medical Unit and Police Scotland, who provided exceptional care and support for a member of our family."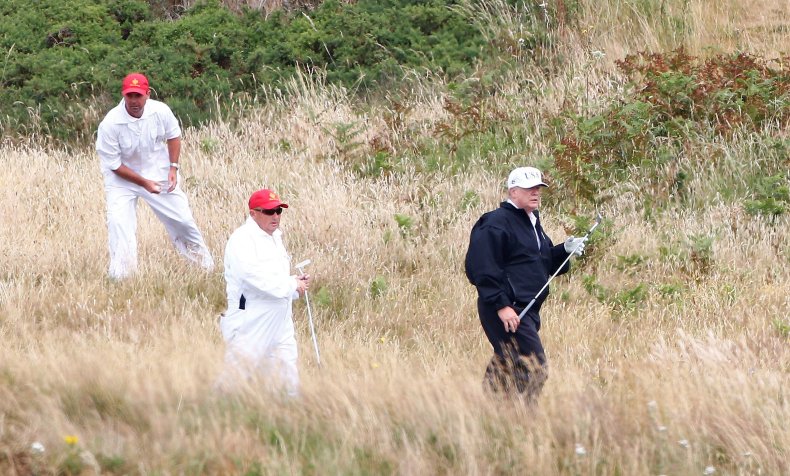 The agent, who had served in the agency for 19 years, suffered a stroke on Sunday, while securing the president from threats during his visit to the U.K. last week. He was taken to a hospital immediately for treatment.
Trump arrived in Scotland on Friday after a two-day visit to England, where he met with British Prime Minister Theresa May and Queen Elizabeth II.
Upon touching down in Scotland, the president was met with crowds of protestors before being transported to his Turnberry Golf Resort, where he stayed over the weekend. That evening, as Trump was strolling around his Ayrshire golf course with business associates, a Greenpeace activist paraglided over a controlled airspace near the president with a yellow banner that said: "Trump Well Below Par #resist."
The incident prompted agents protecting Trump to quickly move the president indoors. The protestor was then arrested for breaching a no-fly zone.
On Sunday evening, Trump flew out of Scotland to Helsinki, Finland, to attend a high-stakes summit with his Russian counterpart Vladimir Putin. During a press conference with Putin, after the two leaders' one-on-one meeting, Trump repeatedly defended Moscow over accusations of interference in the 2016 election, while undermining the special counsel's investigation.
"They said they think it's Russia. I have President Putin; he just said it's not Russia," Trump said. "I will say this: I don't see any reason why it would be. So I have great confidence in my intelligence people, but I will tell you that President Putin was extremely strong and powerful in his denial today."
Trump's conduct was highly criticized not only by the president's usual critics, establishment Republicans and Democrats, but also by some Trump-friendly media organizations. Following enormous backlash, Trump backtracked on his speech and claimed he accidentally said "the word 'would' instead of 'wouldn't.'"
On the Secret Service website, 36 agents have been celebrated for giving their lives to protect their country. Christopher J. Smith was the last agent listed on the Wall of Honor: he died of a heart attack on March 25, 2005.