Trump's Spokesperson Says President is 'Against Aggressive Sentencing' Two Weeks After Trump Suggested Drug Dealers Should be Executed
Hogan Gidley, the president's deputy press secretary, defended Donald Trump's decision to commute the sentence of former Illinois Governor Rod Blagojevich and his criticism of the original sentencing recommendation put forward by prosecutors in the case of Roger Stone, arguing that the president is "clearly against excessive sentencing." But less than two weeks ago, Trump suggested that the death penalty was a good option for combating drug crimes.
Trump has faced criticism from Republicans and Democrats this week commuting Blagojevich's sentence. Blagojevich had been convicted in 2011 of attempting to sell Barack Obama's vacated Senate seat after he was elected to the White House. The president has also faced criticism for his public frustration with the sentencing suggested by prosecutors in the case of his longtime associate Roger Stone. After Trump tweeted his displeasure, the Justice Department revised the sentencing recommendation.
"The fact is, the president is clearly against excessive sentencing," Gidley said during an interview with Fox News on Wednesday. "Whether it's Rod Blagojevich or Alice Johnson, he is focused on making sure that people who served time in prison, who have rehabilitated, who show regret and show remorse, don't have to rot away in a jail cell their whole life," he argued.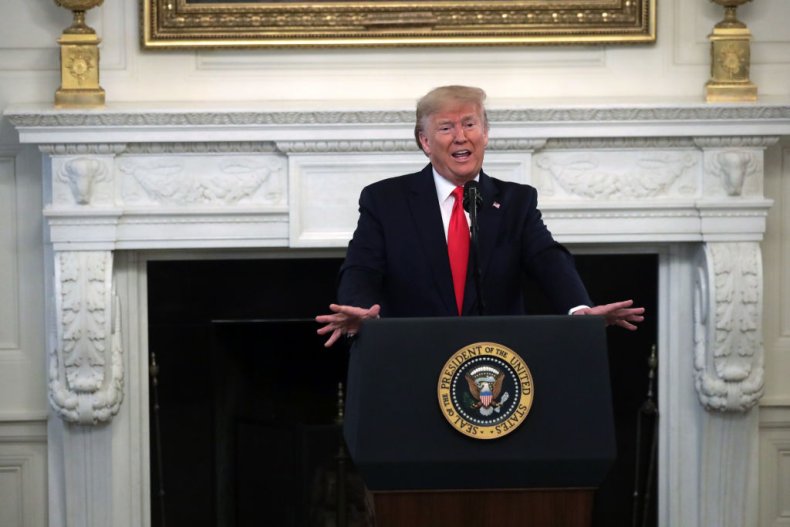 But on February 10, at an event with state governors, Trump suggested that the death penalty was a good option for drug dealers, which many would view as an excessive sentence for any crime.
"States with a very powerful death penalty on drug dealers don't have a drug problem," Trump said, adding, "I don't know that our country is ready for that, but if you look throughout the world, the countries with a powerful death penalty…with a fair but quick trial, they have very little if any drug problem. That includes China."
Trump's claim that China doesn't have a drug problem appears to be false. According to Vox, Chinese government records show that the number of drug users in the country has increased in recent years, while there are some 2.5 million registered drug users.
It should be noted that neither Blagojevich nor Stone have shown regret or remorse, as Gidley implied. Speaking at a press conference on Wednesday morning, Blagojevich continued to claim he was innocent, arguing that he was the victim of a "corrupt" criminal justice system.
"From the beginning to end, this was persecution masquerading as prosecution," he said. "I got into politics to help people. I didn't get into politics to make money."
Stone has similarly argued that he is being persecuted for his support of Trump. The president has suggested that he agrees, arguing that the original sentencing recommendation was "horrible and very unfair" and a "miscarriage of justice."
But, as Gidley claimed, the president has made criminal justice reform a priority during his first term in office. He pointed out that in 2018 Trump commuted the sentence of Alice Johnson, who had been imprisoned for 21 years due to her involvement with a cocaine trafficking group in Tennessee. Trump granted Johnson early release from her life sentence after a campaign by the American Civil Liberties Union and the website Mic argued the punishment was excessive.
Trump also backed the First Step Act, which worked to reform the federal prison system as well as minimum sentences for a range of crimes. It specifically reduced the minimum sentencing guidelines for drug offenders as well.