When President Donald Trump looks out into the crowd gathered on Capitol Hill to hear his State of the Union address next Tuesday, he will be looking into the faces of undocumented immigrants he promised to protect.
Democratic House Minority Leader Nancy Pelosi and more than 23 other Democrats in Congress each plan to bring a Dreamer, a recipient of protections in the Deferred Action for Childhood Arrivals (DACA) program, to Trump's annual message to a joint session of Congress.
A number of senators and representatives have said immigrants and Dreamers will be in the crowd. ABC News confirmed this with a list provided by a congressional official. During the address, the president traditionally outlines his legislative plans.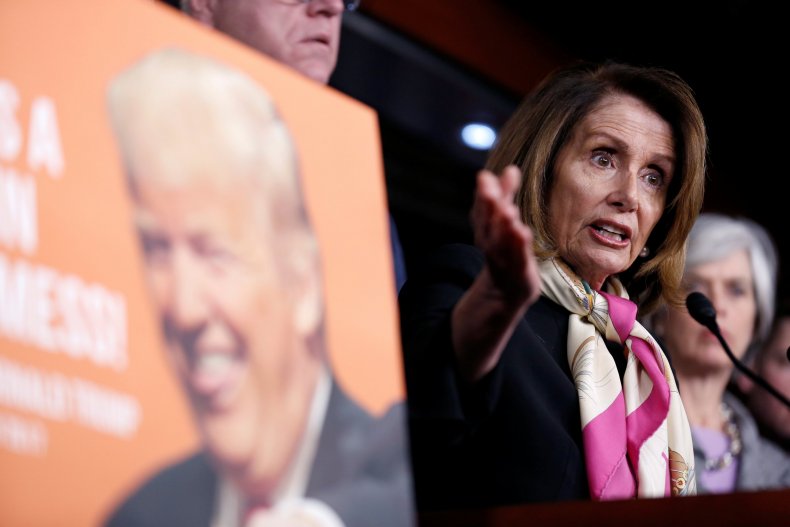 In a statement early Friday, Pelosi said that the White House's latest immigration plan, released Thursday, "is an act of staggering cowardice which attempts to hold the Dreamers hostage to a hateful anti-immigrant scheme."
Dreamers, the children of undocumented immigrants, were brought to the U.S. by their parents. The DACA program was established by President Barack Obama in 2012 and grants these people two-year work permits in the U.S., without fear of deportation.
The administration's immigration plan released Thursday proposes cuts to family-based migration, among other things, in exchange for the preservation of DACA, which has about 800,000 recipients. The reforms would extend a path to citizenship to about 1.8 million Dreamers and other undocumented immigrants who arrived in the U.S. as children.
According to Politico, senior White House adviser Stephen Miller has characterized the plan as a major concession after more hard-line proposals led to a short government shutdown from last Friday to the beginning of this week.
Related: Trump's friends at Breitbart brand him "amnesty Don" over DACA comments
Democrats had refused to sign a short-term bill to fund the government last Friday because a deal on preserving DACA couldn't be reached with Republicans.
Pelosi said the new policies are "part of the Trump administration's unmistakable campaign to make America white again," as it would still take away "Temporary Protected Status" for hundreds of thousands of Central American and Haitian immigrants who were granted leave to remain in the U.S. temporarily following disasters in their home countries.
The proposal would also give Trump a $25 billion trust fund for his U.S.-Mexico border wall and increase security at ports of entry, as well as "improvements and enhancements" on the border with Canada.
Trump's hard-line supporters are not impressed with the plan. "The president hasn't sold out his voters yet. But I think it's important that his supporters are making clear to him that they're keeping an eye on him," Mark Krikorian, executive director of the Center for Immigration Studies, a far-right anti-immigration group, told the Associated Press.
"There's a real potential for disaster," he said, speaking of the new proposal.
Trump vowed last September to protect the Dreamers after his administration announced the program will end in March. The president has said he wants Congress to preserve DACA in exchange for other immigration reforms.
In addition to undocumented immigrants, Democrats intend to bring women's rights activists and female victims of sexual assault to Trump's address.
The issue of sexual harassment and assault has been a painful one in Congress in recent months. Several male Democratic and Republican lawmakers were accused, and Democrats Al Franken and John Conyers and Republican Trent Franks had to resign.