Trump's Tulsa Rally Rubs Salt in Old, Open Racial Wounds | Opinion
President Donald Trump announced last week the return of his huge, campaign-style rallies. The first will be held in Tulsa, Oklahoma, with reportedly no social distancing required, and was initially set for June 19, the oldest African American holiday.
Of all possible locations and times to launch a re-election bid, this choice by the president reeks of insensitivity at best and calculated cruelty at worst. Holding a rally in Tulsa this June poses a significant threat to the emotional and physical well-being of Tulsans of all stripes.
June 19 is Juneteenth, the oldest African American holiday. On June 19, 1865, word of freedom reached slaves in parts of Texas, Oklahoma, Arkansas and Louisiana. This is some two and a half years after the effective date of the Emancipation Proclamation, January 1, 1863. For many African Americans, Juneteenth, this vaunted celebration of black freedom, is sacred.
After an onslaught of disapproval, Trump tweeted last Friday night that the rally would be moved one day later, to June 20, "out of respect."
Newsweek subscription offers >
However, the rally is still only two weeks removed from the 99th anniversary of the 1921 Tulsa Race Massacre, the worst outbreak of white-on-black racial violence in 20th-century America. The massacre came on the heels of the 1919 Red Summer "race riots," mostly invasions of black spaces by white vigilantes hell-bent on black oppression. Still more anti-black violence played out in lynching, a form of domestic terrorism in service to white supremacy. Historians and sociologists dubbed this blood-stained era the "nadir" of race relations in America.
From May 31 to June 1, 1921, thousands of weapon-wielding white men, some deputized by local law enforcement, invaded the Greenwood District and savaged Tulsa's bustling African American community. According to eyewitnesses, planes, likely privately owned, dropped incendiary devices on the Greenwood District even as fires raged and gunshots rang out.
Rife with a concentration of black businesses and entrepreneurs largely unrivaled in America, this storied "Black Wall Street" could have more accurately been denominated "Black Main Street." The Greenwood District, a 35-square-block area abutting downtown and separated from it by the Frisco tracks, thrived as a community of economic necessity. It was a haven for black Tulsans largely shut out of the white-dominated economic system.
Property damage from the massacre, conservatively estimated, ranged from $1.5 million to $2 million, well over $25 million in present value. An estimated 100 to 300 people died, with still more injured. Some African Americans fled Tulsa permanently.
Newsweek subscription offers >
Tulsa's signature tragedy got swept under the rug and remained a taboo topic for decades. A statewide commission convened in 1997 to find facts and make recommendations with respect to the massacre. Several Tulsa mayors and public officials, including former Police Chief Chuck Jordan, have made public apologies for acts by the government during the massacre. Tulsa now has an African American police chief. A nonprofit and a park named for historian Dr. John Hope Franklin advance the work of racial reconciliation in Tulsa. The 1921 Tulsa Race Massacre Centennial Commission is working to commemorate the 100th anniversary of the massacre with a new history center, initiatives that advance black entrepreneurship and economics, and programs and projects that build community.
Yet the pain of that historical racial trauma yet lingers. Racial distrust persists. Race-based disparities in education, health care, criminal justice, employment—even life span—endure. A raft of emotions—anger, pain, fear, shame and post-traumatic stress disorder, among them—punctuate race relations and color efforts at reconciliation.
The murder of George Floyd on May 25, at the hands of four Minneapolis policemen, tapped into these emotions and sparked demonstrations nationwide in support of Black Lives Matter, reforming policing and dismantling centuries-old systemic racism. Seldom have so many Americans joined in protest to advance the cause of social justice. What might have been a mere moment became a mighty movement.
Now is the time to seize the day, not to host a partisan, divisive campaign rally dishonoring African American history and pain.
That said, the president has given little indication that he has any interest in bringing Americans together. His documented derision of women, mocking of the disabled, ridiculing of African countries, demonization of immigrants and assaults on the patriotism of social justice advocates (NFL athletes, in particular) evidence no compassion for or intellectual curiosity about people living along society's margins.
Trump's rally will aggravate old, open racial wounds—and perhaps he does not care. Perhaps that is the point. The president has long used race to divide us and stir up partisans, and since the beginning of the coronavirus crisis in America, he has relied on racism to distract from the physical and economic pain it has caused.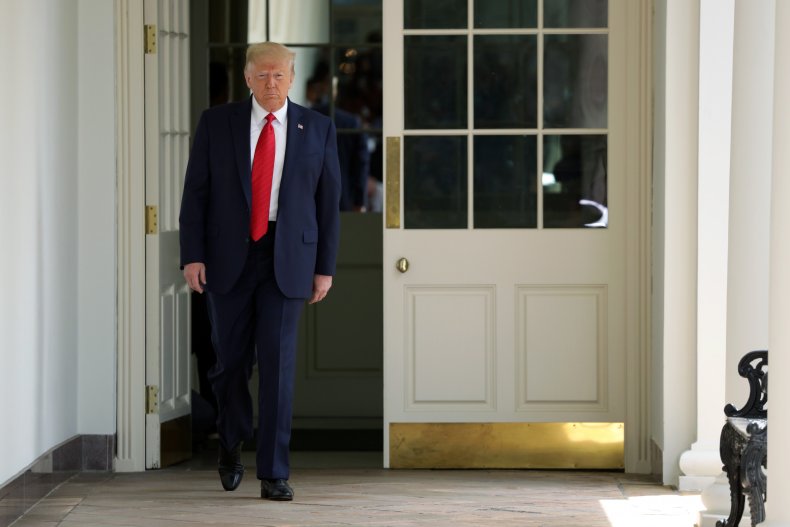 Tulsa County is now experiencing a COVID-19 resurgence. How, then, is it wise to assemble hordes of animated partisans in a 19,000-seat arena for a lengthy campaign rally?
We know the lethality of the virus. We know what unchecked community transmission looks like. We know what we need to do to better protect ourselves. That's why the venue had previously canceled all other events through the end of July.
The president's gathering could trigger a coronavirus outbreak, not just for those who attend, but for the people who come into contact with the attendees post-rally. That could include all Tulsans, our families, our friends and our neighbors—as well as many other Americans.
It is one thing to be cavalier and reckless when the only resultant harm is to oneself. It is quite another to knowingly put others, known and unknown, in harm's way.
As Dr. Martin Luther King Jr. so eloquently noted, "The arc of the moral universe is long, but it bends toward justice." We must use our individual and collective agency to flatten the curve—to reduce suffering, to create an egalitarian ethos worthy of our shared humanity and common fate.
This occasion—this inflection point for race relations in America—calls for leadership, for moral authority. Holding a partisan political rally, initially planned for a uniquely reflective and celebratory day, staged near hallowed historical ground, demonstrates neither.
If you are wondering what to think or do, perhaps it is time to commit (or re-commit) to the cause of social justice, particularly around race and racism. Begin by exploring, deeply, who you are and what you believe. Self-awareness through introspection will help clarify explicit and implicit biases and identify areas for improvement.
Expand your circle. Include people from all races—from all dimensions of diversity—in your life beyond the superficial.
Join with organizations that fight bias, bigotry and racism in your community.
Become an advocate and activist. Challenge your school board members to embrace an inclusive curricula, especially in history. Lobby for the teaching of a multi-perspective people's history of the United States. Work with your elected representatives on strategies to reduce or eliminate race-based disparities in all facets of life.
Now is the time to seize the day, not sit silently on the sidelines.
Hannibal B. Johnson, a Harvard Law School graduate, is an author, attorney, consultant and college professor. Johnson serves on the federal 400 Years of African-American History Commission. He chairs the Education Committee for the 1921 Tulsa Race Massacre Centennial Commission. His books include Black Wall Street, Up From the Ashes, Acres of Aspiration, Apartheid in Indian Country and Tulsa's Historic Greenwood District. He has received numerous honors and awards for this work and community service.
The views expressed in this article are the author's own.
Trump's Tulsa Rally Rubs Salt in Old, Open Racial Wounds | Opinion | Opinion