Trump's Tweets About FBI Could Be Witness Intimidation, Former White House Lawyers Say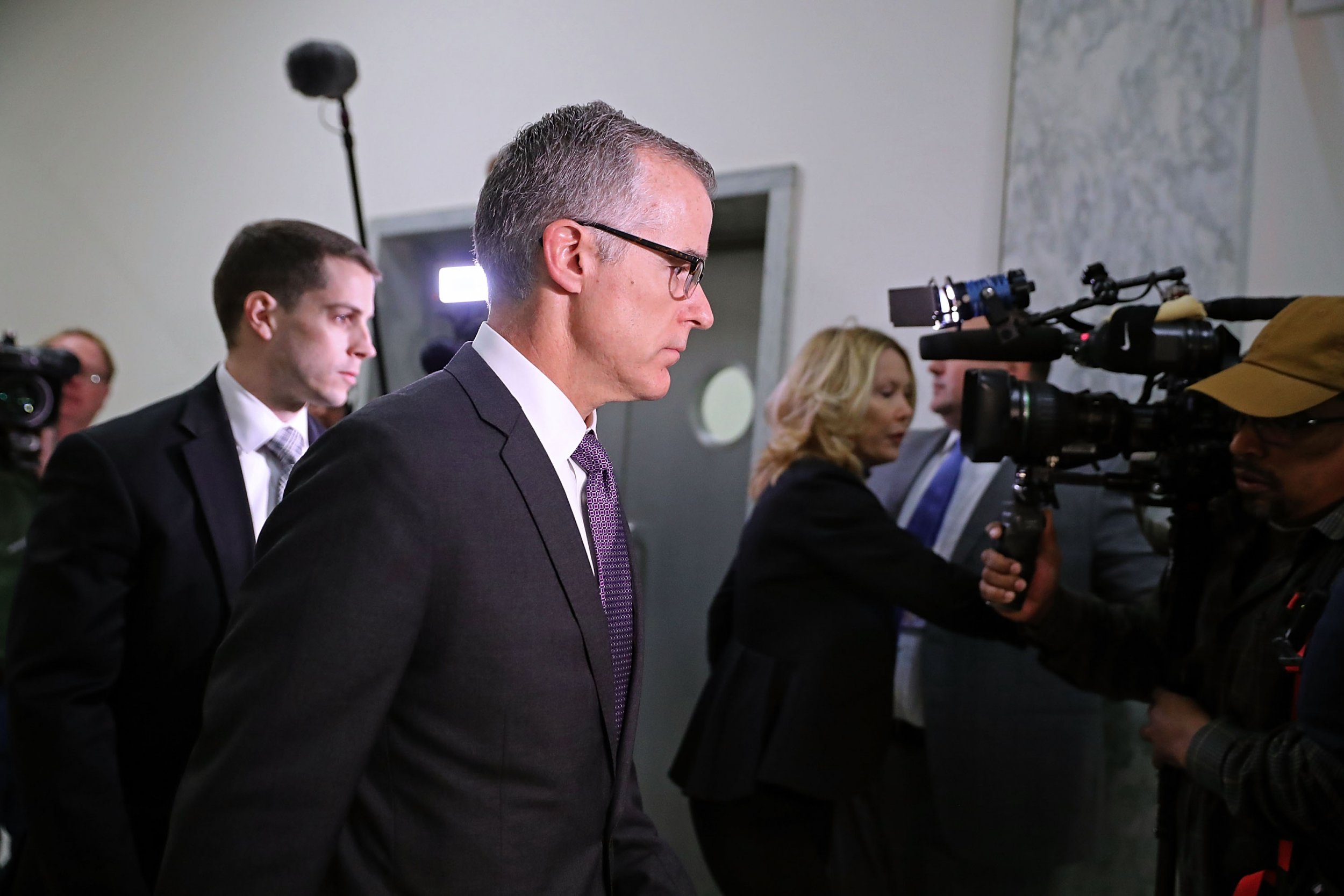 Updated | President Donald Trump's recent tweets about current or former FBI officials could violate laws meant to protect witnesses, according to two former White House ethics lawyers.
In recent days, Trump has criticized former FBI Director James Comey, FBI Deputy Director Andrew McCabe and outgoing FBI general counsel James Baker. In a tweet on December 23, Trump repeated a previous claim that Comey leaked a memo to a friend to pass along to a reporter. In the same tweet, the president also resurfaced a claim that McCabe received $700,000 from "puppets" of Hillary Clinton, a reference to a state senate campaign in which McCabe's wife received $675,288 in contributions from two entities associated with Virginia Governor Terry McAuliffe, a Clinton ally.
In a follow-up tweet that day, Trump added, "FBI Deputy Director Andrew McCabe is racing the clock to retire with full benefits. 90 days to go?!!!" And in a third tweet, he wrote, "Wow, 'FBI lawyer James Baker reassigned,' according to @FoxNews."
The next day, Trump tweeted again about McCabe and his wife, referencing a Fox News report about the deputy's allegedly using "his FBI Official Email Account to promote her campaign. You obviously cannot do this."
Related: Trump says McCabe "Got $700,000" from Clinton. Is It true?
The FBI and special counsel Robert Mueller are investigating Trump's 2016 campaign, including whether Trump obstructed justice by firing Comey in May—and it's possible that Comey, McCabe and Baker could be witnesses in that probe. Comey has already testified before the Senate Intelligence Committee, in June, and McCabe met with the House Intelligence Committee on December 19. Both committees are overseeing their own investigations into Russia's election meddling and possible coordination with the Trump campaign. On December 21, McCabe also met with members of the House Committee on Oversight and Government Reform and the House Judiciary Committee.
"Normally, someone being investigated for obstruction of justice who intimidates and threatens three key witnesses against him (here Comey, McCabe and Baker) risks additional witness tampering charges," tweeted Norm Eisen, a senior fellow at the Brookings Institution and special assistant for ethics and government reform for former President Barack Obama.
Richard Painter, a professor at the University of Minnesota Law School who served as chief ethics lawyer in the George W. Bush White House, agreed. "Using Twitter on Christmas Eve to intimidate a witness (McCabe) in a criminal investigation is not a very Christian way to celebrate the holiday," he tweeted. "But it does make Mr. Mueller's job easier and that's a nice thing to do. Merry Christmas!"
Representative Ted Lieu, a Democrat from California who has been a vocal opponent of Trump, posted a similar message on Twitter: ".@POTUS has tweeted quite a bit about career FBI official Andrew McCabe, who could be called as a witness against Trump in an Obstruction of Justice case. Trump's Twitter feed is the gift that keeps on giving. Merry Christmas Robert Mueller."
The main federal law regarding tampering with a witness, victim or informant is 18 U.S. Code § 1512. Among other violations, the code calls for punishing "whoever knowingly uses intimidation, threatens or corruptly persuades another person, or attempts to do so" in order to "influence, delay or prevent the testimony of any person in an official proceeding" or "cause or induce any person to withhold testimony, or withhold a record, document or other object, from an official proceeding."
This is not the first time that legal and ethics analysts have questioned whether Trump could be intimidating witnesses through Twitter. After Trump tweeted in May, "James Comey better hope that there are no 'tapes' of our conversations before he starts leaking to the press," Peter Zeidenberg, a former federal prosecutor, told Newsweek, "He's trying to affect the testimony of a witness, which you're not supposed to do."
Trump's tweeting about former Acting Attorney General Sally Yates, whom he fired in January, might have also involved intimidation, Hannah Ryan has written for Just Security, a national security law and policy online forum. In May, Trump tweeted about Yates the day she was testifying about Russia before the Senate Judiciary Subcommittee on Crime and Terrorism, "Ask Sally Yates, under oath, if she knows how classified information got into the newspapers soon after she explained it to W.H. Counsel." The president has also tweeted negatively about Attorney General Jeff Sessions and Deputy Attorney General Rod Rosenstein, both of whom could be witnesses to an obstruction of justice probe, as Ryan wrote.
But Alex Whiting, a Harvard Law School professor and former federal prosecutor, pointed out to Ryan that to violate the witness intimidation law, Trump's remarks must cross "the line from the ordinary kinds of attacks that investigation targets or defendants might make...over to statements designed to interfere with a witness's testimony." To determine whether they violate the law, Whiting said, "you would examine his statements carefully to assess to what extent they were threatening, whether they indicated that there might be consequences to testifying, whether they indicated pressure to withhold or fabricate testimony."
It's unlikely that senior law enforcement officials such as Comey and McCabe are easily intimidated. "Comey is the former head of the FBI and spent his career in law enforcement," Renato Mariotti, another former federal prosecutor, told Just Security prior to Trump's more recent comments. "In my nine years in law enforcement I faced much tougher threats than that tweet."
The White House could not immediately be reached for comment.
This article has been updated to include a tweet by Representative Ted Lieu.