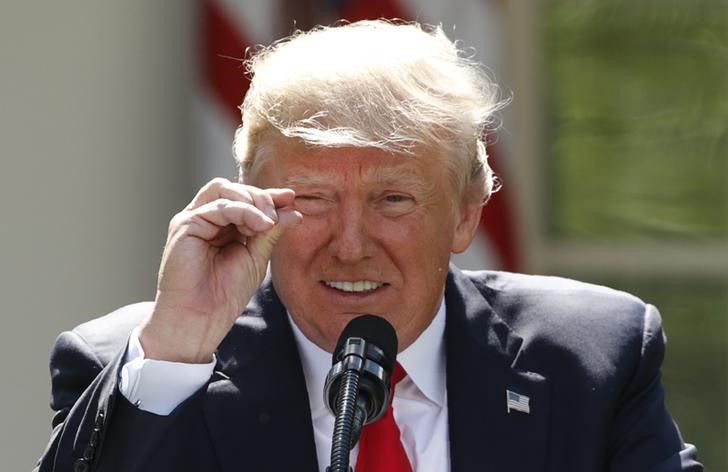 U.S. President Donald Trump on Monday returned to a tougher stance on his restrictive immigration policy, referring to his executive order as a "travel ban" and claiming his Department of Justice should never have tried to soften it.
"People, the lawyers and the courts can call it whatever they want," Trump declared on Twitter. "But I am calling it what we need and what it is, a travel ban!" In a string of tweets, Trump lamented that the Justice Department had sent a "watered down, politically correct version" of the order in the appeal to the Supreme Court.
Trump, who argued in favor of a "total and complete shutdown" of Muslims entering the U.S. during his campaign, issued an executive order to restrict entry to the U.S. from Iran, Yemen, Somalia, Sudan, Libya and Syria and initially Iraq. Federal courts in the states of Maryland and Hawaii blocked these moves.
After attacks in London Saturday night that left seven dead, Trump claimed that the travel ban was necessary to keep America safe. "We need to be smart, vigilant and tough. We need the courts to give us back our rights. We need the Travel Ban as an extra level of safety!" he tweeted.
Trump and his team's references to the order as a ban, as well as references during the campaign regarding Muslims being its target, have informed rulings against the order. (Banning entry to the U.S. based on religion would be unconstitutional.)
As well as reconsidering the terms of the order, the administration had begun to soften its rhetoric. In January, White House press secretary Sean Spicer told reporters: "It's not a Muslim ban. It's not a travel ban. It's a vetting system to keep America safe."
It's not the first time Trump, however, has used that phrase. On February 4, he tweeted "What is our country coming to when a judge can halt a Homeland Security travel ban and anyone, even with bad intentions, can come into U.S.?"
Trump has previously ripped into the revised order (that removed Iraq from the seven countries listed in the January order), calling it a "watered-down version" in March and calling for a return to the original ban. The latest tweets reiterate this, with Trump saying that the Justice Department "should have stayed with the original Travel Ban" and should now once again "seek much tougher version."
The phrasing and Trump's own personal views have fueled the case against him in court. Senator Ben Cardin said Monday that Trump's tweets, which leveled criticism at his own Justice Department, betrayed the true motivation of the policy they seek to pass—a perspective that may play against him in court.
"It clearly shows his intent," the Maryland Democrat told CNN's Alisyn Camerota on "New Day" Monday. "His lawyers try to justify it by saying it wasn't a travel ban, but it was extreme vetting. The President made that clear. It is a travel ban.