Trump's Vladimir Putin Comments Force Republicans to Walk a Fine Line
Donald Trump recently called on Russian President Vladimir Putin to release any information he may have about Hunter Biden's alleged business dealings in Russia, which has once again put GOP members in a tight spot politically.
The former president's comments regarding President Joe Biden's son were made during an interview that aired Tuesday on the Real America's Voice TV show Just the News. Trump repeated an allegation that Hunter Biden's company received $3.5 million from Elena Baturina, the widow of former mayor of Moscow Yuri Luzhkov, an unsubstantiated claim Trump also made during his 2020 election campaign.
"Why did the mayor of Moscow's wife give the Bidens—both of them—three and a half million dollars? That's a lot of money," Trump said. "She gave him three and a half million dollars. So now I would think Putin would know the answer to that. I think he should release it. I think we should know that answer."
Trump's latest remarks could result in other Republican politicians being put on the spot by the press, as they were after Trump praised Putin as a "genius" and "savvy" for his tactics gearing up for Russia's all-out invasion of Ukraine in late February.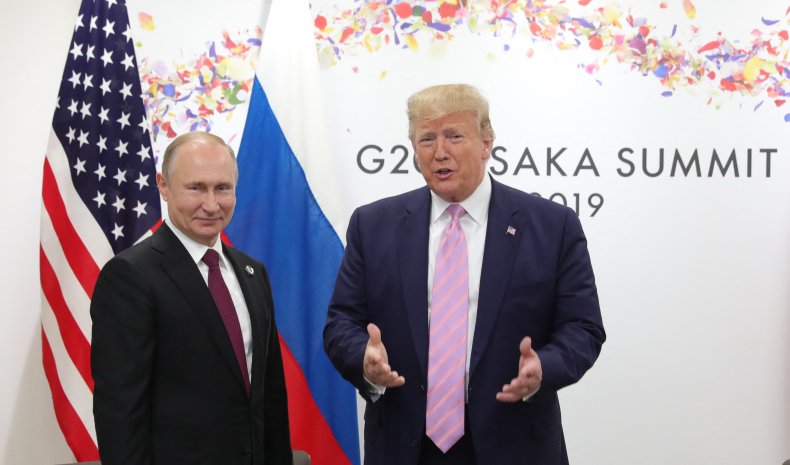 Tuesday's remarks also weren't the first time Trump has asked Putin for help against political foes. In 2016, he called on Russia to try to find 30,000 emails associated with his election rival, Hillary Clinton. Trump's first impeachment resulted from allegations he threatened to withhold military aid from Ukraine unless President Volodymyr Zelensky promised to investigate ahead of the 2020 election Joe and Hunter Biden's foreign business dealings.
Senator Lindsey Graham, a Republican from South Carolina and a longtime ally of Trump, was asked about the "genius" comments in early March.
"I think that was a mistake. I think I know what he was trying to say, you know, going into the Donbas. But no. Let's just make it clear, Putin's not a genius, he's a war criminal," Graham said, according to CNN. Donbas, an eastern region in Ukraine, has been the site of conflict between Ukrainians and Russian-backed separatists since 2014.
Graham's statement represents the fine line walked by several GOP leaders who have both denounced Putin's attack on Ukraine and avoided condemning Trump outright for his comments.
When Senate Minority Leader Mitch McConnell, a Republican from Kentucky, was asked on March 1 about Trump calling Putin a "genius," he did not address the ex-president's comments at all.
"What President Putin is, is a ruthless thug who's just invaded another sovereign country and killed thousands of innocent people," McConnell replied. "That's what President Putin is."
While Trump has repeatedly criticized McConnell following the 2020 presidential election after the senator refused to accept Trump's baseless claims about voter fraud, McConnell has largely refrained from criticizing the ex-president directly.
Senate Minority Whip John Thune of South Dakota took a similar tack, calling Putin a "murderous thug" without directly mentioning Trump's assessment. House Minority Leader Kevin McCarthy of California, meanwhile, has called Putin "evil" while adding that he doesn't think the Russian leader is a genius. However, he stopped short of denouncing Trump over his comments.
Senator Mitt Romney of Utah did call Trump's statements on Putin "nearly treasonous," although he's often been at odds with the former president.
Meanwhile, Texas Senator Ted Cruz deflected instead, blaming the media and attacking Biden's policies on Russia instead of criticizing Trump.
"I think the corporate media is desperate to drive a narrative. By any measure, Trump's policies were much, much tougher on Russia than Biden's policies," Cruz said, according to The Hill. "Putin did not invade Ukraine throughout that time until Joe Biden became president."
Republican leaders' reluctance to directly criticize Trump could be attributed to his popularity among Republicans. While he is generally viewed unfavorably by the country as a whole, he is still supported by the majority of GOP voters. A recent Politico/Morning Consult poll found that 54 percent of Republican voters said they would vote for Trump "if the 2024 Republican presidential primary were being held today." The next most popular choice, Florida Governor Ron DeSantis, trailed Trump by 30 percentage points.
Newsweek reached out to Graham, McConnell, Thune, McCarthy, Romney and Cruz for comment, but none of them responded in time for publication.