#TrumpSacrifices: Candidate Denounced for Response to Slain Soldier's Father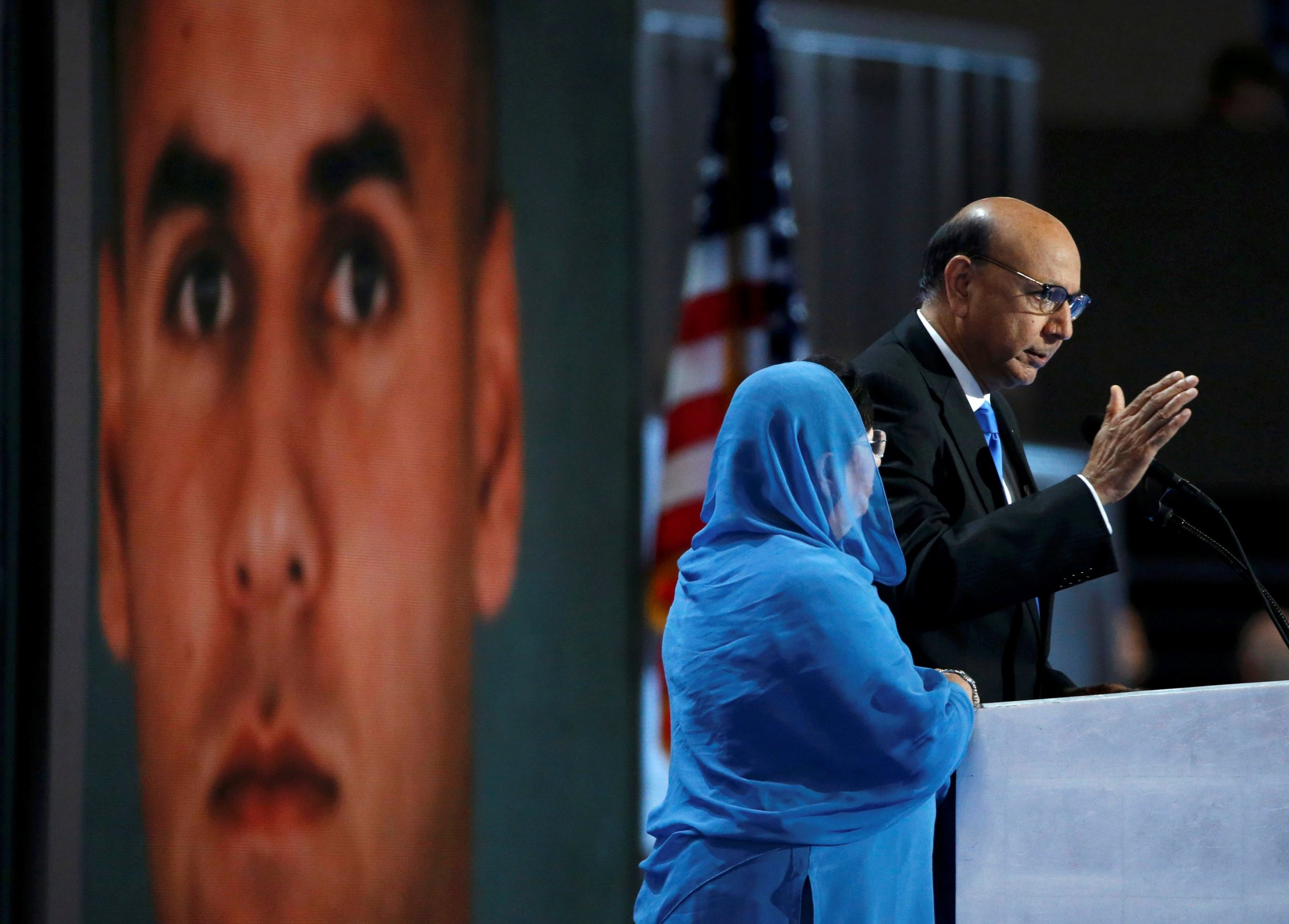 Avid Twitter user Donald Trump is feeling the wrath of his favorite medium as thousands mock the Republican candidate for president for his suggestion to the father of a slain soldier that he's made many sacrifices in his wealthy existence.
Trump responded to a scathing speech at the Democratic National Convention from Khizr Khan, the Muslim father of a soldier killed in Iraq, with insinuations about the Virginia man's religion as well as unfounded suggestions that his sentiments were scripted by the Clinton team. But his suggestion of self-sacrifice to Khan's declaration that Trump has "sacrificed nothing" drew anger and ridicule as people compared the statements from a grieving military family to the latest salvo from a candidate who trades in insults and slurs.
"He wants to build walls and ban us from this country," Khan said at the DNC, flanked by his wife. "Donald Trump, you're asking Americans to trust you with their future. Let me ask you, have you even read the United States Constitution? I will gladly lend you my copy. You have sacrificed nothing!" Khan said, after telling the crowd that his fallen son, Captain Humayun Khan, "never could have been in America" if it were up to Trump, who has repeatedly called for restrictions or an outright ban on Muslims entering the country.
"I think I've made a lot of sacrifices," Trump said in response. "I work very, very hard." The GOP candidate seemed to equate his experience employing "thousands" of people and raising money for charity with the loss felt by the Khans, whose son volunteered to serve America's military. But he didn't stop with that astonishing lack of self-awareness; Trump suggested that Khizr Khan's wife was being silenced by a patriarchal Muslim husband. "She was standing there, she had nothing to say, she probably, maybe she wasn't allowed to have anything to say, you tell me," Trump told ABC. "Did Hillary's script writers write it?," he said of Khan's defiant and emotional speech.
Khizr Khan's wife, Ghazala Khan, has since accused Trump of ignorance in a column published Sunday by The Washington Post. "Donald Trump said that maybe I wasn't allowed to say anything. That is not true. My husband asked me if I wanted to speak, but I told him I could not. My religion teaches me that all human beings are equal in God's eyes. Husband and wife are part of each other; you should love and respect each other so you can take care of the family. When Donald Trump is talking about Islam, he is ignorant. Donald Trump said he has made a lot of sacrifices. He doesn't know what the word sacrifice means," Ghazala Khan wrote. Her husband told CNN that Trump's family needs to "teach him some empathy."
The spectacle of Trump continuing a spat with a Gold Star family drew ridicule from diverse corners of the political spectrum, with several prominent Republicans also firmly denouncing Trump. Former GOP candidate and Ohio Governor John Kasich said, "There's only one way to talk about Gold Star parents: with honor and respect. Capt. Khan is a hero. Together, we should pray for his family." Bret Stephens, the deputy editor of the Wall Street Journal editorial page, tweeted "Trump's smear of Ghazala Khan is despicable. And if you don't agree, you're despicable." John Weaver, a strategist for Kasich, said Trump "has no redeeming qualities." And Paul Rieckoff, the founder of Iraq and Afghanistan Veterans of America, said "For anyone to compare their 'sacrifice' to a Gold Star family member is insulting, foolish and ignorant."
Pundits are speculating whether Trump's willingness to insult a military family's sacrifice will finally be enough to hurt his standing in the polls. But the Khan comments come just days after he seemed to openly invite Russia to hack the Democratic National Committee in comments that some historians said were unprecedented and tantamount to treason. Trump traffics in outrage, seemingly determined to lower political discourse a bit more with each micro-scandal, his supporters giddy that he "tells it like it is." Hillary Clinton appears to have gotten the conventional post-convention bump in polls, but it's a long way to November. What will Trump say tomorrow?