There are already "worrying signs" that trust in potential COVID-19 vaccines is diminishing, according to a top advisor to the U.K. government.
Sir Jeremy Farrar, director of the U.K.-based research-charity the Wellcome Trust, made the comments in the Observer newspaper on Sunday, the same day a CBS News poll revealed 79 percent of the U.S. public would not get a shot right away.
Teams of scientists around the world are working on almost 200 coronavirus vaccine candidates, with 34 in clinical evaluation, according to the World Health Organization.
A vaccine, alongside effective treatments, "is our only true exit strategy" out of the COVID-19 pandemic, Farrar wrote. He said he was optimistic results will soon be released on vaccines in late-stage clinical trials, but said the idea that a "perfect vaccine [is] 'just around the corner,'" or will be a complete and immediate solution, must be tempered. "The speed and scale of vaccine development have been remarkable but it's important to avoid false hope," he said.
Farrar also said "there should be no place for notions of vaccine nationalism, with nations posturing that 'their' vaccine will cross the finish line first and be fully deployed by Christmas or for a political moment."
In August, Russia became the first country to approve a coronavirus vaccine. However, it only published results from its Phase I and II trial data in a peer-reviewed journal on Friday. That day, President Donald Trump told reporters at a news conference that the country is on track to deliver a coronavirus vaccine "maybe even before November 1st," days before the 2020 election.
In an interview released on Saturday, Democratic vice presidential nominee Kamala Harris told CNN getting a vaccine that was approved and distributed before the election is "going to be an issue for all of us."
Writing in the Observer, Farrar said: "Transparent, rigorous assessment by independent regulatory bodies without political interference is non-negotiable. Trust is our most important tool in public health and we must do everything we can to avoid putting that in doubt. It cannot be bought on short-term promises.
"Already, there are worrying signs of diminishing trust in potential Covid-19 vaccines," he said, adding polls suggest that there may be low uptake in countries with the highest cases, such as the U.S.
According to Johns Hopkins University, over 6.2 million people in the U.S. are known to have caught the coronavirus, more than any other country in the world. It has also recorded the most deaths, at almost 189,000.
A CBS News poll published on Sunday showed just 21 percent of voters in the U.S. would get a vaccine as soon as possible if it were free, down from 32 percent in late July. The majority, at 58 percent, would "consider it, wait to see what happens," up from 51 percent in July. A further 21 percent said they would never get vaccinated, up from 17 percent in July. The poll, conducted by YouGov between September 2 and 4, involved 2,493 registered voters.
Asked what their first thought would be if a coronavirus vaccine is announced this year, 35 percent said they would think it was a scientific achievement to find a vaccine that fast, while 65 percent would think it was probably rushed without enough testing.
As many as three quarters said they believed the president, whoever that may be, should have the vaccine to prove it's safe.
A USA TODAY/Suffolk poll conducted between August 28 and 31 and published on Friday reflected similar hesitancy among the U.S. public, finding 44 percent would not have the vaccine until others had tried it, and 23 percent would not take it at all.
Professor David Salmon, director of the Institute for Vaccine Safety at the Bloomberg School of Public Health at Johns Hopkins University, told USA Today: "You probably need between 70 and 80 percent of the population to get immune in order to really control COVID."
Samantha Vanderslott, a health sociologist at the Oxford Vaccine Group, University of Oxford, U.K., told Newsweek: "Falling trust in potential COVID-19 vaccines is certainly worrying."
She said it is hard to tell if the polls indicate what will actually happen when a vaccine is rolled out, as respondents are presented with a hypothetical question and with imperfect information.
"Vaccine uptake will depend partly on how a potential vaccine is presented when released, especially by the government and the media, and what sort of positive or negative stories are circulating at the time," she said.
"We have seen from past vaccine rollouts that any controversy surrounding a new vaccine can dramatically affect how it is received but this reception also relies on the trust levels with the government, pharmaceutical companies, and medical establishment."
This article has been updated with comment from Samantha Vanderslott.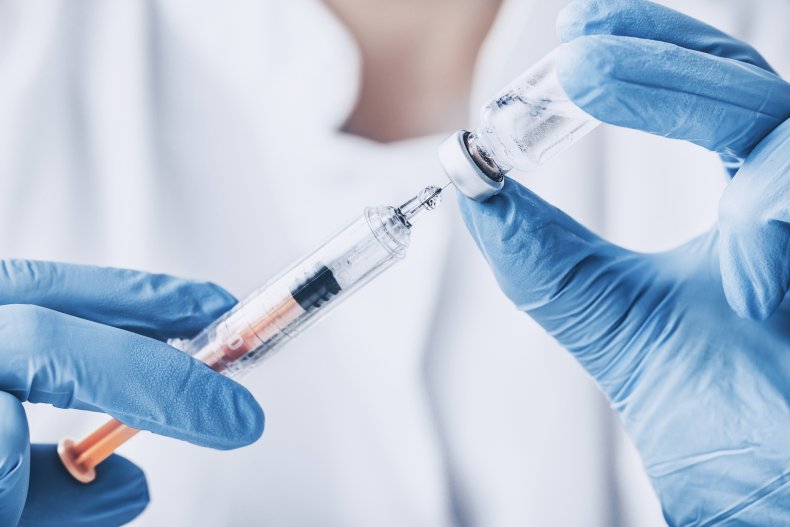 Uncommon Knowledge
Newsweek is committed to challenging conventional wisdom and finding connections in the search for common ground.
Newsweek is committed to challenging conventional wisdom and finding connections in the search for common ground.
About the writer
Kashmira Gander is Deputy Science Editor at Newsweek. Her interests include health, gender, LGBTQIA+ issues, human rights, subcultures, music, and lifestyle. Her work has also been published in the The Independent, The Independent on Sunday, The i Newspaper, the London Evening Standard and International Business Times UK.