'Trust Me': Wedding Planner's Hack for Cheap Seating Chart Wows Internet
A wedding planner's hack is saving brides a lot of cash on their seating charts with a TikTok video delighting the internet.
Nicole Paxinos Stratton is the host of PensTV for the Pittsburgh Penguins, and she's also a "certified wedding planner," according to her social media accounts. Nicole was recently married to Tyler Stratton on June 11 of this year, and she's been sharing with her followers different aspects of her wedding, including a seating chart hack that has people taking note.
Under her TikTok handle @thenicolestratton, she shared the seating chart used for her own wedding. She captioned the 40-second post: "Brides: Just trust me and don't spend a crazy amount on a seating chart, people are going to look at it once and then move on to the next thing, I promise."
She also included a number of hashtags: "#bridesoftiktok #weddingtiktok #2022bride #weddingplanning #seatingchart #weddingdiy #weddinghack #weddingseatingchart #bridetobe #bridetok #junebride."
The clip has received over 219,900 views and 14,900 likes since it was shared on May 30. It began with a glimpse of Nicole's seating chart for her wedding, titled, "Find your seat" with the bride and groom's names at the top. There were different tables sectioned off and labeled—17 of them, and under each was a set of names.
Weddings can be an extremely expensive undertaking, so it makes sense people are looking for any way to save money and cut costs on their special day. According to The Knot's Real Weddings Study in which 15,000 couples in the United States were surveyed, the average cost of a wedding in 2021 was $28,000. If you factor in the engagement ring, that cost rises to $34,000. But the amount is the same as in 2019, whereas the cost of a wedding in 2020 was $19,000 during the pandemic.
Despite the cost, more weddings are predicted to take place in 2022 than have previously since 1984 with around 2.5 million weddings planned based on Wedding Report data.
In addition, some people had put their weddings off, and around 20 percent of weddings in 2021 were rescheduled to 2022. In total, 15 percent of couples revealed they are cutting their budgets by up to 28 percent as well.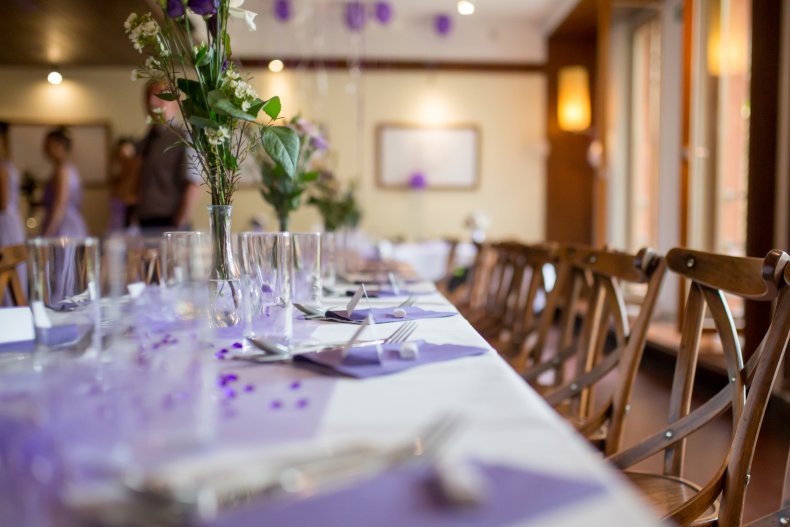 "So here is a wedding seating chart hack for you," the TikToker explained. "I was looking at like foam boards and all these different things."
She panned the camera to a white poster frame by Studio Décor in a 24 by 36-inch size.
"But we actually ended up just getting this white frame from Michael's," she explained while holding the frame in one hand as it was seated on the couch, "For like, I don't know, 14 or 15 bucks. She also clarified its size, panning the camera back to the seating chart on the counter.
"And then we went to Staples, and we got our seating chart printed for like literally, I think it was like $5 or something," she said. "And I'm going to pop that in here," she added while zooming back to the frame.
"And that'll just be like a simple easy DIY seating chart for like literally under $20," she explained.
At the end of the clip, the TikToker showed the finished product with the seating chart inside the white frame as it was placed in front of a fireplace.
"And here is the finished product," she concluded.
In a comment, the newlywed revealed she designed the seating chart on Canva, however, she revealed there are "a ton of templates" like it on Etsy.
Over 100 comments poured in over the viral seating chart hack, and many people thought it was a great idea for an excellent price.
"Thanks for the tip!" a TikToker said. "I'm going to do this for my wedding!"
Another viewer admitted they have "been trying to figure out a way to do my seating chart!" They added their thanks, to which the creator replied, "Happy to share all my tips and tricks!"
Other comments of approval included things like, "Looks amazing," "Such a good idea," and "So pretty."
People thanked the TikToker for her efforts. "Omg thank you!" a viewer said. "My wedding is in July, and I needed cheap ideas."
Other people have done similar things as well. "I also did this," a TikToker said. "So much cheaper, and then you can use the frame after. Less waste!"
One user got real, admitting they kept searching for "ideas to do this too but was afraid of spending a lot of money!"
While another viewer wondered if the seating chart would be put on an easel, to which the creator revealed, "Yes! I think either one of our easels or just sitting on top one of our tables that have a wall behind it that we can lean the frame on."
Newsweek reached out to Nicole Paxinos Stratton for comment.
This isn't the only viral moment involving weddings. A bride found support for uninviting a wedding guest over the color of her dress. A woman mowed the lawn as a bride was walking down the aisle at her wedding, sparking outrage. In addition, a bride was horrified when her wedding cake looked nothing like what she ordered.