Tsunami Advisory Issued for West Coast From California to Alaska
A tsunami advisory has been issued for North America's western coast and Hawaii after an undersea volcanic eruption in the Pacific Ocean.
National Weather Service (NWS) issued the warning for the coastal areas of California, Oregon, Washington, Hawaii, British Columbia and Alaska.
An advisory is the second highest of four tsunami alert levels: Information statement (the least urgent), watch, advisory and warning.
NWS tweeted that the tsunami "will bring large and dangerous rip currents to all Southern California beaches today."
"If you are located in this coastal area, move off the beach and out of harbors and marinas," said the NWS advisory issued shortly before 5.30 a.m. PT.
It said that areas in the advisory should not expect widespread inundation but may face "a series of waves dangerous many hours after initial arrival time."
The advisory also noted that "the first wave may not be the largest."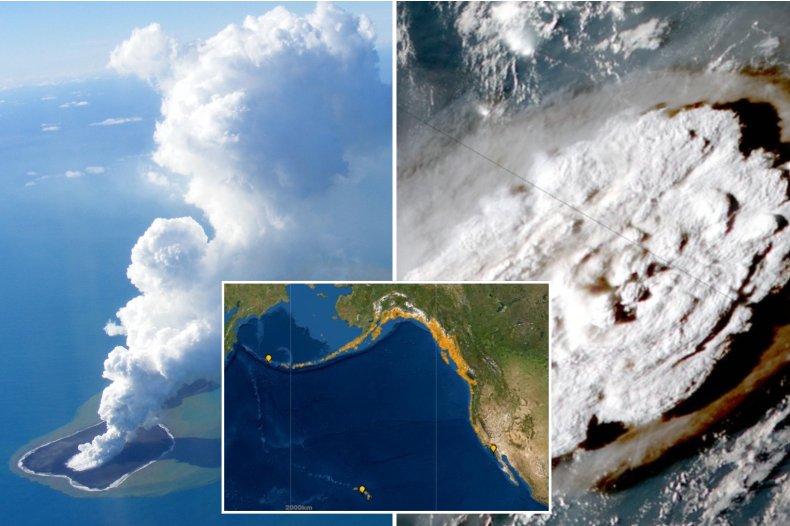 A tsunami advisory predicts "strong currents and waves dangerous to those in or very near water." It advises people to "stay out of water, away from beaches and waterways."
A tsunami warning urges people to move inland or to higher ground, and predicts "dangerous coastal flooding and powerful current."
NWS Seattle tweeted that a tsunami advisory "is generally for waves of 1-3 ft so that's the current expectation" and that the estimated arrival time for the first wave hitting the Washington state coast would be around 8.35 a.m. PT on Saturday.
"Larger waves may continue to impact the coast for hours after the initial wave," it added.
NWS tweeted that by about 4 a.m. local time (9 p.m. ET) in Hawaii a tsunami was "being observed by all Islands," and reported no damage and only minor flooding.
NWS Bay Area said that tsunami is expected to reach San Francisco around 8:10 am and people should expect "low lying inundation and minor flooding."
An evacuation order was issued for people in Berkeley Marina, California, with the Alameda County Office of Emergency Services tweeting that people must "get out of your boat and off the docks now."
It warned that one to two-feet waves were possible, "carrying dangerous energy that can damage boats and docks."
NWS Anchorage said waves were expected to impact south-facing coastlines of the state. Meanwhile, the District of Tofino in British Columbia, Canada, has closed all public beaches.
On Friday night, tsunami alerts were issued in Australia, New Zealand, Tonga, American Samoa and Fiji following the latest eruption of Tonga's Hunga Tonga Hunga Ha'apai volcano earlier that day.
Residents in the Pacific Island nation were urged to go to higher ground, as footage shared on social media showed waves rolling in at high speed.
In Japan, authorities warned of much bigger waves after a tsunami advisory was also issued along the the country's coast. Japan's Meteorological Agency said that waves could reach as high as nine feet in the Amami Islands and Tokara Islands, news agency Kyodo reported.