Tsunami Videos Show Impact After Undersea Volcano Erupts
Videos showing the impact of an undersea volcanic eruption in the Pacific have emerged after New Zealand, Tonga, Fiji issued tsunami warnings on Saturday.
Australia later issued its own warning for parts of the country's east coast and Lord Howe, Norfolk and Macquarie islands.
The U.S. National Weather Service (NWS) has also issued a tsunami advisory for coastal areas of California, Oregon, Washington, Hawaii, British Columbia and Alaska - the second highest alert level after a tsunami warning.
"If you are located in this coastal area, move off the beach and out of harbors and marinas," the NWS advisory said.
A tsunami warning issued for American Samoa was subsequently canceled.
Those warnings were prompted by the latest eruption of the Hunga Tonga Hunga Ha'apai volcano earlier that day.
One piece of footage shared to Twitter showed waves rolling inland at high speed and satellite imagery captured the shockwave from the erupting volcano. No casualties had been reported as of Saturday morning.
Faka'iloatonga Taumoefolau, a New Zealand government employee based in Hunga, shared a video of waves crashing ashore.
"Stay safe everyone," he tweeted.
He added in a subsequent tweet: "Raining ash and tiny pebbles, darkness blanketing the sky" and shared two photos.
Journalist Jese Tuisinu also shared footage showing waves crashing into a shore, reported to be in Tonga.
Scientists had observed large explosions, thunder and lightning at the volcano on Friday, according to a report from the Matangi Tonga news site, a local outlet.
Satellite imagery, seen below, also showed the shockwave from the eruption of the volcano.
The images had reportedly captured a three-mile wide plume of ash, steam and gas that rose into the air to around 12 miles.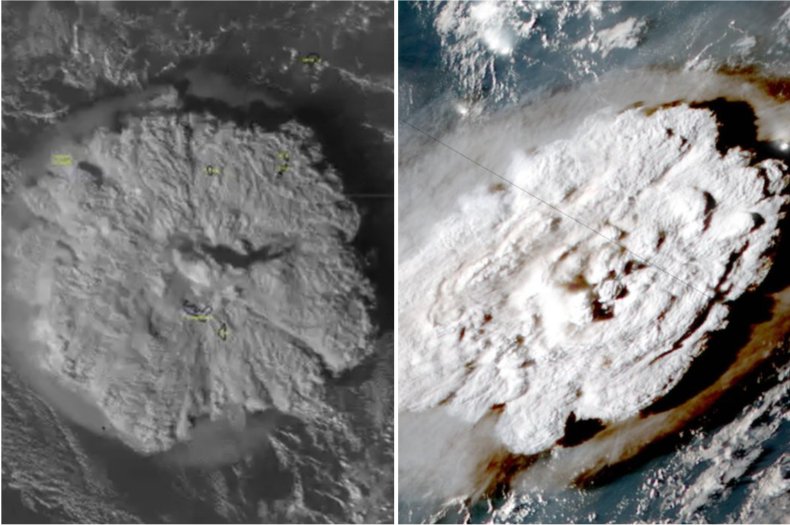 Taaniela Kula, deputy secretary at the country's Ministry of Lands & Natural Resources told the outlet on Friday: "Yesterday there were massive explosives [sic], thundering lightning within two miles away, we observed and recorded."
"Big day yesterday indeed!. It was great getting out there during the volcano's peak hours. It's a geologist's dream to see actual geological events in process," he said.
There were also unconfirmed reports of mass power outages in Tonga early Saturday morning, according to New Zealand's 1News.
The nation's Bureau of Meteorology said in a statement: "The size of these waves means the threat is for the marine environment for the east coast of Australia, and for land on Lord Howe Island and Norfolk Island; however the situation will be closely monitored and warnings updated as required."
Mary Fonua, a journalist based in the Tongan capital of Nukuʻalofa, spoke to 1News about what she had experienced. Fonua said she had had a "frightening hour" in comments to the channel.
Fonua was the journalist who covered the eruptions for the Matangi Tonga news site and said there had been "huge explosions" followed by tsunami waves about 15 minutes later.
"The first ones were the biggest," Fonua said, adding: "This long white wave, we could see coming from the horizon. After about three waves it had come over the road and into our garden."
She said the volcano was "still very active" and described conditions in the capital.
"The strong wind that we had is blowing the ash into Nukuʻalofa, I can feel it," Fonua said.
"There is nothing you can do about it. We are tough, we will just tough it out and see how it progresses," she added.
UPDATE 1/15/22, 08.30a.m. E.T.: This article was updated to note that Australia joined other nations in issuing a tsunami warning.
UPDATE 1/15/22, 11.42 a.m. E.T.: This article was updated to include up-to-date information on tsunami warnings and advisories.