Tua Tagovailoa Hip Injury Update: QB to Begin Full Workouts on Monday
Tua Tagovailoa is set to return to full training less than four months after a serious injury ended his season and his college career prematurely.
The former Alabama quarterback dislocated his hip against Mississippi State on November 16 and did not work out at the NFL Scouting Combine in Indianapolis last month.
According to AL.com, Tagovailoa will begin full workouts on Monday and will participate in Alabama's pro day, which is currently scheduled for March 24. By returning to training on Monday, the quarterback will give himself a month worth of full workouts ahead of his pro day, which is slated for April 9, two weeks ahead of the NFL draft.
Before the season started, Tagovailoa was considered the top prospect of the class of 2020.
The emergence of LSU quarterback Joe Burrow and Ohio State defensive end Chase Young threatened his status as No. 1 overall pick-in-waiting, but before his injury Tagovailoa remained a consensus top-five name.
While the picture changed swiftly in the aftermath of his injury, Tagovailoa's swift recovery appears to have quelled fears among NFL teams.
In December, Alabama coach Nick Saban confirmed Tagovailoa was the only Crimson Tide player to have received a top-15 grade NFL Draft grade.
The latest mock drafts by Bleacher Report, The Draft Network, Tankathon, NBC and Draft Site echoed the theory and all have Tagovailoa going to the Miami Dolphins with the No. 5 overall pick.
While Burrow is widely expected to be selected with the first overall pick by the Cincinnati Bengals, the team will be among those in attendance at Tagovailoa's pro day next month.
"You have to do your homework on all those top guys," Bengals offensive coordinator Brian Callahan told the team's official website last week.
"You don't know what's going to happen. You don't know what's going to unfold. Crazy stuff can happen in the draft. Say someone does offer you a bunch of picks. You have to have done enough homework to feel good about making that decision. You can't go into it set on doing just one thing."
Despite being the starter for just one of his three seasons at Alabama, Tagovailoa set college football alight over the last three years.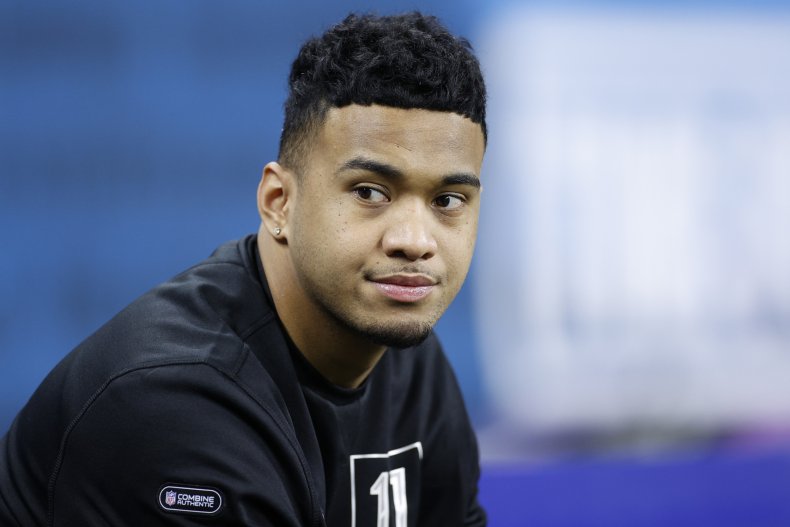 He finished his collegiate career with 7,442 passing yards, 87 touchdowns and just 11 interceptions.
Despite the injury, he ended last season with 2,840 passing yards and 33 touchdowns in nine games, with a 71.4 percent completion rate.
Tagovailoa's fitness record, however, is likely to be closely scrutinized in the lead up to the draft.
Aside from the hip injury that curtailed his season, the Hawaii native suffered an high sprain on his right ankle in Week 6 against Tennessee and underwent "tightrope" surgery to address the injury.
He missed the following game against Arkansas but returned in time for the game against LSU on November 9.
Tagovailoa had undergone a similar procedure on his left ankle a year earlier to repair a high sprain he had suffered in the SEC Championship game against Georgia on December 1, 2018.
He was sidelined for 13 days before returning to practice and was deemed fit enough to play in the CFP semifinal against Oklahoma on December 29.
However, he subsequently acknowledged he was only "80 to 85 percent" fit going into the game against the Sooners, which Alabama won 45-34.