Tucker Carlson Pours Cold Water on Talk of 2024 Bid
Tucker Carlson poured cold water on the idea he could launch a bid for the presidency in 2024 a month after it was first reported that Republicans were keen on the Fox News host succeeding President Donald Trump at the top of the GOP.
The Fox News host told Mediaite's The Interview podcast on Thursday that he had "never wanted to be involved" in a move for the presidency, adding that it was "hard to imagine" a country where he would be considered a serious candidate.
He also said that the loved what he was doing at Fox News at planned to stay at the network for the duration of a contract that "extends a while."
Asked whether he wanted to run for president in 2024, Carlson said: "I've never been involved in anything like that, I've never wanted to be involved in anything like that. I'll tell you this: I'm completely committed to saying what I think is true, and politics is a hard place to do that.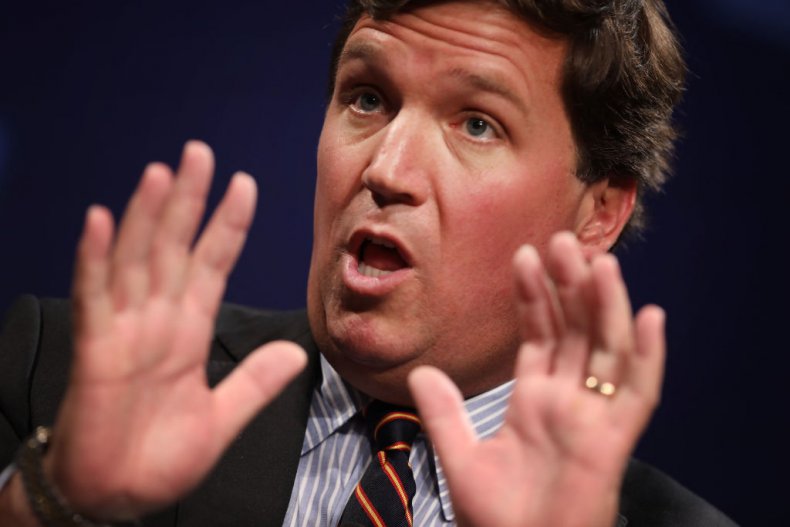 "I love what I'm doing. I'm grateful to work at Fox, I'm not just saying that... so I've got a contract that extends a while and I plan to be here.
"Imagine a country where I'm considered a serious candidate for something, it's just hard to imagine anything like that."
When the host Aidan McLaughlin said he wasn't hearing a hard "no" to the idea of a 2024 presidential run, Carlson replied: "No, I'm not running for anything, come on."
The Fox News host distanced himself from the 2024 GOP race after Politico reported in early July that GOP strategists, former Trump officials and Republican commentators were eager to see Carlson throw his hat in the ring.
"Let me put it this way: If Biden wins and Tucker decided to run, he'd be the nominee," former Trump aide Sam Nunberg told the news outlet.
An anonymous Republican strategists told Politico that Carlson had a strong connection with the GOP base, saying: "If you are a Republican politician and you want to know where Republican voters are, all you have to do is watch Tucker Carlson every night."
According to limited polling, Carlson would have to put in a fair fight to get himself in frontrunner position were he to run for the GOP candidacy in 2024.
A recent survey conducted by Leger found that 31 percent of Republicans favored Vice President Mike Pence to succeed Trump, while a further 17 percent said they would opt for his eldest son, Donald Trump Jr.
Seven percent of party voters said they would back Carlson in the race, putting him two percentage points behind Sen. Mitt Romney of Utah and one point below Texas Sen. Ted Cruz in sixth place.