Tucker Carlson's Chances for President After Being Touted as New Trump
Tucker Carlson's odds of becoming the next U.S. president are in question after the popular right-wing Fox News host on Friday possibly teased a run for the White House in his speech to Christian conservative voters in Iowa.
"I think I've done the full Grassley," Carlson said at the Family Leadership Summit in Des Moines, which saw the gathering of more than 1,800 religious conservatives.
Carlson was referring to Iowa Senator Chuck Grassley, who visited the state's 99 counties during his campaigns—something seen as a basic litmus test to show how serious a candidate is about running for president. Grassley himself was one of Carlson's warm-up acts at the conference.
Tucker's wide-ranging speech covered everything from inflation and the soaring cost of living in the U.S. to his views on Russian President Vladimir Putin and his invasion of Ukraine.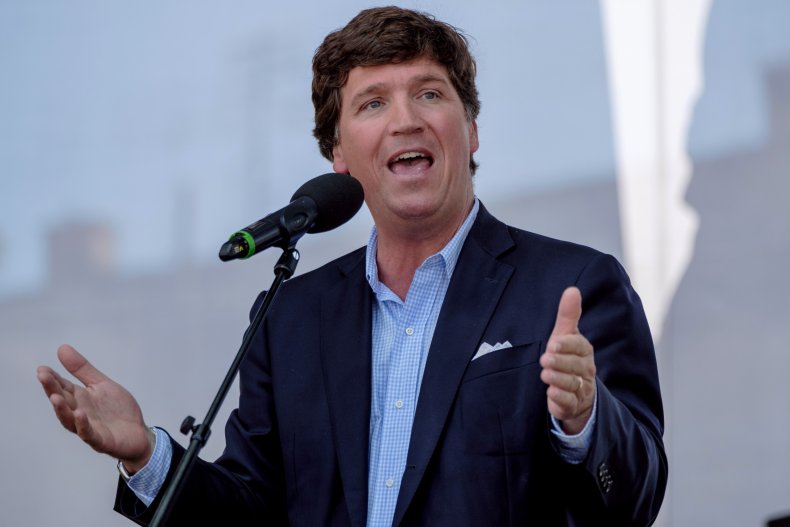 Every four years, Iowa is the first state to have a say in choosing presidential nominees and the candidates that win receive strong momentum. It was at the Family Leadership Summit that then-Republican candidate Donald Trump said that Senator John McCain, a prisoner-of-war in Vietnam, was "not a war hero."
Carlson has long been seen by some Republican strategists as a potential successor to Trump who might make a run for the White House in 2024. His controversial Fox News program, The Tucker Carlson Show, has become the highest-rated primetime cable news program of all time, surpassing Hannity in April 2020 with an average audience of 4.56 million viewers.
Carlson has been accused of racism and spreading misinformation with his show. He has used his platform to repeatedly tout the "Great Replacement Theory," a conspiracy that insists white Americans will be replaced by immigrants and people of color. Carlson recently called the story of a 10-year-old girl in Ohio who got an abortion a lie, when it was in fact true.
Carlson's odds for president are +5,000 on July 13 via DraftKings, based in Ontario, Canada, as political betting is not legal in the United States. Trump is the favorite with +250 odds, followed by Florida Governor Ron DeSantis at +300.
Betway ranks Carlson at 66-1. "With the emergence of Ron DeSantis as a feasible challenger to Trump for the Republican nomination, the market has steadily pushed out Carlson in recent months," Chad Yeomans, global communications and PR chief at Betway told Newsweek.
"Whilst a recent rally in Iowa may suggest that he is inclined to run, there may not be the vacuum filled by Trump's maverick candidacy in 2017," he added.
"In fact, from the realms of 'outsider' candidates, we have seen less money for Carlson than for other unlikely pretenders such as Kanye West (100-1), Meghan Markle (250-1) and, most popular of all, Dwayne Johnson at 50-1. Carlson's candidacy could flounder on the Rock before it has even begun...."
Newsweek reached out to other bookmakers for their latest odds.
Despite being a popular potential candidate among some conservatives, some of his former colleagues are more skeptical.
Former Fox News anchor Bill O'Reilly has scoffed at the idea of Carlson running in 2024, saying on Newsmax's The Balance show that "there isn't a chance in hell" Carlson would abandon his "extremely lucrative position" at Fox to run for president.
Carlson himself earlier in July tried to distance himself from running for the White House.
"My ambition is to write my script by 8 p.m," Carlson told journalist Ben Smith earlier this month. "I don't want power, I've never wanted power—I'm annoyed by things, I want them to change—but I've never been motivated by a desire to control people."
When pressed by Smith about whether he will run, Carlson said "I'm not running. I'm a talk show host!"
Newsweek reached out to Carlson's team for comment.
Update 07/18/22, 10:21 a.m. ET: This article was updated with odds and a quote from Betway.