Tucker Carlson Attacks 'Dear Leader' Dr. Anthony Fauci for Remarks on Public Gatherings and Protests
Tucker Carlson has once again criticized Dr. Anthony Fauci, this time over the infectious diseases expert's answer before Congress to a question about the wisdom of protesters gathering in large numbers.
His segment on Friday carried a mocking graphic stating "Dear Leader," in an allusion to the term used to describe North Korea leader, Kim Jong Un. This set the tone for his monologue which hinted at a comparison between the advice by the director of the National Institute of Allergy and Infectious Diseases (NIAID) with the pronouncements by the dictator in Pyongyang.
Carlson threw to a clip of Republican Congressman Jim Jordan [Ohio] asking Fauci at a hearing of the House subcommittee on the crisis whether the government should limit the protests that have been taking place across the country.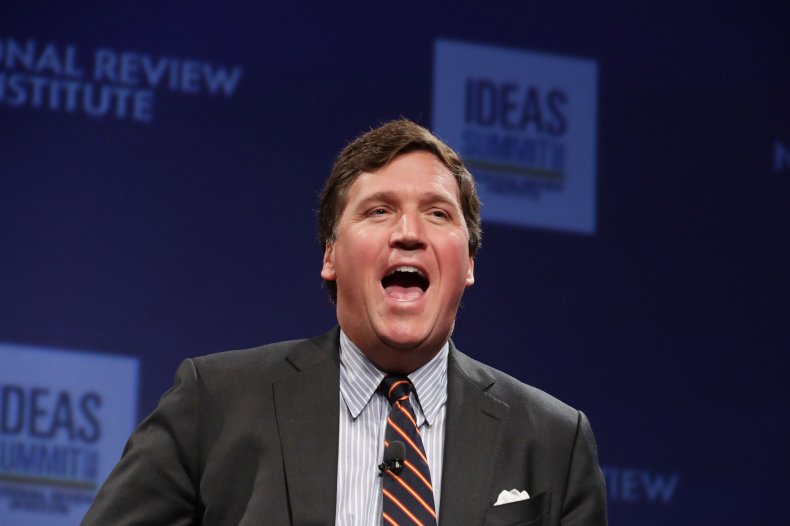 Fauci said he believed all large gatherings should be limited throughout the pandemic, especially if masks are not being worn, but would not take a stance on the protests, telling the hearing, "I'm not in a position to determine what the government can do in a forceful way."
When pressed by Jordan, Fauci went on to say, "I'm not going to opine on limiting anything."
Carlson praised Jordan for his questioning, saying, "There is nothing Dr. Anthony Fauci won't opine on as long as it doesn't offend the popular and fashionable left."
Carlson went on to say: "Fauci is 79, but maybe if he had like 22-year-old kids who were trying to make their way in this world in an economy that is headed down the tubes, thanks largely to his recommendations, he would feel differently.
"It's not merely an inconvenience when your economy collapses. It's the end of the American dream. That's not a small thing. Maybe it's worth it. Maybe it's not, but if it is, then you probably shouldn't take a pass on the question 'are protests are riots okay?' Unless you're a total fraud, like a complete fraud," he added.
Earlier this week, Carlson gave Fauci both barrels in a segment in which he called him a "a hypocritical buffoon who refuses to admit what he clearly doesn't know," adding that, "if you say that out loud they will cancel you... criticize Fauci, and you will disappear from the Internet."
Fauci enjoys considerable trust among Americans about his approach to the coronavirus. A poll in July showed that two-thirds of the public, or 67 percent, expressed trust in the public health official's information about the pandemic, compared with only 36 percent trusting President Donald Trump.
On Friday, Fauci told lawmakers that he did not believe the coronavirus, which has killed more than 152,000 people in the U.S. , would disappear, "because it's such a highly transmissible virus." However he did say he was "cautiously optimistic" that scientists would develop a vaccine soon.
"We are going very quickly. I do not believe that there will be vaccines so far ahead of us that we will have to depend on other countries to get us vaccine," he said.
The graphic below, provided by Statista, illustrates daily new reported deaths from COVID-19 in the U.S.