Tucker Carlson Attacks Elmo for Anti-Racism Message on 'Sesame Street'
Fox News' Tucker Carlson has taken aim at an unlikely figure in a rant about the Black Lives Matter movement in his Tuesday night monologue⁠—Elmo.
The anchor, 51, lashed out at the beloved Sesame Street character when discussing the controversy over his Monday night show, where he prompted backlash by saying the protests are "definitely not about black lives."
Criticizing CNN and Sesame Street's joint town hall special about George Floyd and the ensuing demonstrations against racism, Carlson said it was teaching children that "America is a very bad place, and it's all your fault."
Sesame Street has a long history of addressing important issues and explaining them to their young audiences and their families and last Saturday's educational special was titled, Coming Together: Standing Up to Racism.
The clip shared by Carlson showed Elmo's dad Louie explaining racism in a simplified and sensitive way.
"They are sad and upset, and they have every right to be Elmo. People are upset because racism is a huge problem in our country," he said.
"Racism is when people treat other people unfairly because of the way they look or the color of their skin. Not all streets are like Sesame Street. On Sesame Street, we all love and respect one another. Across the country, people of color, especially in the black community, are being treated unfairly because of how they look, their culture, race and who they are."
Louie added: "What we are seeing is people saying, 'Enough is enough.' They want to end racism."
Yet, Carlson condemned the initiative, angrily declaring: "It's a children's show. Got that, Bobby? America is a very bad place and it's your fault, so no matter what happens, no matter what they do to you when you grow up, you have no right to complain."
He added: "That's the message and it starts very young."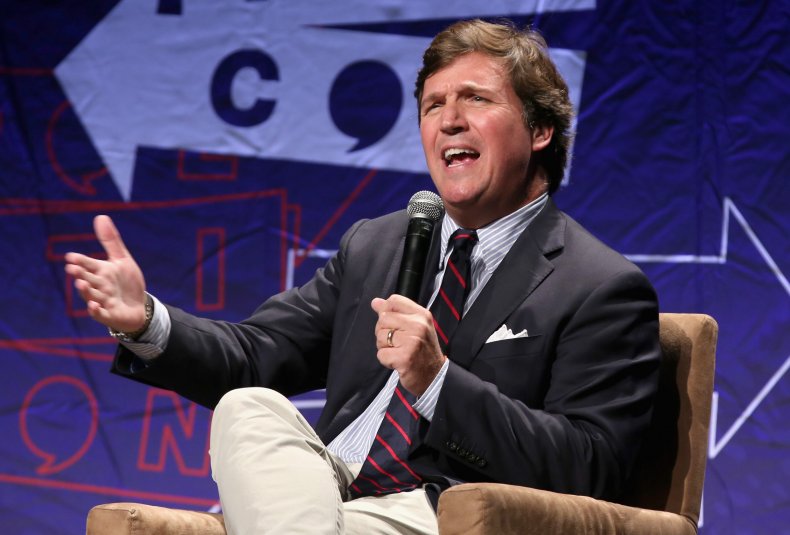 The Elmo rant comes after the host claimed that "left-wing mobs" are trying to "cancel your rights" after Monday night's backlash.
"Minutes after we said that, the mob came for us, irony of ironies," he said. "They spent the last 24 hours trying to force this show off the air for good. They won't succeed in that. Thankfully, we work for one of the last brave companies in America, and they're not intimidated. We're grateful for that."
Representative Alexandria Ocasio-Cortez also appeared to find the Elmo segment amusing and shared it with her 7.2 million followers.
"Everyone in the streets combating racism has Tucker 'Chicken Heir' Carlson so mad he's accusing Elmo of being Antifa," she wrote with the crying laughing emoji.