Tucker Carlson Defends Andrew Cuomo, Says 'Reasons to Question Motives' of AG Letitia James
Fox News host Tucker Carlson has defended Democratic New York Governor Andrew Cuomo by saying that there are "reasons to question" the motives of state Attorney General Letitia James.
James' investigative report into sexual harassment allegations against the governor led to Cuomo's resignation on Tuesday, one week after her report was published. Her report said that Cuomo had sexually harassed 11 women, including female employees, and created a toxic work environment.
"If Andrew Cuomo was harassing so many women, and doing it at the state capital in New York, how come we just learned he was doing it?" Carlson rhetorically asked during his Tuesday night broadcast.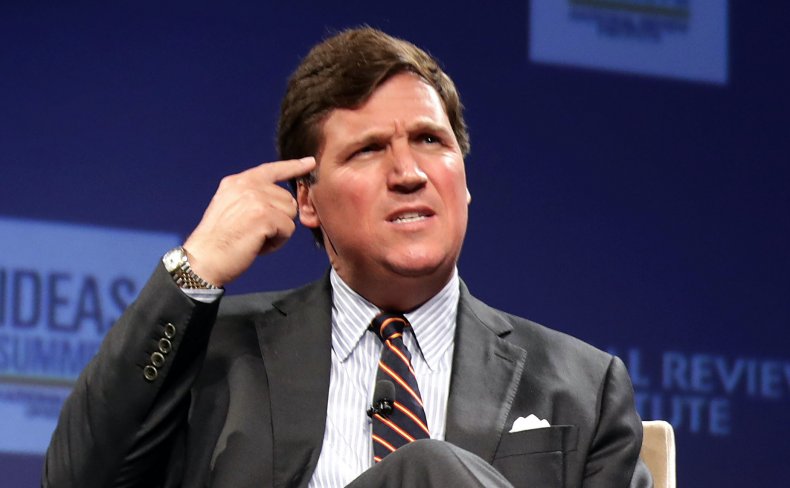 Carlson suggested that the allegations were withheld to avoid harming then-Democratic presidential nominee Joe Biden. Cuomo, who was then a rising star best known for overseeing his state's COVID-19 pandemic response, spoke at the 2020 Democratic National Convention where Biden was formally nominated.
Carlson said that James' report was part of a "palace coup" meant to boost the attorney general's profile before she launched her own campaign to become the state's next governor.
While some consider James to be a potentially strong candidate for the 2022 governor's race, she herself has not publicly declared any ambitions for the office.
The Fox News host then said that large portions of James' report on Cuomo are "absurd" and "don't make sense." As an example, Carlson noted one section mentioning that Cuomo allowed senior staff members to sit in his lap during official functions.
Another section of the report, cited by Carlson, read, "A senior staff member also recalled the Governor lying down on a couch with his head on a staff member's lap. None of these senior staff reported feeling uncomfortable with this behavior."
Carlson called the instances "weird," but rhetorically asked how these incidents constitute harassment.
"I feel guilty effectively defending Andrew Cuomo, something I've never done, hope never to do. And I just want to be clear, I'm not actually defending him," Carlson said. "I'm defending the system of equal application of the law."
On August 3, Cuomo denied the behavior detailed in James' report. He said he has long touched women's faces and kissed them on the cheek as a gesture of warmth and "nothing more."
"I never touched anyone inappropriately or made inappropriate sexual advances. I am 63 years old. I've lived my entire adult life in public view. That is just not who I am and that's not who I have ever been," Cuomo said.
On August 8, 20 women rallied in front of Cuomo's New York City office in support of the governor. One held a sign that read, "AG has an Agenda," a reference to James.
On Tuesday, Cuomo announced that he would resign. His resignation will be effective in 14 days.
Newsweek contacted Cuomo's office for comment.