Tucker Carlson Doubles Down on Claim FBI Was Involved With Capitol Riots
Tucker Carlson reiterated this Thursday evening that the Federal Bureau of Investigation was involved with the Capitol riots, claiming the government is "hiding something."
Although he has previously downplayed the scope and severity of the January 6 Capitol riots, Carlson debuted his conspiracy theory on his Fox News show, Tucker Carlson Tonight, on Tuesday. He questioned why some participants in the riots have since been charged with crimes, while others have not, suggesting that those known participants who haven't been arrested are actually FBI operatives.
"There were pretty clearly a number of people in the crowd at the Capitol on January 6 who had been in previous contact with the FBI about what was going to happen that day. Some of them may have encouraged others at the scene to commit crimes," Carlson said Thursday, suggesting that FBI operatives may have orchestrated the insurrection.
On Thursday night, Carlson called for three questions to be answered:
"First, how many of the so-called insurrectionists on January 6 had a relationship with the FBI? How many of these FBI moles encouraged others that day to break the law at the Capitol?" Carlson said if the answer was none, he would apologize for being wrong.
"Two, if the Justice Department knew they're going to be protesters massing at the capitol that day...then why didn't they do anything to stop the riot? Why did police at the Capitol, allow protesters to walk in as video shows that they did?," he continued.
"Third and finally, why can't we see the tape for ourselves? The government is hiding more than 14,000 hours of video surveillance tape..." Carlson asked. The public has not had access to this footage, though it was provided to two legislative committees, the House Administration Committee and the Senate Rules Committee, who have investigated the riots.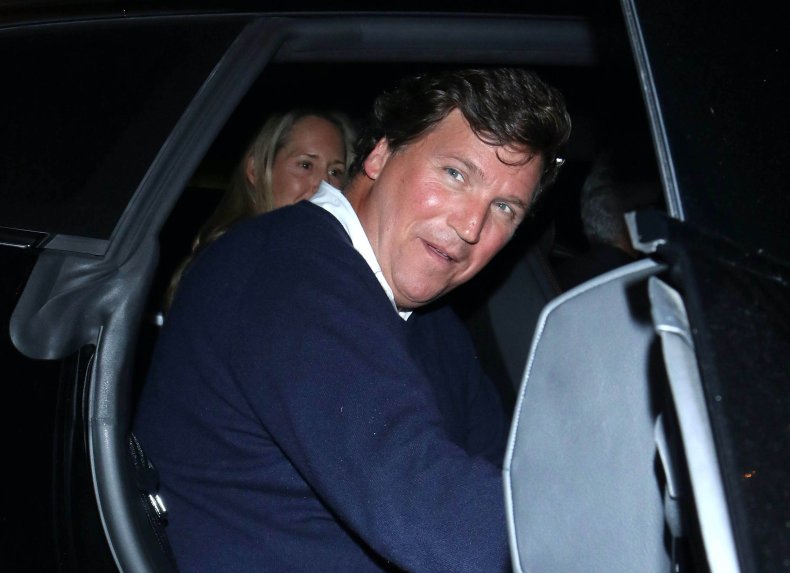 Rep. Ted Lieu, a Democrat who represents California's 33rd district, retweeted a Washington Post article titled "Tucker Carlson's Wild, Baseless Theory Blaming the FBI for Organizing the Jan. 6 Capitol Riot," with the comment, "Dear @TuckerCarlson: Why do you hate America?"
Carlson referred to "the people who run the social media accounts of the New York Times and occupy the anchor desks at CNN" as "obedient minions of the national security state," adding "the geniuses at Twitter weighed in to inform us that the people we had described as agents of the FBI were in fact just FBI informants, so shut up. Hilarious."
The FBI has not publicly responded to Carlson's theory.
Newsweek has reached out to Fox News for comment.