Fox News 'Lies': Lincoln Project Video Takes Aim at Tucker Carlson's Disputed Capitol Riot Claims
Tucker Carlson and Fox News have been called out for alleged "lies" concerning the January 6 U.S. Capitol riots in a new ad from The Lincoln Project.
The group, consisting of current and former Republicans who opposed former President Donald Trump, released the ad on Wednesday evening along with the comment "The facts don't lie, Fox News does." The 51-second video shows commentary by Carlson juxtaposed with contradictory statements taken from a Monday ABC interview with Capitol Police Officer Harry Dunn.
The ad, with ominous music playing in the background, begins with a clip of Carlson insisting that "there's no evidence that white supremacists were responsible for what happened on January 6, that's a lie." Dunn, who is Black, then disputes Carlson's claim while recounting that he was personally subjected to racial slurs from the violent mob who speculated that he had voted for President Joe Biden.
"There was a large number of people in that crowd that were racists," Dunn, who was on duty during the breach, told ABC. "They said 'hey [expletive] voted for Joe Biden, guys. Hey, everybody this [expletive] voted for Joe Biden.' They said you [expletive]. Everybody, everybody joined in with them."
The ad then shows a second clip of Carlson, with the host saying "contrary to what you've been hearing, there's also no evidence that this was a 'armed insurrection.'" A clip of Dunn plays in response, with the officer describing some of the rioters wearing body armor, tactical gear and bullet proof vests while carrying firearms.
"I'm like, 'I'm going to get shot, they want to take me out,'" recounted Dunn. "They were terrorists. They tried to disrupt this country's democracy. That was their goal. And you know what, y'all failed."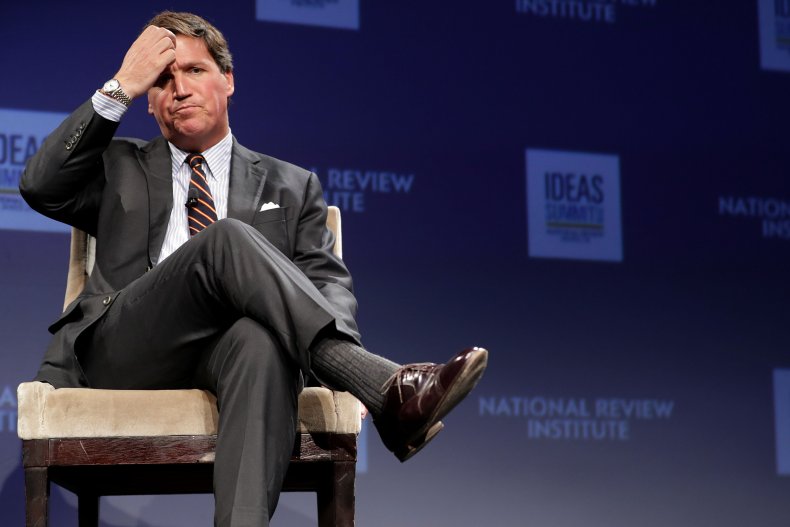 In the original interview, Dunn elaborated that the rioters failed because Congress went on to certify Biden's Electoral College win only hours after the Capitol was breached by those who were demanding that the election result be overturned in Trump's favor.
Court documents and other records show that there is evidence that some of those involved in the riots were associated with white supremacist groups, although not all of the rioters had ties to the groups. There is also evidence that some of the rioters were armed, contrary to Carlson's assertion that the violent uprising was not an "armed insurrection."
Carlson is one of the most outspoken conservatives in cable news and a frequent defender of Trump, whose term expired one week after he was impeached for allegedly inciting the Capitol riots. Although a 57-43 majority voted to convict Trump in the subsequent Senate trial, he was acquitted of the charge due to the upper chamber failing to reach the required supermajority of 67 votes.
The Lincoln Project has been under fire due to a series of recent controversies, including sexual harassment claims against co-founder John Weaver, who allegedly sent unsolicited messages to over 20 men. Another co-founder, Jennifer Horn, is involved in a public dispute with the group and stepped down while citing "longstanding deceptions." The group also stopped taking new donations following questions about its finances.
Newsweek reached out to Fox News for comment.