Capitol Police Officer Harry Dunn Tells 'Racist, Terrorist' Rioters: 'Y'all Failed'
"Y'all failed." That's the message to Capitol rioters from one officer who stood up to their attack and their racist abuse as he defended the building on January 6.
Officer Harry Dunn, a 13-year Capitol Police veteran, recalled gasping for air through pepper spray and mace during efforts to fight off pro-Trump supporters who had stormed the Capitol as senators sought to approve Joe Biden's presidential victory.
"They were terrorists," Dunn told ABC News, when asked about the rioters. "They tried to disrupt this country's democracy—that was their goal... And you know what? Y'all failed because later that night, they went on and they certified the election."
He said of those involved in the siege: "Everybody wants to say that it was about politics and everything, but it was a large number of people in that crowd that were racist."
Dunn, who suggested that the riot turned the Capitol into something akin to a war zone, told how he was left fearing for his life and how he faced a torrent of racist abuse that day.
"If I can imagine what war is like, I can imagine it was like that," he said.
"We had our guns out—our riffles, our long-guns—and I was on this stage, and I'm thinking all these people out there, they're armed too: they have guns on them.
"A sea of people, and you can't know who you're looking at, which one is looking at you, and they see me out there with this rifle and I'm like 'I'm going to get shot.'"
Amid the noisy chaos, Officer Dunn recalled seeing blood on his knuckles and the Rotunda engulfed in a "cloud of smoke," before the mob were defeated.
"The floors are covered in white dust, water bottles, broken flagpoles, masks, empty canisters of pepper spray, helmets, Trump flags, everything in the Rotunda, just laying there on the floor," he told ABC News' chief justice correspondent, Pierre Thomas.
At one point during the riot, Dunn was in tears and was consoled by a colleague.
"'I got called a [N-word] a couple dozen times today protecting this building,'" Dunn told his colleague. "Is this America? They beat police officers with Blue Lives Matter flags. They fought us, they had Confederate flags in the U.S. Capitol."
'Is this America?'
That question, which Dunn first asked anonymously in a Buzzfeed article after the riot, was quoted by Rep. Jamie Raskin during former President Donald Trump's second impeachment trial.
Asked about his words being used during the trial, Dunn said: "It took me back to a dark place because I didn't say it for a catchphrase—I wasn't trying to create a slogan.
"I struggle... should I be proud? No, not at all. Those were my feelings and that was my truth—it wasn't a proud moment. It took me back to a dark place."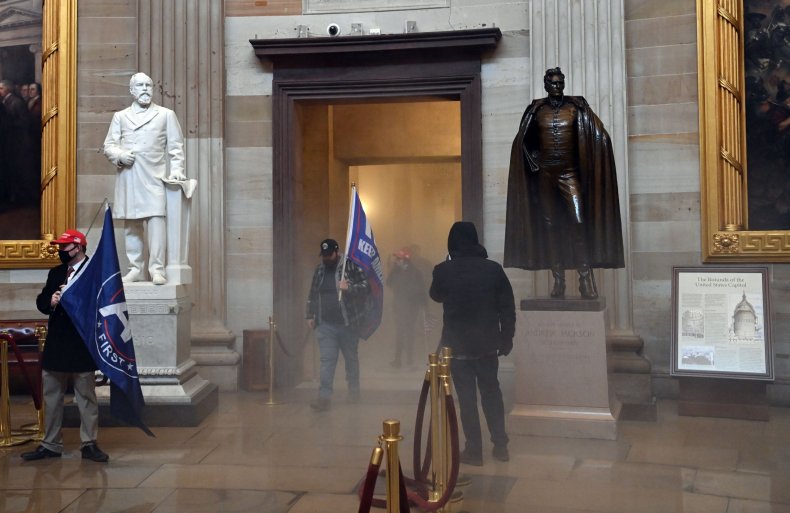 Many officers at the Capitol that day have been widely praised for their brave stand against the mob, which left at least 134 of them injured. Though 35 other officers are being investigated for their conduct—something Capitol officers' union have decried a "witch hunt."
Few have received as much praise as Dunn's fellow Capitol police officer, Eugene Goodman, who steered rioters away from the Senate chambers and helped Mitt Romney—an unpopular figure among many Trump supporters—away from the nearing mob.
Five people, including Capitol officer Brian Sicknick, died as a result of the disorder.
"There were dozens of Eugene Goodmans that day," said Dunn. "Eugene got caught on camera and I'm not surprised that he did the right thing, the brave thing, the heroic thing—there were so many Eugene Goodmans that weren't caught on camera that day... and I'm proud to work with all of them."
The Senate later awarded Goodman the Congressional Gold Medal for his actions.
However, while rank-and-file officers' efforts are being acknowledged, so too is the apparent lack of preparation among police chiefs ahead of January 6.
Questions remain over how the potential for violence was not better anticipated, with the Senate Homeland Security and Governmental Affairs and Rules committees set to open a joint oversight hearing to examine security failures later this week.
"Everybody wants to know what could have been done differently, because that shouldn't have happened," Dunn said. "[I'll] wait for the investigation to be completed officially and not draw conclusions about something of this magnitude. I'll just leave it at that."