Tucker Carlson Says Trump Allies Wanted to Pretend Coronavirus 'Wasn't Happening,' Went to Mar-a-Lago to Warn President
Fox News anchor Tucker Carlson said that those close to President Donald Trump had failed the president because they wanted to convince him that COVID-19 "was not that big a deal."
The Tucker Carlson Tonight host was ahead of his Fox colleagues in raising the alarm about the coronavirus, which White House sources told The Washington Post was a factor leading to Trump changing the tone of his public pronouncements that had been playing it down.
In an interview with Vanity Fair, Carlson said that he visited Trump's Mar-a-Lago resort for the first time a week and a half ago to speak frankly to the president about the danger that the coronavirus posed.
Although he would not divulge Trump's reaction on the record, Carlson suggested that the president's initial dismissal of the virus was in part due to Republican figures who believed part of the panic was fabricated by liberal-leaning media.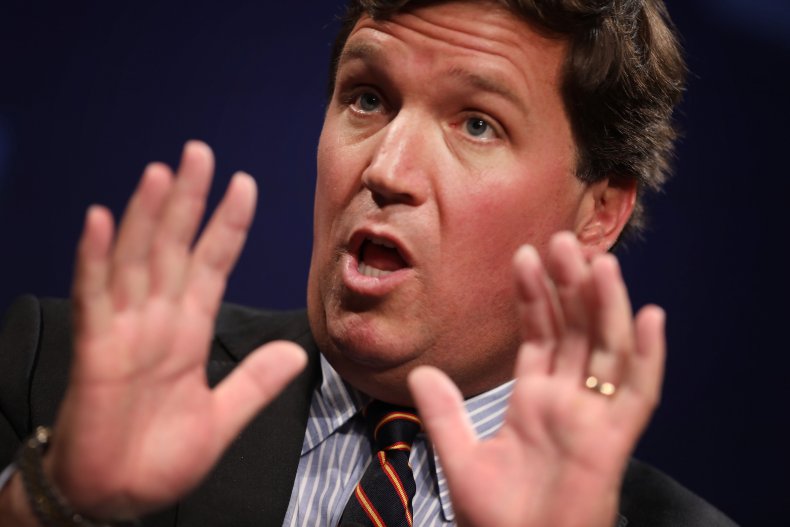 He told the publication, "I think Trump has a really finely calibrated sense of danger and I think it served him well. I think a lot of the people around him, and I mean broadly around him — particularly Republican members on Capitol Hill, in leadership too — were determined to pretend this wasn't happening.
"There are a number of members of the Senate who really ought to know better, who, by the way, are at risk of being really hurt by this personally who were determined to convince him that this was not that big a deal."
Carlson said he was alerted to the danger of the new coronavirus after speaking to a non-partisan figure in the U.S. government with access to intelligence, who claimed that the Chinese authorities were not being transparent about the outbreak, which "really got my attention."
Carlson talked about the outbreak in his monologue on his show on February 3, but attention at the time was focused on the Iowa caucuses and that when people see everything "through an ideological lens... it's very hard to tell a straightforward story."
Because Trump voters believed that all news about the president is "designed to hurt Trump," Carlson said it was very hard to convince people that this was not a political story.
When asked by Vanity Fair whether he thought the president was in denial because of the political leanings of some media outlets, Carlson said, "I think that in general, the news media have given people no reason to trust that they know what they're talking about."
The more he read about the outbreak the more convinced he was of the danger it posed, and he arranged to go to Trump's Florida resort to speak with him directly. At the same time, the resort was hosting a birthday party for former Fox host Kimberly Guilfoyle, also attended by Florida congressman Matt Gaetz, and Donald Trump Jr.
"I felt I had a moral obligation to be useful in whatever small way I could, and, you know, I don't have any actual authority. I'm just a talk show host. But I felt — and my wife strongly felt — that I had a moral obligation to try and be helpful to in whatever way possible," he said.
Newsweek has contacted the White House for comment. The graph below by Statista shows the global reach of the coronavirus, as of March 18.