Tucker Carlson Says FBI's Treatment of Michael Flynn 'Sounds Like Something That Happens in China'
Fox News host Tucker Carlson has accused the FBI of setting out "to destroy" Lt. Gen Michael Flynn, following the release of a second batch of documents revealing details about the agency's investigation into the former national security advisor.
Flynn pleaded guilty in 2017 to lying to the agency about talking to the Russian ambassador to Washington, Sergey Kislyak, in a case at the center of the investigation by special counsel Robert Mueller into claims of Russian interference in the 2016 election. Still awaiting sentencing, Flynn says he is a victim of misconduct and wants to withdraw his plea.
His supporters say that the unsealing of handwritten notes from 2017 on Wednesday showed that the agency was biased in their investigation of Flynn. One entry states: "What's our goal? Truth/Admission or to get him to lie, so we can prosecute him or get him fired?"
During his monologue on Thursday, Carlson took aim at the FBI, saying "the Flynn story lays bare the architecture of control that has been present just beneath the surface of this country for a long time.
"For reasons we still don't fully understand, Michael Flynn deeply offended permanent Washington somehow. So they decided to destroy him.
"They pretended to believe he was a secret Russian agent, and then they entrapped him on a completely bogus perjury charge," he said.
"It sounds like something that happens in China. It happened here in the middle of our capital city, Washington."
On Thursday, another 12 pages of FBI documents with a number of redactions were made public in a court filing by Flynn's lawyers, who say they show the bureau tried to entrap Flynn.
One includes what appears to be an electronic document dated January 4, 2017, which suggested the case should be closed due to a lack of evidence against Flynn. Flynn's lawyers say that the documents show, despite this, former FBI official Peter Strzok wanted to continue the investigation, codenamed Crossfire Razor.
The Tucker Carlson Tonight said that the bureau continued with the probe until it "could invent a crime and crush Michael Flynn and in the end, that's what happened."
"There is nothing worse than this. It's how the secret police operate in Third World dictatorships," Carlson said.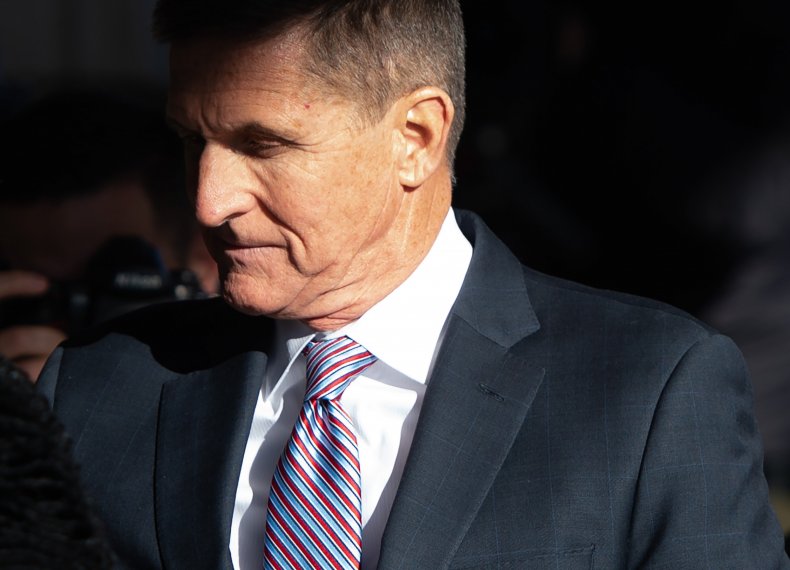 Strzok gave congressional testimony, a clip of which was shown on Carlson's show, in which he denied any bias, and said that "not once" did his personal opinions "impact any official action I took."
Legal analysts dismissed the significance of the notes, with national security lawyer Bradley Moss telling USA Today: "They were debating how to approach him about the lie."
"Law enforcement does this kind of thing on a routine basis. The only difference is it's usually not with a powerful White House staffer."
Renato Mariotti, a former federal prosecutor, told the publication that the notes were not unusual.
"Michael Flynn was treated like thousands of other subjects who were interviewed by FBI agents," he said. "If you don't like how Flynn was treated, change the rules for everyone. Because this is how it works."
USA Today reported that lawyers for former FBI deputy director Andrew McCabe, Strzok and Page did not comment. James Baker, former FBI general counsel, also declined to comment. Newsweek has contacted the White House for comment.