Tucker Carlson Decries Republicans Being Embarrassed of Their Own Voters After Jan. 6
Fox News anchor Tucker Carlson has accused Republican politicians of being "embarrassed" by GOP supporters who have been charged in connection with the Capitol riots.
Carlson also took aim at Democratic calls for tough punishments for people convicted of storming the Capitol on January 6.
During an appearance on The Ingraham Angle on Thursday, Carlson launched a wide-ranging criticism of the liberal credentials of the Democrats, suggesting they had hypocritical stances on issues from gun ownership to criminal justice.
After a clip of comments from Rep. Tim Ryan—a Democrat from Ohio who has criticized the GOP for its response to the attack by supporters of former President Donald Trump—Carlson said: "Most of these people are being held for non-violent crimes."
Carlson added that he would "never defend disorder" and said: "To act like they committed acts of terrorism or insurrection is just a flat-out lie."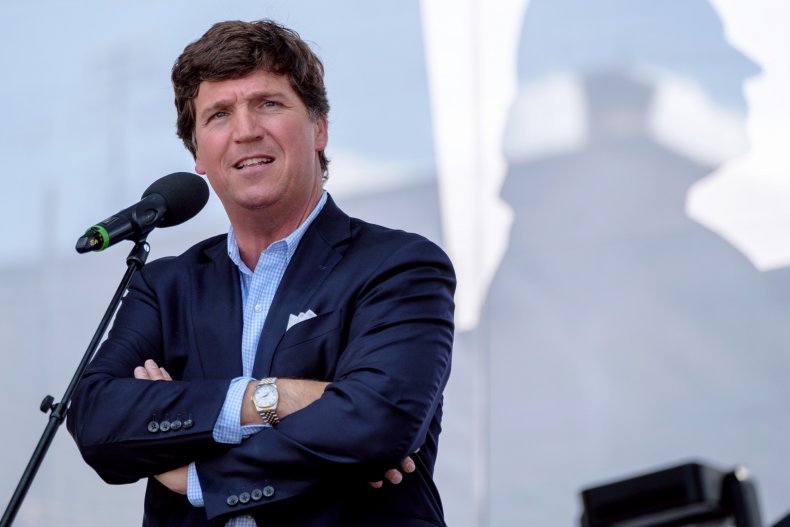 The Fox host also hit out at the conditions faced by jailed January 6 defendants.
Ingraham raised the visit by Rep. Marjorie Taylor Greene to a D.C. jail to meet some of the defendants. Greene described them as "political prisoners of war" after her visit.
Carlson then turned his fire on the Republican Party, suggesting it was not doing enough to support those who had been charged over January 6.
"Why is Marjorie Taylor Greene one of the only Republicans who has visited their prisoners. These are Republican voters?" Carlson said.
"The Republicans in Congress seem to be embarrassed of that, I don't know why they should be."
He also mentioned the trial of Kyle Rittenhouse, who is accused of homicide after killing Joseph Rosenbaum and Anthony Huber during Black Lives Matter protests in Kenosha, Wisconsin, in August 2020.
"You think [Rep. Alexandria Ocasio-Cortez] is embarrassed that Joseph Rosenbaum votes for her party? Of course not," Carlson said, before going on to downplay the violence on January 6.
"Republicans are completely embarrassed that these late middle-aged mostly bankrupt political activists who voted for Trump—I don't know—got rowdy on January 6 and so they don't even care what happens to them," Carlson said.
"If you're embarrassed of your own voters, what are you doing? Why are you in politics?"
Newsweek has contacted the Republican National Committee for comment.
During the segment, Carlson also promoted his series Patriot Purge, which has been condemned for advancing the conspiracy theory that the Capitol riot was a "false flag" operation.