Tucker Carlson Blames Lindsey Graham for Trump's Bob Woodward Interview
Fox News host Tucker Carlson has blamed Senator Lindsey Graham for encouraging President Donald Trump to speak to Watergate journalist Bob Woodward for his latest book about the White House.
Trump is under fire for remarks he made to Woodward during a series of interviews for the book Rage in which he privately spoke about the severity of the pandemic while he publicly downplayed the seriousness of COVID-19.
In a recording released by the Washington Post journalist, Trump said: "I wanted to, I wanted to always play it down. I still like playing it down, because I don't want to create a panic."
Democrats, led by Joe Biden, accused the president of deliberately lying to the public, as other world leaders took decisive action to warn people and put in measures to curb the pandemic.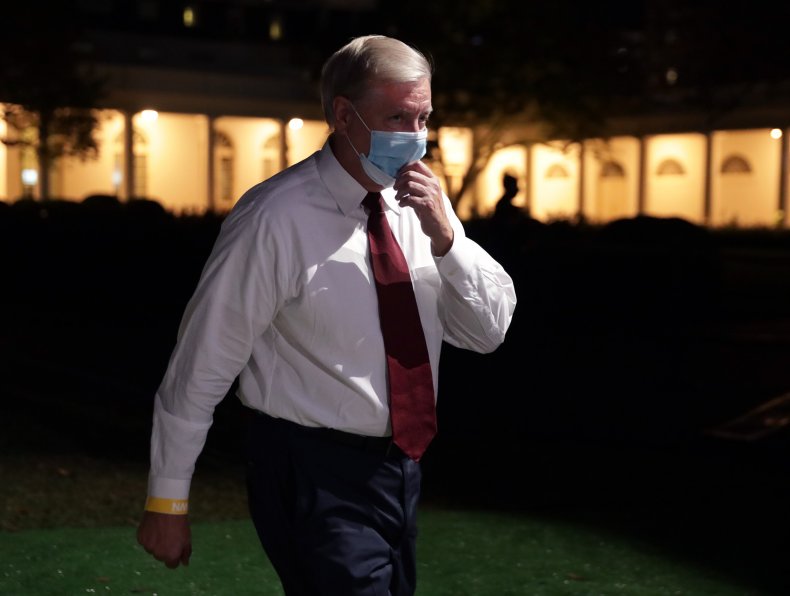 But Carlson said that Trump should never have agreed to the interviews for the book in the first place, and pointed the finger at the South Carolina senator for encouraging the president to sit down with Woodward.
The Tucker Carlson Tonight host did not refer directly to Trump's comments, but said in a segment on Wednesday: "Bob Woodward dislikes Donald Trump, he's been very clear about that. Woodward works for Jeff Bezos' personal newspaper The Washington Post, which has made defeating Donald Trump its all-consuming mission.
"What is surprising is that Donald Trump participated in making the book. The president sat for repeated interviews with Bob Woodward. Why in the world would he do that?"
Carlson said a source had told him that it was Graham "who helped convince Donald Trump to talk to Bob Woodward," and the Fox host believed that the senator had an ulterior motive.
"Lindsey Graham is supposed to be a Republican, so why would he do something like that? You would have to ask him. But keep in mind that Lindsey Graham has opposed—passionately opposed—virtually every major policy initiative that Donald Trump articulated when he first ran.
"From ending illegal immigration to pulling back from pointless wars to maintaining law and order at home. Lindsey Graham was against all of that, more than many Democrats. So maybe you already know the answer," Carlson said.
Newsweek has contacted Graham's office for comment.
Trump was said to be keen to speak with Woodward for his follow-up to the book Fear: Trump in the White House, which had been written without the Watergate journalist getting face time with the president.
Graham told The Daily Beast he recommended Trump speak with the veteran Post journalist.
"The last book Woodward wrote, Trump said he didn't know that he had wanted to be interviewed. So I said, well, the guy is a well-known presidential author. And, you know, you got a chance to tell your side of the story. The president agreed and there you go," Graham said.
When asked about the discrepancy between his private concerns and public pronouncements, Trump told reporters on Wednesday, "We don't want to have to show panic, we're not going to show panic, and that's exactly what I did." He described the book as "another political hit job."
Meanwhile, White House press secretary Kayleigh McEnany said Trump "has never lied to the American public on COVID. The president was expressing calm, and his actions reflect that."
Correction 9/10/20, 9:30 a.m. ET: This article was updated to correctly state that Lindsey Graham is senator for South Carolina.