Tucker Carlson, Mocking Transgender and Abortion Advocates, Says Men Have Babies Too
Fox News host Tucker Carlson has mocked transgender and pro-abortion advocates by proclaiming that abortion is no longer just a women's issue because "men are child-bearers."
Carlson made his comment on the Thursday night installment of his Fox News show. He began his show by discussing Texas' stringent, new anti-abortion law. He then noted that White House Press Secretary Jen Psaki said on Thursday that the administration of Democratic President Joe Biden considers abortion "a women's right," adding, "It is up to a woman to make those decisions."
"She should know that men get pregnant now. The science people tell us that every day," Carlson said. "It's on the cover of People magazine right now, a dude who's pregnant."
"Now what does that mean?" Carlson continued. "It means that abortion is now a men's issue. Men are child bearers, so men, dudes, have an equal right to choose to terminate their pregnancies, and they have a right to weigh in on the policy itself. It's not a women's issue anymore, Jen Psaki."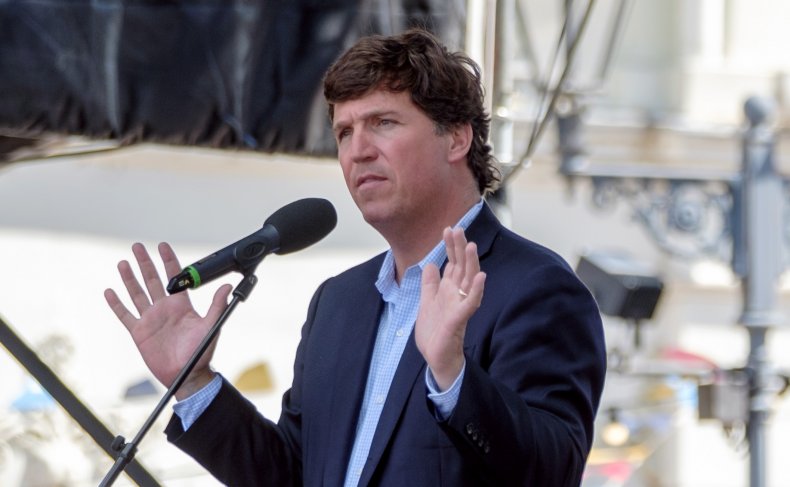 Carlson is mistaken. This week's newsstand cover of People magazine features an image of British monarch Prince Harry and his wife Meghan Markle.
The magazine did recently share exclusive images online of rapper Lil Nas X jokingly pretending to be pregnant in anticipation of the "birth" of his debut album. It's unclear if Carlson mistook the images for the magazine's current cover image.
Newsweek contacted Fox News for comment.
Transgender men are capable of becoming pregnant and a 2011 study in the journal Human Reproduction found that a majority want to raise families. However, it's unlikely that Carlson was seriously suggesting that trans men should become an active part of the abortion debate. Carlson has a long history of making anti-transgender comments on his show, according to the LGBTQ media watchdog organization GLAAD.
Carlson began his abortion segment by mocking pro-abortion activists for long proclaiming, "My body, my choice."
"The very same people who've told us for decades now that 'It's my body, my choice' and seem to mean that when they said it, those same people abandoned their own argument immediately when COVID arrived," Carlson said. "Suddenly, on a dime, they turned and they were demanding that we wear the mask and get the shot."
Interestingly, famed lawyer Alan Dershowitz offered a rebuttal to Carlson's exact argument when another commentator said something similar during Dershowitz's Thursday interview with the conservative network Newsmax.
Dershowitz noted that it's much harder to become pregnant than it is to catch COVID-19 from another individual.
"There's an enormous difference between masking regulations and between abortion regulations. Abortion regulations only involve the woman, the doctor the family, the priest, the rabbi, and, if you believe that there's a fetus that's alive, that," Dershowitz explained. "But masking regulation involves me and everybody else."
"The right to swing your fist ends at the tip of my nose," Dershowitz continued, "and the right for you to breathe on me ends at my nostrils. And you have no constitutional right to breathe on me."