Tucker Carlson Calls People Who Seek Adulation Weird in AmericaFest Speech
Tucker Carlson has said politicians are "weird" because they "crave" the adulation of strangers.
The Fox News personality made the comments during a speech at Turning Point USA's AmericaFest, a four-day event taking place until December 20 in Phoenix, Arizona, that the group has billed as "the largest celebration of our constitutional rights and freedoms."
"I don't believe in any politician, I know them too well," Carlson said on Saturday.
"I just don't. I mean, I think some are way better than others. Some are just flat out awful. And some are, you know, nice people. I know I'm friends with like two of them after a lifetime of covering them."
Carlson continued: "No, they're weird. I mean, seriously. You live to have people you've never met before scream your name. What kind of sicko are you?
"If you crave the adulation of strangers, you're emotionally damaged, you know, beyond repair."
Some on Twitter mocked Carlson's comments, saying they were lacking self-awareness.
One Twitter user wrote: "This would have a lot more weight and impact if Tucky himself wasn't, in his own words, 'emotionally damaged beyond repair'."
"Is he talking about himself?" another asked.
"Pot, meet kettle," one Twitter user wrote. Another added: "Irony thy name is Tucker Carlson."
Others suggested that Carlson's comments indicated he was turning his back on former president Donald Trump.
"And with this, Tucker Carlson announces his endorsement of Ron DeSantis," one user wrote.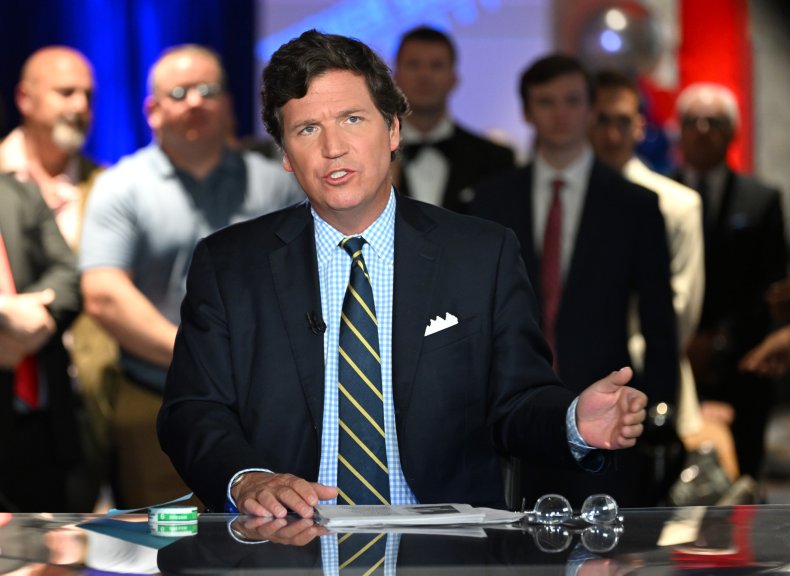 However, Carlson said on Saturday that he was not currently backing anyone in the 2024 presidential race.
"I'm not endorsing anybody. I have no idea what's going to happen in the Republican primary," he said in response to a question asking if he would support Trump or Florida Gov. Ron DeSantis.
Trump announced he would run for a second term in 2024 in November, while DeSantis has been widely floated as a top contender for the 2024 GOP nomination.
"I spend a lot of time in Florida, and I think Ron DeSantis has done like an unbelievable job and I mean that," Carlson said.
"I don't know DeSantis that well, but let me put it this way, people move to Florida because he's the governor."
Floridians say they "love" DeSantis, Carlson said. "I'm so impressed by that," he added.
Carlson went on to say he was "so grateful" that Trump had run for president in 2016 and that talking to him is "one of the great animal joys of life."
"I actually love Donald Trump, as a guy," he said. "I've known Trump for 20 years because I work in the media, you know, and I just have always gotten along with him and I think he's one of the funniest people I've ever talked to in my life."
Carlson went on to say that it does appear that Trump and DeSantis are "two forces moving toward one another at high speed."
"And how can that go well?" He asked. "And the answer is, I have no idea."
Newsweek has contacted a spokesperson for Carlson for comment.