Tucker Carlson Rebukes Greta Thunberg's Speech, Accuses Liberals of Using 'Children to Demand Power'
Fox News host Tucker Carlson this week criticized teenage environmental activist Greta Thunberg's speech to the United Nations, called climate activism a "performative stunt" and accused liberals of using children as human shields to "demand power."
During his opening monologue on Tucker Carlson Tonight on Monday night, Carlson argued that climate activism has become "a performative stunt mixed with hypocrisy" and criticized Democrats, including 2020 Democratic candidates, for promising to "crack down on your cheeseburgers while flying across the country private."
The issue of climate change was discussed to varying degrees across cable channels throughout the day after 16-year-old Thunberg delivered a scathing and emotional speech at the United National Climate Action Summit, where she condemned world leaders for failing to properly address climate change.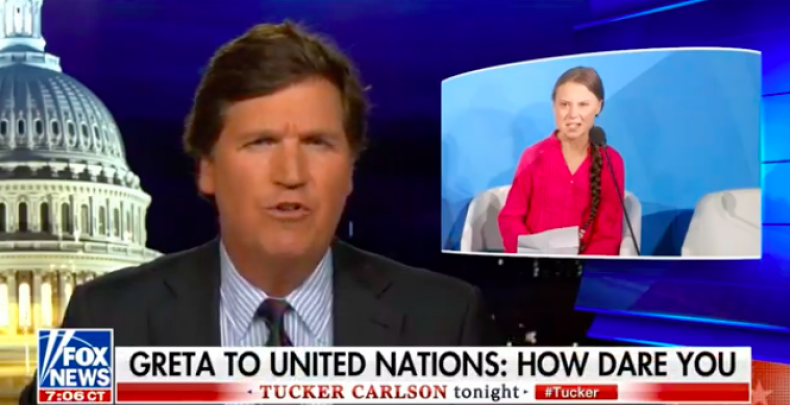 "I shouldn't be up here. I should be back at school on the other side of the ocean," Thunberg said. "Yet you all come to us young people for hope. How dare you! You have stolen my dreams and my childhood with your empty words."
After Carlson aired a clip of Thunberg's speech, he mocked her remarks. "You stole my childhood, do what I want you to do or else you're evil," the host said, apparently mimicking words from her remarks with his own spin.
"How do you respond to statements like that?" Carlson continued. "The truth is you can't respond and of course, that's the point. When you use children to demand power they become a kind of human shield. You can hide safely behind them, no one can criticize you. But who would do something that unscrupulous? Anyone who would do that is someone who would literally do anything to seize control. And that's exactly what they're doing."
Thunberg crossed paths with President Donald Trump on Monday after her speech at the United Nations. Her reaction to the U.S. president walking into the room quickly went viral on social media, with many people interpreting her glare as one that demonstrated anger and distaste.
Last month, Thunberg said Trump "obviously" doesn't hear the science behind global warming. The president has previously questioned his own government's climate scientists, vowed to pull the country from the Paris climate accord and has walked back numerous climate initiatives.
Moments before Carlson's show began, two Fox News guests sparred live on-air after one of them called Thunberg a "mentally ill Swedish child."
"You're a grown man and you're attacking a child. Shame on you," Chris Hahn, a former aide to Senator Chuck Schumer, said to Michael Knowles, host of The Michael Knowles Show.