Tucker Carlson Accused of Echoing Putin Remarks in Viral Clip
A clip from a political group showing Fox News' Tucker Carlson repeatedly "parroting Vladimir Putin" on his prime time show has gone viral.
The clip, posted to Twitter by the Republican Accountability Project, a conservative organization "fighting against disinformation" from Republicans, shows what the group claims to be 96 seconds on Tucker Carlson "spreading Russian propaganda," including attacking Ukraine amid the Russian invasion and blaming President Joe Biden for the war.
Carlson and other Republican figures have frequently been accused of expressing supportive views of the Kremlin amid the war in Ukraine.
Carlson has previously been criticized for spreading Russian propaganda on his show, including discussing conspiracy theories about the existence of the U.S.-funded laboratories in Ukraine which were producing biological or chemical weapons, as well as questioning the Biden administration's critical stance on Russia.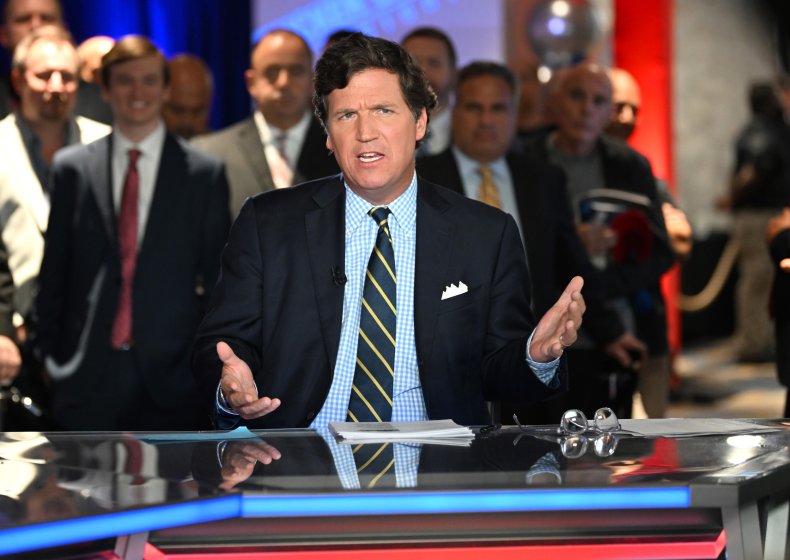 The clip, which has been retweeted more than 2,800 times and viewed more than 850,000 times on Twitter, compares comments Carlson has made on his Fox News show with a speech from Putin.
During the clip, Carlson suggests that if any American "deserves scorn and, yes blame, for the invasion of Ukraine" it would be Biden.
Carlson also suggested on his Fox News show that Ukraine is "not a democracy" and is a "client state" of the Biden administration and that getting Ukraine to join NATO was "the key to inciting war with Russia."
The footage was played alongside side comments made by Putin during his state-of-the-nation address in February, including stating how Ukraine has become "hostages" of its "western masters."
The Russian president also claimed that the West "started the war" in Ukraine and Moscow "used force in order to stop it."
The clip ends with comments Carlson made in December 2019 saying he believes the U.S. should "probably take the side of Russia" over Ukraine.
The comments were made as part of an interview with Ohio rep. Jim Jordan in which the congressman dismisses claims that the Trump administration is doing the bidding of Russia while noting the White House at the time frequently issued sanctions against Moscow and supplied weapons to Ukraine.
In March 2022, a report from Mother Jones revealed the Russian government instructed its news outlets to show clips of Carlson "as much as possible" because of his critical views of the U.S. policy.
Carlson has frequently and consistently dismissed the suggestions he spreads pro-Kremlin views on his prime time show.
Fox News has been contacted for comment via email.
Elsewhere, Fox News denied claims that Carlson's Twitter account was hacked on Tuesday.
The speculation arrived as social media users noted that Carlson's account bio read: "Non-binary climate change activist of color. Visionary tech founder. CNBC market analyst. Informal Zelensky advisor," along with two transgender pride flag emojis on it.
Instead, the Fox News host appeared to have made changes his bio to troll his critics. In 2022, Carlson changed his Twitter bio to read "Fully vaccinated. They/Theirs" while adding the Ukrainian flag emoji.