Tucker Carlson On Russian TV Again for Guest Comments Against Ukraine
Fox News host Tucker Carlson was featured on Russian state TV once again after Kremlin speakers told Ukraine to listen to Fox's pro-Russia talking points and surrender to Russian President Vladimir Putin.
Kremlin-funded media outlets ran translated clips from Fox News' conversation between Carlson and retired Colonel Douglas Macgregor, who has consistently urged Ukraine to retreat and give in to Putin. Russian TV ran the clips pushing Kremlin propaganda.
"What is happening now is the battle in Eastern Ukraine is really almost over, all the Ukrainian troops there have been largely surrounded and cut off ... and if they don't surrender in the next 24 hours, I suspect the Russians will ultimately annihilate them," Macgregor said Sunday night. "The game is over."
Macgregor, who previously supported Russia's annexation of Crimea, also said that Putin is being "demonized" by the U.S. and firmly opposes America's involvement in the conflict.
Russian news network VGTRK aired the clip claiming Macgregor blames the current Ukraine-Russia conflict on the U.S. The network said the U.S. has aggravated the situation.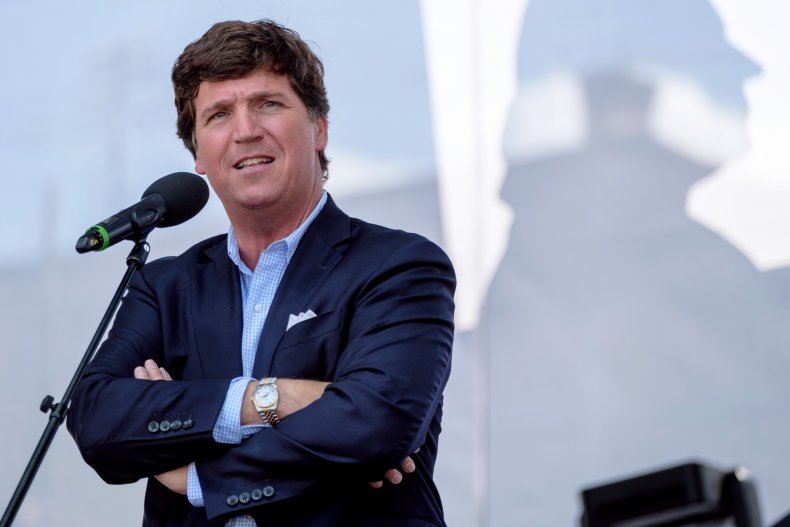 "Fox News urged not to believe the words of the Biden administration about protecting democracy, which is not in Ukraine," VGTRK said on-air. "We need to remember that Ukraine is the fourth from the end among 158 countries in terms of corruption. It is far from a free democracy, a shining example, as everyone says."
VGTRK agreed with Macgregor, saying Ukraine should surrender because fighting is "hopeless." The station also claimed that America and Europe agreed.
"We must stop the supply of weapons and ensure the Ukrainians to die for this hopeless undertaking," VGTRK said. "I see absolutely no reason why we should fight Russia for something they have been talking about for years and we just ignored."
This isn't the first time Carlson and one of his guests were highlighted on Russian news outlets for their pro-Russia statements. On February 22, Carlson questioned why so many Americans have a negative opinion of Putin.
"Has Putin ever called me a racist?" Carlson asked. "Has he threatened to get me fired for disagreeing with him?" Carlson rhetorically asked. "Has he shipped every middle-class job in my town to Russia? Did he manufacture a worldwide pandemic?"
"Vladimir Putin didn't do any of that, so why does permanent Washington hate him so much?" Carlson asked.
The clip was picked up by RT, an international television network controlled and funded by the Russian government. After RT aired Carlson's segment, the speech was picked up by a number of other Russian news services. The following night, Carlson toned down his pro-Russia rhetoric.
Newsweek has reached out to Fox News for comment.