What Did Tucker Carlson Say About Donald Trump? Read Private Texts in Full
Legal documents released on Tuesday as part of the defamation lawsuit filed against Fox News by Dominion Voting Systems reveal that Tucker Carlson hated Trump "passionately" and couldn't wait for the day he wouldn't have to talk about him on air.
Private texts sent from the news channel's television host to an unnamed recipient in January 2021 show that, while Carlson publicly pushed forward claims that the 2020 presidential election had been rigged and stolen—as Trump said—he believed the former president had "discredited" his own case.
The $1.6 billion defamation lawsuit—which accuses Fox News of amplifying the false claims that Trump was the real winner of the 2020 election and Dominion's voting machines were rigged while knowing that the claims were false—aims to expose discrepancies between what the news channel's hosts told their viewers publicly and what they said privately.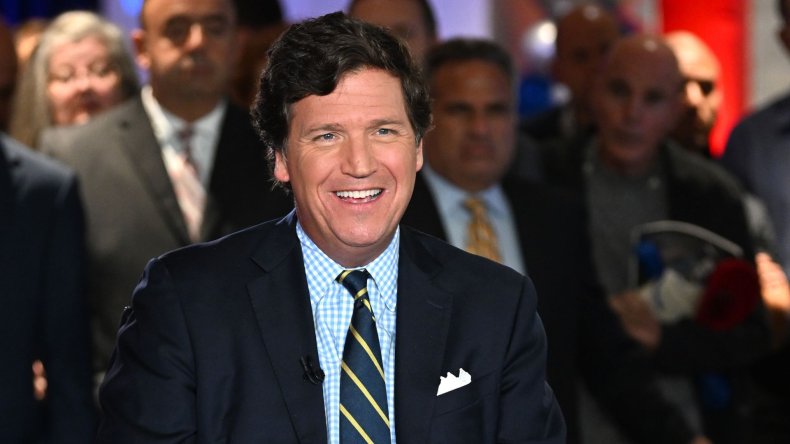 Fox issued a statement about the released texts on Tuesday evening accusing Dominion of cherry-picking quotes from its television hosts and executives to build a stronger case in court. "Thanks to today's filings, Dominion has been caught red handed using more distortions and misinformation in their PR campaign to smear FOX News and trample on free speech and freedom of the press," Fox wrote. "We already know they will say and do anything to try to win this case, but to twist and even misattribute quotes to the highest levels of our company is truly beyond the pale."
Carlson on Trump
These are all private texts mentioning Trump that Carlson sent on January 4, 2021, as revealed by legal documents made public on Tuesday:
"We are very, very close to being able to ignore Trump most nights."
"I truly can't wait."
"I hate him passionately. I blew up at [former Trump adviser] Peter Navarro today in frustration. I actually like Peter. But I can't handle much more of this."
"He was pushing voting fraud stuff. I have no doubt there was fraud. But at this point, Trump and [pro-Trump lawyers] Lin [Wood] and [Sidney] Powell have so discredited their own case, and the rest of us to some extent, that it's infuriating. Absolutely enrages me."
"That's the last four years. We're all pretending we've got a lot to show for it, because admitting what a disaster it's been is too tough to digest. But come on. There isn't really an upside to Trump."
On October 30, 2020, Carlson had accused mainstream media reporters of hating Trump with an "all-consuming mania," suggesting that the then-president couldn't catch a break from negative coverage.
The legal filings made public on Tuesday have also revealed that Rupert Murdoch, chairman of the media empire that owns Fox News, didn't believe that Dominion's voting machines had been rigged, while these same claims were made on air by the news channel's hosts.
In one email submitted as evidence, Murdoch said that some of his hosts had perhaps gone "too far," specifically mentioning Sean Hannity and Laura Ingraham. Legal filings also showed Hannity, in an exchange with Fox and Friends host Steve Doocy, mocking Fox News journalists wanting to cover the "straight news," saying that "you don't p*** off the base."
Newsweek has reached out to Fox News for comment via email.