Tucker Carlson Says Joe Biden Chose SCOTUS Pick 'On the Basis of Appearance'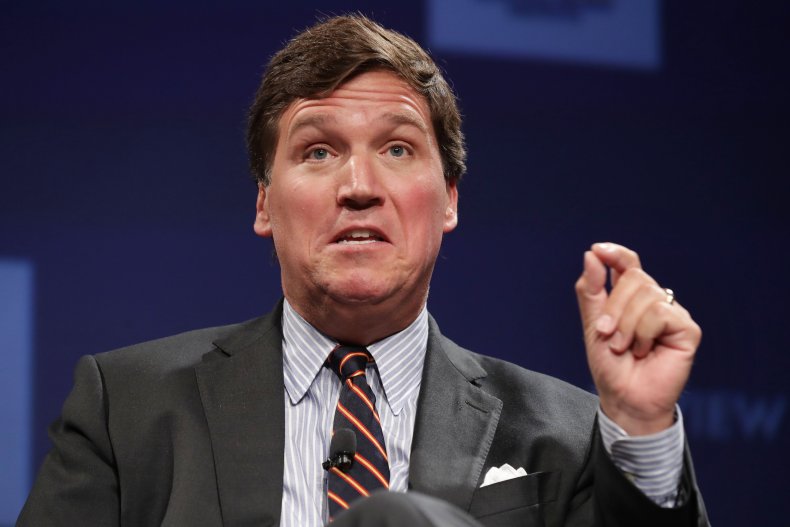 Tucker Carlson has complained that President Joe Biden's Supreme Court nominee Ketanji Brown Jackson was picked "on the basis of appearance."
During Friday's Tucker Carlson Tonight, the Fox News host suggested that Biden wanted to "undermine our ancient institutions" by choosing Jackson, who would become the first Black woman to serve on the court if confirmed. Biden announced the choice of Jackson almost two years after pledging to nominate a Black woman during a presidential campaign debate.
"Let's say you really didn't care about the country you lead," said Carlson. "Let's say you wanted to humiliate and degrade it and undermine its ancient institutions—what would you do? Well, you might take the single most important appointed position in the entire government and announce in public that you were filling that position on the basis of appearance."
"It tells you [Biden] is absolutely happy to defile a system built by other people over hundreds of years that is the best system in the history of the world, and he's happy to destroy it," he added later. "Doesn't care. At all."
The Fox News host cited a poll from his own network that found a majority of respondents believed that it was "inappropriate" for Biden to only consider Black women for the nomination.
Carlson then claimed that the media was telling "lies" to make Jackson's nomination "sound normal" before playing a clip of a CNN discussion about the historical nature of the pick.
Carlson falsely claimed that the "morning zoo ladies" in the clip said it was previously "against the law" to nominate a Black woman, before Carlson suggested that Jackson was "a moron who hates" the country.
In the clip, CNN host Brianna Keilar said that "maybe not officially, but at least in practice," being a Black woman had been "disqualifying to nominees up until now."
"It was disqualifying? Like, what are you even talking about?" Carlson said after the clip played. "It's idiotic and it's just another attack on America: It's a rotten, crappy country; therefore, we need to put a moron who hates it in charge and you can't complain."
"Look, I'm not even attacking this woman personally," Carlson said later in the show. "I'm just saying the way that Biden has chosen this nominee is so destructive to our institutions that I wonder why no one else is saying that."
Carlson argued that Jackson, who was confirmed to the D.C. Circuit Court of Appeals last year after being a U.S. District Court judge for over eight years, was not qualified to serve on the Supreme Court, while bemoaning that she was a "political activist" who sided with Democrats.
Although no Black women have served on the court, the Fox News host insisted that the U.S. did not "harbor a bias against Black female justices specifically." He instead mentioned the court's first white woman and first Black man, former Justices Sandra Day O'Connor and Thurgood Marshall.
Carlson did not mention that former Republican President Ronald Reagan nominated O'Connor following a public pledge to nominate the court's first woman, a strikingly similar scenario to Biden's nomination of Jackson minus the racial element.
Newsweek reached out to Fox News and the White House for comment.